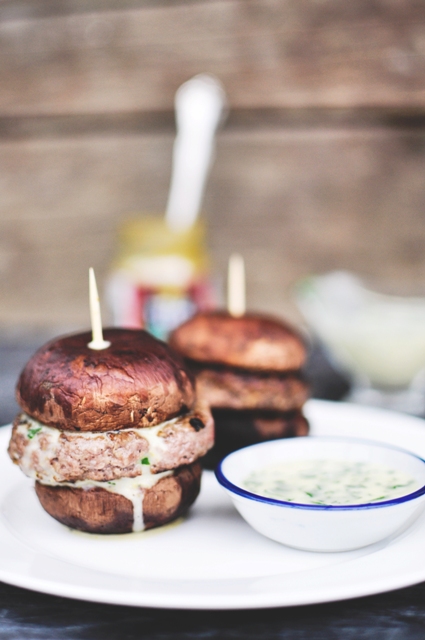 For recipe #7 in the Thai Kitchen Canada #TKLucky7 Lucky Recipe Challenge, I created these little Green Curry Beef Mushroom Sliders, which, if you are watching the #GoldenGlobes tonight, would make for some perfect finger food! For recipe 1, recipe 2, recipe 3, recipe 4, recipe 5, and recipe 6 see appropriate links. This is the final recipe in the Lucky Recipe Challenge and I'd like to say that I had an amazing time creating all these fun Global Mash-Ups, but also live blogging for a week straight! In all four and a half years of blogging, I have never live blogged and I have NEVER blogged seven days in a row. Not being braggy, but posting seven recipes for seven days entails a whole helluva lot of work, dedication and time! I really, truly hope you guys love these recipes and have enjoyed all the posting I've been doing.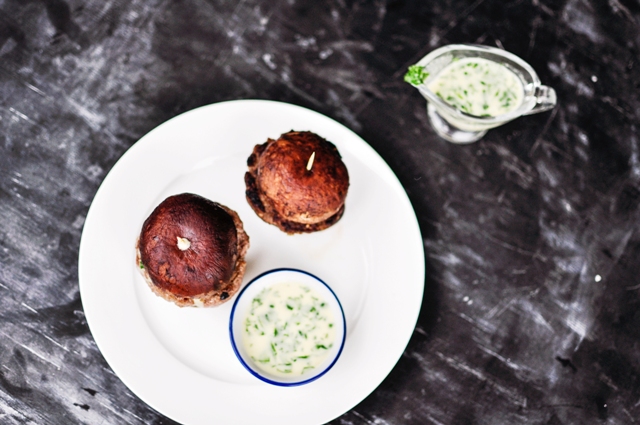 If you haven't been following along until now, visit some of the links here to learn more (above and below these photos). Also, see my Facebook, Twitter, Instagram or Pinterest Pages to see some of the live blogging photos and finished recipes you may have missed.
These sliders are my new favourite in all the recipes I've created for this competition. They are cute, easy and delicious! They are gluten, dairy, soy and sugar free and 100% PALEO! Seriously, once you've gone mushroom bun, you ain't never going back to a flour based bun. They may be harder to eat (because juicy deliciousness might run down your arm) but they are much less filling than regular buns, are filled with oodles of natural umami goodness and you could probably eat about 16 of them in one sitting. Delicious!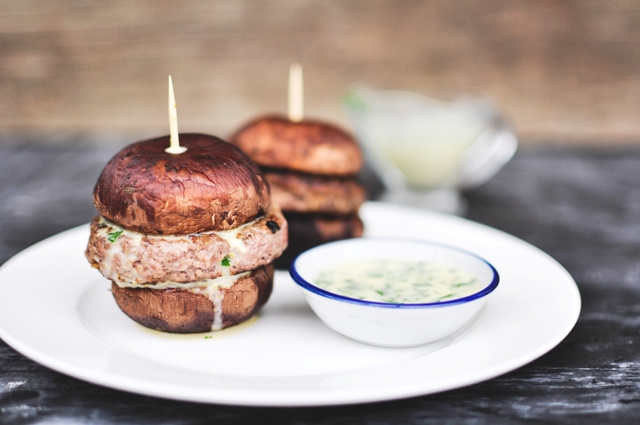 One year ago: DIY Squat Stands
Two years ago: Roasted Cauliflower Salad
Three years ago: Beef Stroganoff
Four words ago: Easy Pulled Pork Sandwiches
Green Curry Beef Mushroom Sliders
Green Curry Beef Mushroom Sliders. Sliders taken to the next level. Gluten free mushroom buns and a spicy hint of Thai Green Curry. #TKLucky7
Ingredients
Instructions
Preheat oven to 350°F. Remove stems from mushrooms and discard. Lay stem side down on parchment or silicone lined baking tray and brush with melted coconut oil. Cover with aluminum foil lightly and bake in preheated oven for 10 minutes. Remove and allow to cool slightly.
In a small bowl, mix the beef, 1 tbsp of the curry paste and dehydrated onions together until well blended. Using a patty form or your hands, form 2 oz patties (if you don't have a form or a scale, just divide the meat into 6 and form into patties).
Preheat a heavy cast iron pan on medium heat, fry patties for 2-3 minutes per side or until golden brown and well seared.
In a separate bowl, whisk the remaining curry paste with the coconut milk, cilantro, garlic, salt and lime until smooth.
Serve patties on mushroom caps as "buns" with sauce for dipping or pour sauce over patties before topping with second cap.
All Rights Reserved. Copyright Guilty Kitchen 2014

If you'd like to learn more about the 
Thai Kitchen Lucky Recipe Challenge
, see below for the rest of the contestants information.
Be sure to come back here or to my Facebook page by January 13th for the Regional portion of the voting. Remember, there are over $5,000 in prizes to go to the voters! 
The other six contestants from across Canada are:
Vancouver: That's me!
Calgary: Jo-Anna of A Pretty Life in the Suburbs
Regina: Stacey of This lil Piglet
Toronto: Melissa of Sexy Food Therapy
Ottawa: Don of Foodie Prints
Halifax: Kelly of Bacon and Baileys
Montreal: Jason of Shut Up and Eat!
To learn more about all the Celebrity Food Bloggers in the running for Thai Kitchen's next Brand Ambassador, check out our Pinterest personality boards!