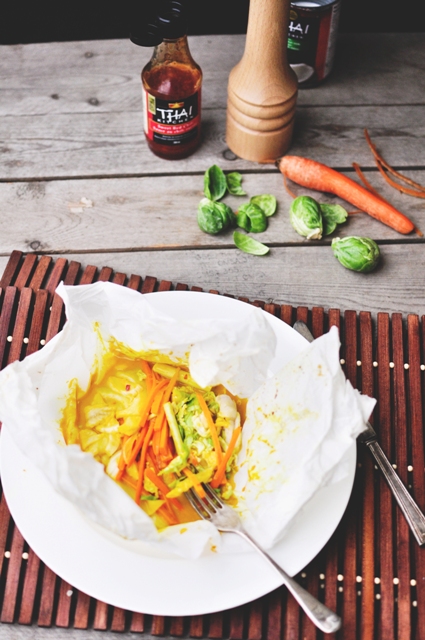 One of my favourite ways to cook delicate fillets of fresh caught Pacific white fish is an old French method called "En Papillote" (literally "in parchment"). The fish is steamed with whatever flavours and accompaniments you desire and everything comes out perfectly tender and delicious.  For recipe #5 in the Thai Kitchen Canada #TKLucky7 Lucky Recipe Challenge, I created this En Papillote Sweet Chili Coconut Sole. For recipe 1, recipe 2, recipe 3 and recipe 4, see links.
Delicate, flaky fillets of sole are paired with in season winter vegetables (in this case, Brussels sprouts, carrots and sweet fennel) and coated in a delightfully creamy lite coconut milk sauce flavoured with fresh lemongrass, earthy Turmeric and Thai Kitchen's Sweet Red Chili Sauce for a light and refreshing meal. This meal is ready in less then 30 minutes and can easily be doubled for larger families. Change up the vegetables if you are making this in the spring, summer or fall and you can have a completely different meal every season.
If you'd like to learn more about the Thai Kitchen Lucky Recipe Challenge, see below for the rest of the contestants information.
Be sure to come back here or to my Facebook page by January 13th for the Regional portion of the voting. Remember, there are over $5,000 in prizes to go to the voters! 
The other six contestants from across Canada are:
Vancouver: That's me!
Calgary: Jo-Anna of A Pretty Life in the Suburbs
Regina: Stacey of This lil Piglet
Toronto: Melissa of Sexy Food Therapy
Ottawa: Don of Foodie Prints
Halifax: Kelly of Bacon and Baileys
Montreal: Jason of Shut Up and Eat!
To learn more about all the Celebrity Food Bloggers in the running for Thai Kitchen's next Brand Ambassador, check out our Pinterest personality boards!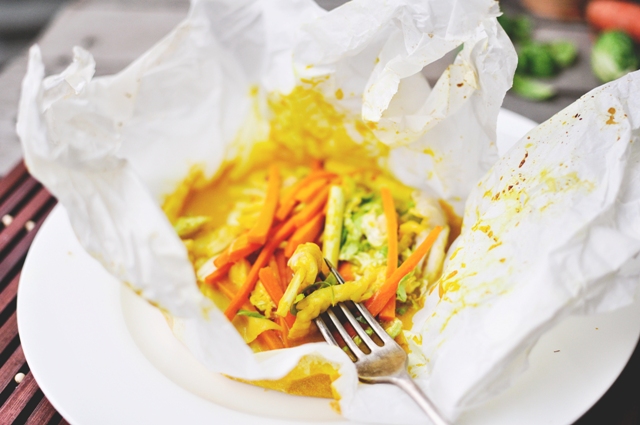 One year ago: Paleo Chocolate, Coconut and Lime Pie
Two years ago: Adrian's Top 10 Brews of 2011
Three years ago: Beef Stroganoff
Four years ago: Vegetarian Black Bean Burgers


En Papillote Sweet Chili Coconut Sole
En Papillote Sweet Chili Coconut Sole showcases the simplicity that can be a beautiful entrée. So easy, this meal can be ready in 15 minutes. #TKLucky7
Ingredients
3/4 cup Thai Kitchen Lite Coconut Milk
1 large lemongrass, cut into 2" chunks
1/2 tsp fine sea salt
1 lb fresh sole fillets
2 cups mixed winter vegetables, julienned (carrots, Brussels sprouts, fennel, etc.)
Instructions
Preheat the oven to 375°F. In a large bowl, whisk together the coconut milk, sweet chili sauce, turmeric and salt until combined, then add in the chunks of lemongrass.
Parchment pouches can be made in various ways and using many shapes. you can use hearts, circles or squares and if you have no parchment, you can also use aluminum foil. The best thing to do is lay the fish down in the center of the parchment or aluminum foil, then the vegetables, then fold and crimp the edges up, leaving a gap to slip in the sauce, then pour in about 1/4 cup of the sauce per packet. However you do it, just make sure to fold AND crimp so that the steam (and sauce) stays inside the pouch to cook the food.
Lay the pouches on a baking tray and place in the center rack of the oven for 15-20 minutes (depending on the thickness of your fish fillets). If you are unsure, just open one pouch to check doneness.
To serve, place parchment pouches on plates and allow guests to open their own, or if you prefer, simply pour the contents into shallow bowls.
All Rights Reserved. Copyright Guilty Kitchen 2014
This is a sponsored post, but, as always, the opinions and images are my own. For more information, visit the Thai Kitchen Canada site.