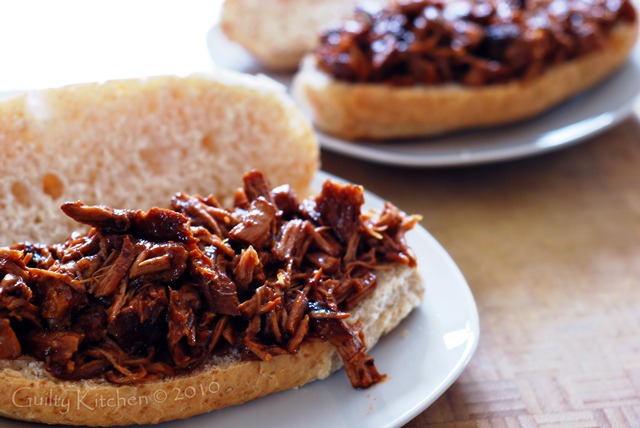 Weekends are meant for laziness. I don't mean you should do nothing, but the fast pace of the week has come to an end, and now it's time to take it easy. Watching movies with the kids, baking a huge batch of chocolate cookies "just in case", meandering around stores in search of nothing in particular, a stroll through a wintery park, these are the things of Saturdays and Sundays.
But what about dinner? Yes, dinner often takes a somewhat concerted effort to pull off, especially for families with kids. So what to do on those lazy days that you want to stay home, but don't feel like masterminding an entire meal? Meet the pulled pork sandwich, akin to a po' boy, a manwich, a sloppy Joe, or other delicious, yet simple meaty fare. Literally, you only need to do 3 things and you will be eating a savory, filling and delicious sandwich your Poppa would be proud of.
The key to pleasing your family is using a sauce everyone loves. So pick your fav, let it mellow and be serving dinner with little to no effort on your part in mere minutes. Mom saves the day again!
Easy as 1-2-3! Seriously!
Easy Pulled Pork Sandwiches
Pork Butt Steak (1 per 2 people)
1/3-1/2 cup BBQ Sauce per steak
1/4 cup water per steak
buns or bread for making sandwich
1. Place all ingredients in crock pot or slow cooker (except for the buns of course).
2. Turn to high for 3 1/2 hours or on low for 5-6.
3. When done, flake meat using two forks (do this in the bottom of crock pot). Stir to combine with remaining sauce. Serve on buns or slices of bread!