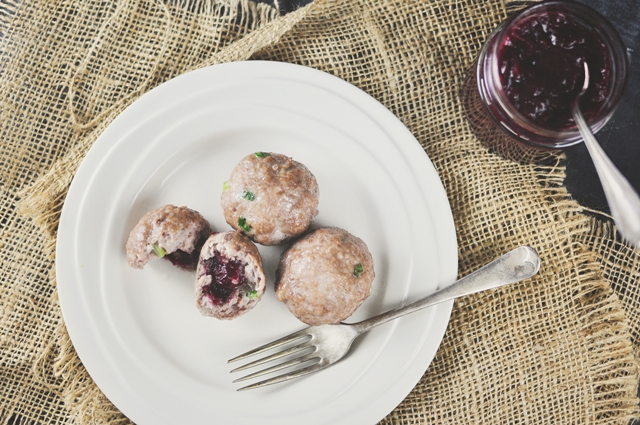 If you've been following me on any of my other social media hubs (Facebook, Twitter, Instagram, Pinterest), you might have noticed me mentioning the Thai Kitchen Lucky Recipe Challenge that I am featured in. As one of seven other Celebrity Bloggers across Canada, I am tasked with posting seven recipes for seven days (starting today) and live blogging them via Instagram, then to my blog and also on my Facebook Page. Each recipe will use a Thai Kitchen product (or a couple) and be what we like to call "Global Mash-Ups". The recipes will not be your typical Thai dishes, although they will contain familiar Thai ingredients or sauces. The seven of us will be vying for the prestigious title of Thai Kitchen's new Ambassador.
After the seven days of live blogging our fabulous recipes (starting January 13th), readers will be able to vote through an app located here and on my Facebook page where they will then be eligible for over $5,000 worth of amazing prizes. The more you vote, the better your chance of winning great prizes and the better my chances of being the first Thai Kitchen Ambassador.
Now, I know what your first question is: "But what about all the non-paleo ingredients?" I could try and beat around the bush and tell you that I stayed strict paleo for this challenge, but…well, it wouldn't be true. If you've been around lately, you might have noticed my banner above. I changed the "Paleo" to "Paleo-ish" a few weeks back in the wake of my joining the Eat to Perform membership. On the ETP guidelines, remaining full paleo meant I had to eat a ridiculous amount of fruit and sweet potatoes to get enough carbs and I just couldn't do it. I welcomed back a few old favourites to my diet, namely rice , oats and sometimes a little corn cereal (organic, of course). It's been glorious. We remain strict to being gluten free, legume free, mostly dairy free, refined sugar and (mostly) processed food free, because that's what works for us. It's been worth it to see the gains in the gym.
For my first recipe, I have made a mash-up between Italian meatballs, American cranberry sauce and a Spicy little Thai Chili Sauce. Enjoy!
Spicy Cranberry Stuffed Pork Balls
Bring a twist to your normal Holiday appetizers with these Cranberry Stuffed Pork Balls. With a slight kick of spicy Thai chili and ginger, these little guys could rewrite your traditions. #TKLucky7
Ingredients
6oz frozen or fresh whole cranberries
1 tbsp Billy Bee Honey
2 lbs ground pork
1 tsp fine sea salt
1/4 cup chopped green onions
Instructions
Place cranberries, honey and Thai Kitchen sauces together in a small saucepan over medium low heat. Cook, stirring occasionally for 30-40 minutes or until cranberries are broken down and sauce is thick. Remove from heat and cool.
Preheat oven to 400°F. In a large bowl, combine pork, salt and green onions.
Form small balls (golf ball sized) in the palm of your hands. Stick your thumbs in and mold the ball into a small, deep bowl. Scoop one teaspoon of the cranberry sauce into the "bowl" and pinch the edges together to close the opening and keep the sauce from spilling out (you may need to add a small bit of the pork mixture to the closure).
Bake balls on silicone or parchment lined baking tray for 15 minutes. Serve with remaining sauce or alone for perfect Thanksgiving appetizers!
All Rights Reserved. Copyright Guilty Kitchen 2014
One year ago: Chocolate Coconut and Lime Pie
Two years ago: Pear and Ginger Smoothie
Three years ago: Roasted Sunchokes
Four years ago:  Mexican Fiesta Salad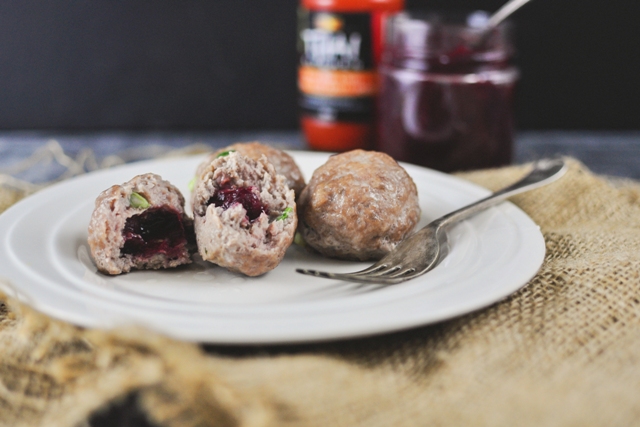 This is a sponsored post, but, as always, the opinions and images are my own. For more information, visit the Thai Kitchen Canada site.