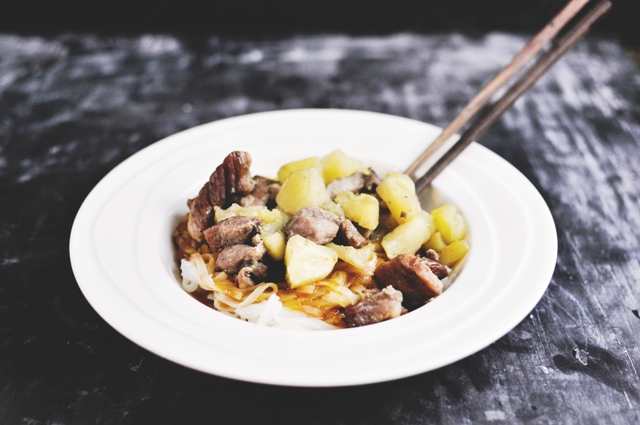 For my second to last recipe (recipe 6!) in the Thai Kitchen Canada #TKLucky7 Lucky Recipe Challenge, I was tasked with creating an autumn themed pork entree that contained Thai Kitchen's Original Pad Thai Sauce. I decided to go with one of my favourite fall flavour fusions: apple and pork.
This is by far my favourite dish so far in this competition as it really challenged my creative thinking. Pairing traditional Thai flavours with the very North American flavours of apple and pork was not easy but it definitely paid off in the end.
This dish is complex in flavour and offers a wonderful depth of textures and tastes. It's sweet, salty and altogether delicious.
If you'd like to learn more about the Thai Kitchen Lucky Recipe Challenge, see below for the rest of the contestants information.
Be sure to come back here or to my Facebook page by January 13th for the Regional portion of the voting. Remember, there are over $5,000 in prizes to go to the voters! 
The other six contestants from across Canada are:
Vancouver: That's me!
Calgary: Jo-Anna of A Pretty Life in the Suburbs
Regina: Stacey of This lil Piglet
Toronto: Melissa of Sexy Food Therapy
Ottawa: Don of Foodie Prints
Halifax: Kelly of Bacon and Baileys
Montreal: Jason of Shut Up and Eat!
To learn more about all the Celebrity Food Bloggers in the running for Thai Kitchen's next Brand Ambassador, check out our Pinterest personality boards!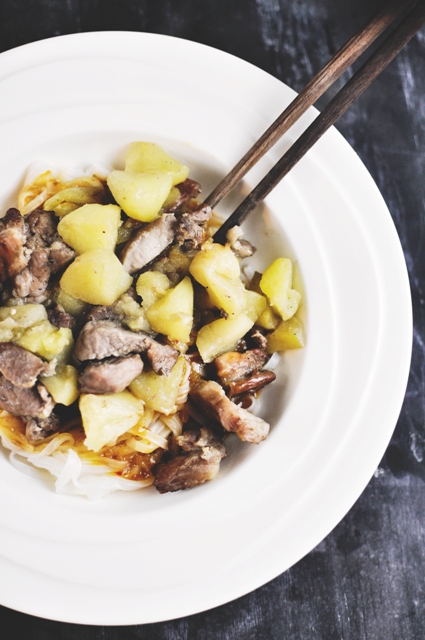 One year ago: DIY Squat Stands
Two years ago: Roasted Cauliflower Salad
Three years ago: Beef Stroganoff
Four years ago: Easy Pulled Pork Sandwiches
Roasted Apple Pork Noodle Bowls
Roasted Apple Pork Noodle Bowls. Intricately spiced sauce, rice noodles and roasted apples with pork strips. Simply delicious. #TKLucky7
Ingredients
2 tsp apple cider vinegar
1 tbsp Club House garlic powder
1 tbsp Tamari or gluten-free soy sauce
1 lb pork shoulder steaks, bone removed and sliced thin
1 lb. (2 large) crisp apples (like pippin, pink lady or honeycrisp), peeled, cored and cubed
1 package Thai Kitchen Stir-Fry Rice Noodles
Instructions
Place first 8 ingredients in a small saucepan and bring to a boil. Lower to a simmer and allow to cook, uncovered, for 30-45 minutes.
Preheat oven to 400°F. Prep the pork and the apples and place in a deep roasting dish (season with sea salt and fresh ground pepper, if desired). Roast, covered, for 20 minutes. Raise oven temperature to broil (high) and cook for 10-15 minutes more, stirring often and checking to make sure it does not over brown.
Prepare the noodles according to package instructions. Drain. Place noodles in bowls, top with enough sauce to coat. Finish with 1/4 of the pork and apples. Serve immediately.
All Rights Reserved. Copyright Guilty Kitchen 2014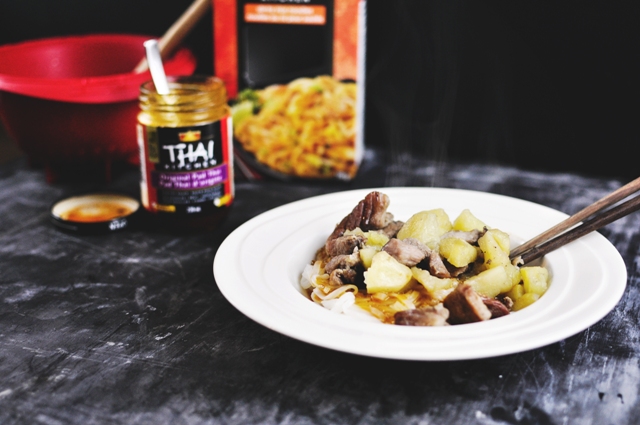 This is a sponsored post, but, as always, the opinions and images are my own. For more information, visit the Thai Kitchen Canada site.