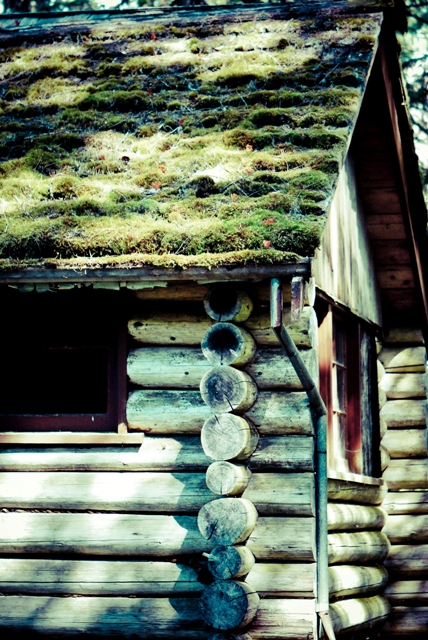 Sometimes people ask me what it's like living so far away from the city. I'm not sure quite how to respond really. The first things that generally come to mind are that I can't walk anywhere. There is nothing within five miles of my house besides the odd smattering of small cul-de-sacs filled with empty summer homes. By Labour Day three-quarters of the inhabitants of the lake we live on are gone, back to their "winter homes". I do miss the obvious things like gourmet grocery stores, restaurants, access to clothing and shoe retailers at a minutes notice…you know, retail therapy.
Most of my days now are filled with taking care of the kids, walking amongst the semi-abandoned neighbourhoods (see creepy cabin above), epic loads of laundry on which I shamelessly throw myself when it comes hot out of the dryer (TMI?) and this: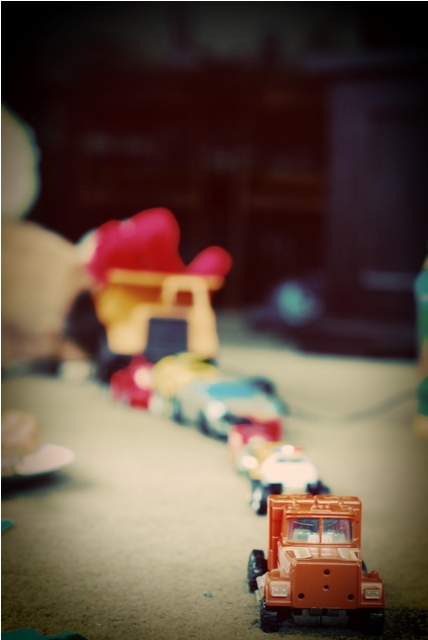 The endless lining up of every single toy truck, car, airplane, helicopter, train, dog, younger sister, etc. on which I inevitably trip several times before kicking aside whilst hoisting a face high pile of still warm laundry.
You see, being a stay at home Mom is nothing short of pure joy. Of course there are ups and downs to everything, but I am not going to sugar coat it. Having two small children around all day and not an adult in sight for eight hours or more can get a bit, well, boring. Play dates are few and far between, and when they do occur outside of my own house involve the lugging of three checked baggage sized suitcases, a snugli, my purse, a backpack filled with diapers, a stroller and two car seats which often does not leave room for my sanity.
Needless to say I often retreat to the kitchen when the husband returns home and delve deep into my own form of therapy: cooking. Endless cooking, cooking of things that soothe my soul. I love cooking, which may or may not be an obvious statement.
After a long day of stay at home momdom, I need it.
With fall approaching and the weather turning cool, I've also now turned to more comforting food; warm you to the core kind of food. This soup is pleasantly easy to make and is layered in complex flavours. Pair it with a nice crusty bread and you have yourself a fabulous end of summer meal.
Roasted Parsnip and Apple Soup

Yield: 3 litres of soup (about 4-5 large servings)
Prep Time: 30 minutes
Cooking Time: 90 minutes

1 1/2 lb. parsnips
4 Tbsp butter
1 1/4 lbs. tart apples (granny smith, pink lady, etc.)
1 small sweet onion
1 lb. waxy potatoes (such as Yukon gold)
1/2 tsp each ground ginger, cumin and nutmeg
1 tsp coriander seeds, pulverized
2 litres vegetable stock (or chicken)
1/2 cup cream
kosher salt to taste
fresh ground pepper to taste
Shaved Parmesan for garnish

1. Peel parsnips and roughly chop into 1″ pieces.
2. Place parsnips in roasting dish and dot with 3 tbsp of butter. Bake at 400°F for 45 minutes, stirring every 10 or 15 minutes.
3. In large heavy bottomed pot, heat remaining tbsp of butter over medium. Add onions and cook until translucent.
4. Add in potatoes, apples and spices and sauté for five minutes.
5. Add in roasted parsnips and stock and bring to a boil. Lower to a simmer and allow to cook for 20 minutes or until all vegetables and fruit is softened.
6. Using an immersion blender, stand blender or food processor, blend the soup into a smooth purée (in batches if using a blender or food processor).
7. Pour back into pot and reheat, stirring in cream and seasoning to taste.
8. Ladle into bowls and top with a sprinkle of Parmesan for garnish.
Similarly delicious recipes from other blogs:
Spicy Parsnip Soup on Jane Spice
Spiced Parsnip and Tomato Soup on Real Epicurean
Parsnip Soup with Toasted Pecans and Feta on My Cooking Quest
Parsnip Pancakes on Not Eating Out in New York
Parsnip Gnocchi with Pearl Onions, Peas, and Mushrooms on Mediterranean Cooking in Alaska