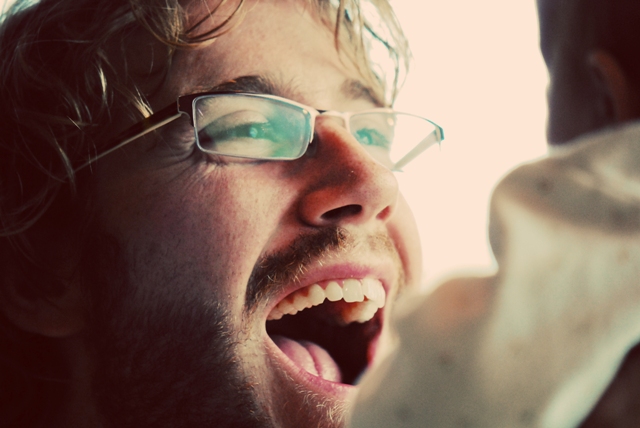 Today begins a countdown of sorts.
Today is four short days from my husbands 29th birthday. What seems like the birthday before the big birthday is really the birthday. This is the last year of the twenties, the last year that he can get away with being a young un, the last year of youth and vitality. After this, it's all downhill….or is it?
In my opinion, we're just getting started. Although I have a few more years before my own ascent into my "dirty" thirties, I know this is going to be the best decade yet. The next few years will see us decide on whether a third child is a good idea, plan out our extravagant trip through the US and Canada, buy property on which we will settle down, purchase a new vehicle, watch our children become little people, start school, make friends and will be the busiest, most enthralling years we've spent together so far.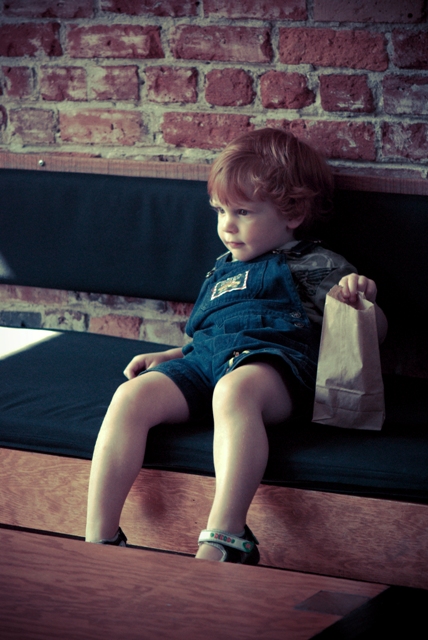 In short, I can't wait. The future holds so many possibilities and enticing moments that I am excited almost every morning I wake up. Our family has grown exponentially in the past five years and I can't wait to see what happens in the next few.
Every day that we are together as a family, is the best day of my life. What makes each and every day even better is amazing food. I love making it for my family and I love watching them enjoying it even better. When Adrian asked for salmon burgers and a really good spinach salad with fruit and nuts, I couldn't wait to start making it.
We invited his parents over, we drank lots of wine and this is what I came up with:
Salmon Burgers

Yield: 5 burgers
Prep Time: 1 hour
Cooking Time: 15 minutes

2 lb fresh, wild sockeye salmon, about one side of a whole salmon (or use coho, chinook [King] or spring salmon)
1/2 red onion, finely diced
1 tbsp Dijon mustard
1 tbsp white miso
2 tbsp capers, minced
1/2 lemon, juice and zest
1 egg
1/2 cup Panko bread crumbs
kosher salt
fresh ground pepper

To assemble:
Soft buns (use only soft so as not to completely massacre the burger when biting into it)
romaine lettuce leaves
tartar sauce (recipe follows)
sliced provolone cheese

1. To fillet a whole salmon, see tutorial here.
2. Remove skin from fillet if needed, and discard.
3. Chop salmon flesh into an almost hamburger like consistency. Each piece should be no bigger than 1/4″ or so. Alternatively, you could do this in a food processor, but the consistency will be much different. Personally, I prefer the chopping method.
4. Stir in the red onion, Dijon, miso, capers and lemon juice and zest.
5. Beat one egg and add to salmon, stirring to combine. Now sprinkle with panko and stir again.
6. Season to taste with salt and pepper.
7. Form into patties at least 3/4″ thick. I made five patties with this recipe. Each patty should be about 1/4″ bigger around the edges than the buns you intend to use.
8. Lay formed patties on a layer of cling film over a baking tray and cover. Refrigerate for one hour.
9. Lay chilled patties on to a lightly greased baking tray and bake at 400°F for 10-15 minutes.
10. In the last few minutes, lay the provolone over each patty and allow to cook until bubbly.
11. Serve on buttered soft buns with a dollop of tartar sauce and some crisp lettuce.

Tartar Sauce

Yield: Approximately 1 cup
Prep Time: 20 minutes

2 tbsp capers, minced
3 small pickles, minced (approximately 1/3 cup diced)
juice of 1/2 a lemon
1/2 cup mayonnaise
1/3 cup plain Greek yogurt
1 tsp dried dill
1 tsp Dijon mustard
two drops Tabasco
dash of Worcestershire sauce
kosher salt
fresh cracked pepper

1. Mix all ingredients in a small bowl and allow to refrigerate for one hour.

Blackberry Vinaigrette

Yield: 2 1/2 cups
Prep Time: 20 minutes

1 1/2 pints fresh blackberries
1/2 small red onion, roughly chopped
3 tbsp white balsamic vinegar
1 tbsp balsamic vinegar
1/3-1/2 cup extra virgin olive oil
1 tbsp honey
3 tbsp verjus (or try using juice from 1/2 a lemon instead)
zest of 1/2 a lemon
1 tsp Dijon mustard
kosher salt to taste
fresh cracked pepper to taste

1. In the bowl of a food processor, process the blackberries until puréed.
2. Remove and strain out the left over solids and seeds through a fine mesh sieve.
3. Return to food processor with the chopped onions and purée until completely liquefied.
4. Mix in remaining ingredients, tasting as you go.
5. Serve over spinach salad (recipe follows).

Spinach Salad

Yield: Four side salad servings
Prep Time: 20 minutes
Cooking Time: 5 minutes

1 cup whole hazelnuts
4 cups baby spinach leaves, stems removed and very loosely packed
4 cups mixed baby lettuces, very loosely packed
4 oz fresh chèvre
4 thinly sliced pieces of prosciutto, cut into small pieces about 1 inch by 1/2 inch.

1. Toast hazelnuts on a baking tray in a 400°F oven for five minutes. Remove and cool before using.
2. Assemble your salad by layering the lettuce and spinach, followed by crumbling the goat's cheese over, then the prosciutto and sprinkle with some toasted hazelnuts.
3. Lightly dress with blackberry vinaigrette and add some fresh blackberries for garnish.
4. Serve with salmon burgers.
Similarly delicious recipes on other blogs:
Salmon Burgers with Cilantro Mayo on Annie's Eats
Blueberry Vinaigrette on Fat free vegan kitchen
Spinach Strawberry Salad with Creamy Strawberry Vinaigrette on Our Life in the Kitchen
Pear, Walnut and Blue Cheese Salad with Cranberry Vinaigrette on Recipe Girl
Open Face Salmon Sandwich with Sweet Mustard Sauce on Steamy Kitchen