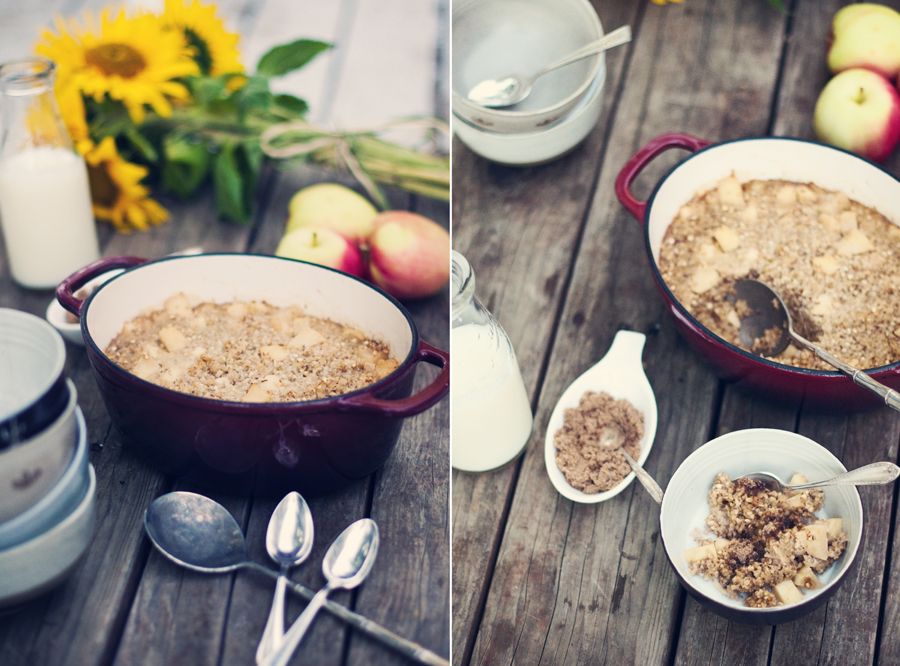 Today marks the first post in a series of challenges sponsored by Canadian Tire. For the next two months I will be challenged to use my kitchen in more creative ways and create six original recipes using various tools available at your local Canadian Tire. The Kitchen Crew, a fabulous group of fellow food bloggers, are tasked with "missions" to complete and provided with various kitchen tools or appliances to do so. For my first mission, the task was as follows:
"It's back to school time again! And you know what that means – packing your little one a lunch and preparing snacks for an army of friends after school. Besides wanting to be nutritious and delicious, you also don't want to slave away for hours in the kitchen. Your mission this week is to develop easy eats for back to school! That means a total prop time of 20 minutes or less – no cheating!"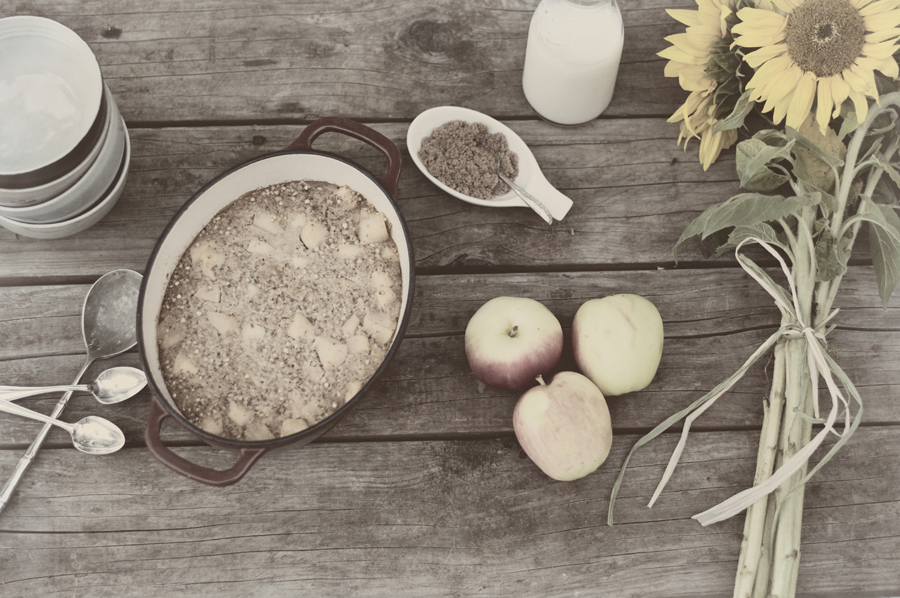 For my first challenge I was given a KitchenAid 3.5 Quart Dutch oven with lid. I actually already own a 7 quart cast iron KitchenAid Dutch oven, but it is not enamel coated, so I was excited to try this easier to clean version. The beauty of Dutch ovens are that you can cook just about anything in them. Soups, sauces, curries, grains, meat, casseroles, desserts, the possibilities are endless. I love my Dutch oven and use it at least two or three times a week. The only problem I ever had with it was seasoning it and making sure to not soak it for too long, because this can damage the seasoning on the bare cast iron. With this enamel coated Dutch oven though, clean up was a cinch and I soaked it for 15 minutes before scrubbing. There is no need to season and you just dry it and put it away. Perfect!
Although my kids aren't school aged yet, I still like to have as little to do in the mornings as possible. Things are rushed, coffee and lunches needs to be made, tiny feet scramble between toes and there just isn't time to be creating masterpieces of culinary artistry if it takes more than 20 minutes. That's where this baked oatmeal comes in. A scant 15 minutes of prep was all it took to make this recipe come together, then it just sits in the fridge overnight, you pop it in the oven before you jump in the shower and one quick hour later, breakfast is served!
If your kids (or loved ones) love it as much as I do, they can always have it for a snack after school as well, as it keeps and warms up nicely. We served ours with a sprinkler of brown sugar and a splash of milk, but it's wonderful with yogurt or served plain for those hardcore purists.
One year ago: Roasted Parsnip and Apple Soup

Two years ago: Sautéed Squid Concassé

Baked Apple Pie Oatmeal

Yield: 6-8 servings
Prep Time: 15 minutes
Cooking Time: 1 hour

1 1/2 cups steel cut oats
1/3 cup buckwheat groats (kasha)
2 tbsp ground flax
1/2 cup brown sugar, packed
3/4 tsp cinnamon
1/4 tsp nutmeg
1/4 tsp salt
1 1/2  cups water
1/2 cup buttermilk
2 eggs, beaten
3 tbsp butter, melted
juice and zest of half a lemon
2 tsp vanilla
3 apples, peeled, cored and diced

1. In a large bowl, mix the dry ingredients.
2. In a separate large bowl, mix the wet ingredients (not the butter).
3. Combine the wet and dry ingredients and place in a plastic, ceramic or glass bowl. Stir in the butter.
4. Cover and refrigerate overnight.
5. Grease the Dutch oven, pour in the mixture and bake, covered, in a preheated 350°F oven for 40-45 minutes.
Similarly delicious recipes from other fabulous food blogs:
Oatmeal Brownie Milky Way Bars from Life's Too Short to Skip Dessert
Overnight Spiced Vanilla-Pear Oatmeal from Sweet Treats and More
Chocolate Chunk Oatmeal Cookie Bread from How Sweet It Is
Pumpkin Pie Oatmeal from The Hungry Housewife
Raw Buckwheat Breakfast Porridge from Oh She Glows
Disclaimer: "I was provided with compensation, including a free KitchenAid Dutch oven, in exchange for creating this post for the Canadian Tire Kitchen Crew series. All opinions are 100% my own. This Kitchen Crew series highlights my stories, recipes & tips with promotional consideration made possible by Canadian Tire. If you want to uncover your kitchen's true potential, stay tuned to the Kitchen Crew for my weekly missions."