Corn. Zucchini. Late harvest vegetables that we all (mostly) love. The only problem with zucchini is that it has a mind of it's own and can take over vast swaths of your garden if left unchecked. Even an avid gardener (me) can lose track of where the newest veggie has taken hold and all of a sudden there are four or five ready and ripe for the picking (never over 8-10 inches in my house). But what to do with it all?
Zucchini can get awfully boring if used over and over again in the same fashion. Baked with, it is wonderful as I've shown with my chocolate zucchini bread and a great guest post from Hélène, who gave us a spiced version. You can bake it, roast it in butter or throw it in to soups and curries, as we have been doing all summer. But there must be other ways?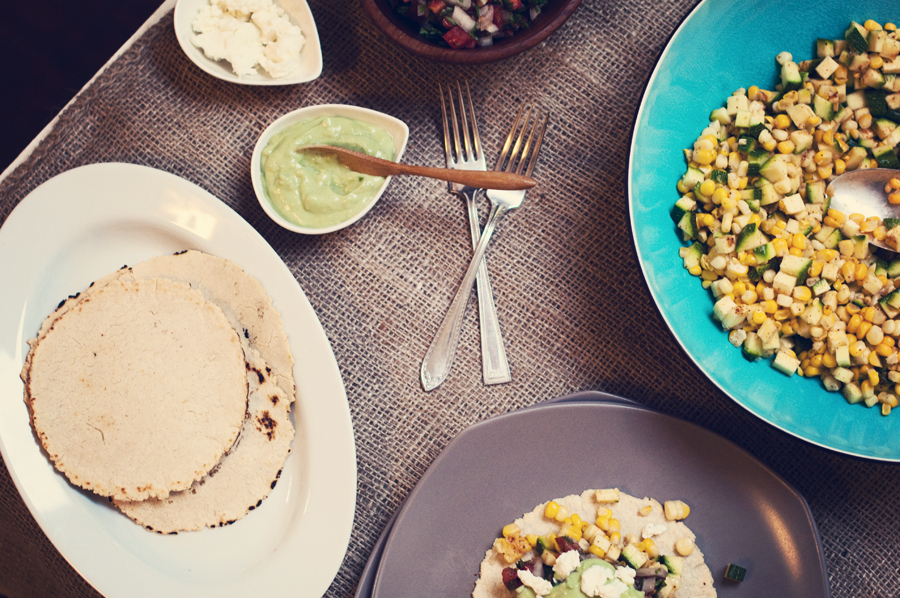 After watching a great movie a few weeks ago, "Forks Over Knives", Adrian and I have taken to reducing our animal protein intake to next to nothing. I was surprised how easily he was willing to give it up actually. I had a few exceptions that I am not willing to give up though, ever (someone will have to pry them from my cold dead hands): butter, buttermilk and eggs. I will never be vegan and I will never be a low fat dieter either. Our take from the movie was that a diet of less than 5% animal proteins can be very helpful in eliminating cancer causing elements int he body.
Seeing as both of our families have seen their fair share of cancer and other ailments, we are always on the lookout for more ways to make our diet even healthier and always, delicious. So with that in mind, it comes down to me to come up with creative solutions to the daily problem of, "What's for dinner?".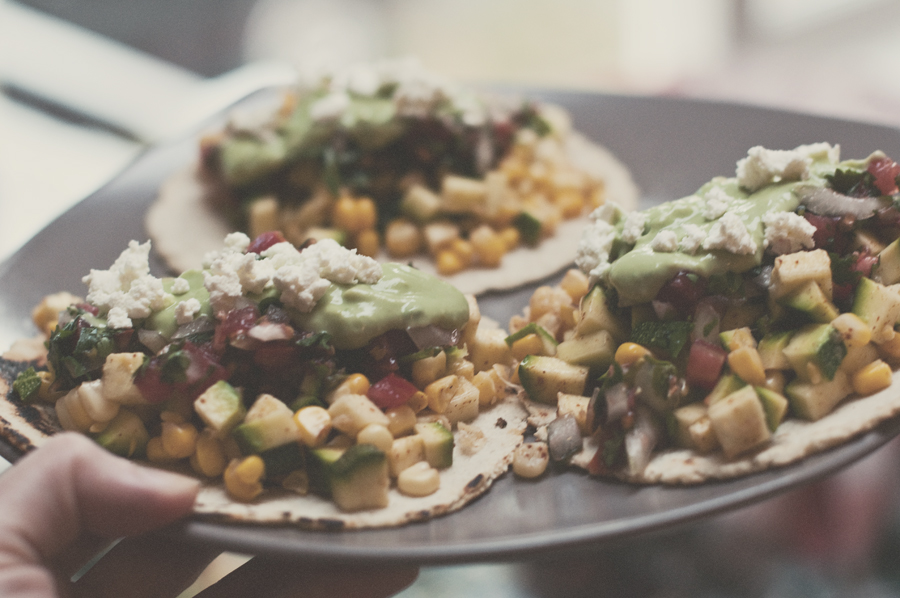 I actually found myself enjoying all these meals even more. The bounty from our garden was being used in everything and in vast quantities, nothing was going to waste and all the trimmings were going to the chickens of course. I thought we would be limited in out daily creation of dinner as vegetables are notorious for not being a great star of the meal, but I was so very wrong! In this taco, the corn and zucchini definitely take centre stage and are only accented by the delicious and fresh tortillas and the creamy, tangy avocado cream.
If you are tired of the same old zucchini recipes, try this corn and zucchini taco out for dinner tonight and I guarantee you will love it. Seriously, don't forget the avocado cream though, that stuff is to die for.
One year ago: Roasted parsnip and Apple Soup

Two years ago: Butternut Squash Gnocchi

Corn and Zucchini Tacos

Yield: 8-10 servings
Prep Time: 45 minutes
Cooking Time: 20 minutes 

For the Tortillas:
1 cup masa flour
1/4 tsp salt
3/4 cup water

For the Filling:
2 large ears of corn
1 medium zucchini
juice of two key limes or one regular lime
sea salt to taste
1/2-1 tsp chili powder

For the Creamy Avocado Sauce:
1/2 an avocado
2 tbsp light sour cream
juice of one lemon

1. For the Tortillas: Combine all the ingredients in a bowl and stir to combine. Once a dough is formed, divide into 6-8 equal portions and roll into balls.
2.  Roll out or press using a tortilla press until about 6 inches around.
3. Grill on a preheated, ungreased cast iron pan or other grill at medium high heat for about one minute per side. Keep wrapped in a towel or inside a tortilla warmer to keep soft and warm until serving.

4. For the Filling: Steam, boil or BBQ the corn until tender. Remove the kernels using a sharp knife and place in a large bowl.
5. Dice the zucchini and add to the corn.
6. Add remaining ingredients and toss to combine. Set aside.

7. For the Creamy Avocado Sauce: Combine all ingredients in a blander or food processor and process until smooth.

To Serve:
On each tortilla shell, place a spoonful of the corn/zucchini mix. Cover with the creamy avocado sauce and pico de gallo if desired. Serve.
Similarly delicious recipes from other fabulous food blogs:
Blue Corn Posole from Bev Cooks
Corn Relish from Foy Update
Fresh Corn Chevdo/No-Rice Risotto from Zaika Zabardast
Sweet Corn Panna Cotta from Fresh Tart
Sweet Corn Soup from Cheese and Chocolate