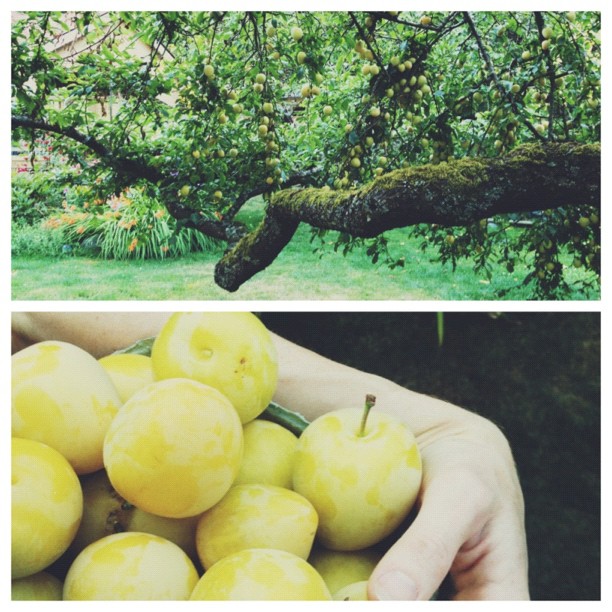 We've all been there.
It's the middle of summer and all of a sudden,  everything is ready. All at once every single plant in your garden and tree in your yard is brimming with an overabundance of produce. Too many carrots, lettuce spilling out into the pathways, trees dropping fruit all over the place and attracting wasps and always, always too much zucchini.
It's an annual problem for most people. Sure, we've grilled it, grated it into pancakes and baked it into delicious chocolaty loaves, but made it into a "noodle" salad? Yup, it's the new thing…I tell ya. If you have too much zucchini in your garden, or have gotten into the habit of depositing anonymous bags of the stuff of your unsuspecting neighbour's front porch, then maybe it's time to try something a little different this year.
Using a fancy pants mandoline will impress all your friends and relatives (I promise) and you'll be left scouring your garden for the next zucchini, your plant will never keep up again!
If you don't have a mandoline, the biggest setting on a box grater will work, but it might be messy. I suggest buying one of those super cheap-y type plastic mandolines. You'll find a million and one uses for it, promise.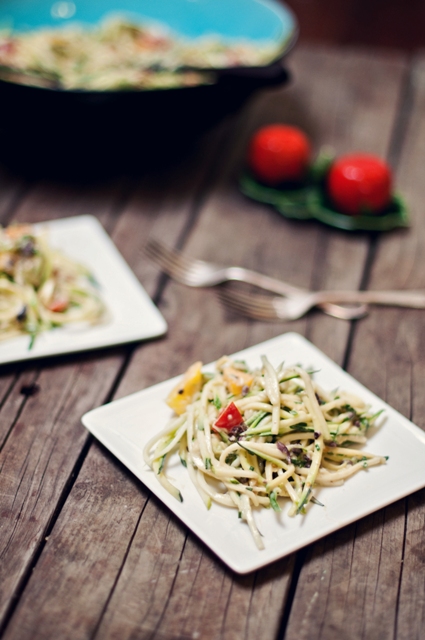 One year ago: Peach and Blackberry Upside Down Cobbler
Two years ago: Prosciutto Wrapped Figs
Three years ago: Two Salads, One Dressing
Ingredients
3 small or 2 medium zucchinis (green or yellow)
1 bell pepper (orange, red or yellow)
250g cherry tomatoes
1 avocado
handful of fresh basil and chives
3 tbsp kalamata olives, pitted
For the Dressing:
1/4 cup homemade mayonnaise
1 tbsp coconut or apple cider vinegar
sea salt and cracked pepper to taste
1-2 tbsp full fat cream
1 tsp Maille Dijon
Instructions
Using a mandoline (on the matchstick setting), grate the zucchini lengthwise to form long slender "noodles". Place in a large bowl.
Cut the remaining vegetables into bite sized chunks and toss into the bowl of "noodles".
Garnish the salad with the herbs and olives.
For the Dressing: Mix all ingredients together to form a dressing. Toss the salad and serve.
Notes
Salad is best served immediately. Leftovers will keep for 1-2 days.
All Rights Reserved. Copyright Guilty Kitchen 2014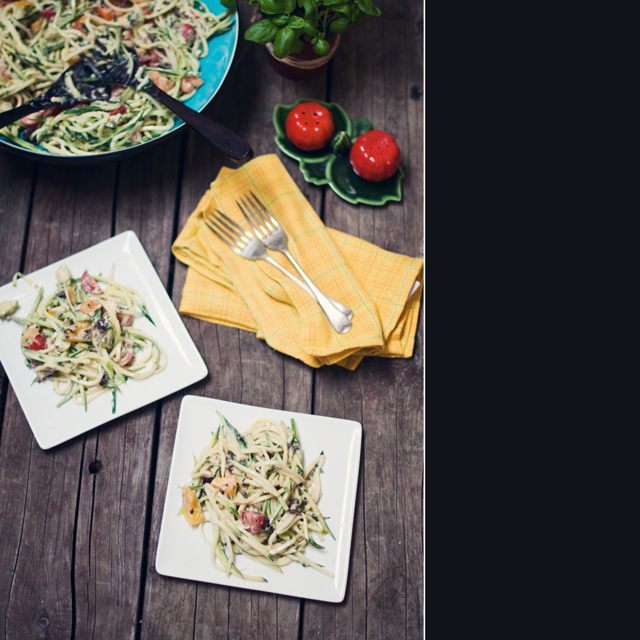 Similarly delicious recipes from other fabulous food blogs:
Zucchini Thyme Butter from Kitchen Konfidence
Baked Zucchini Chips from Eclectic Recipes
Asian Style Zucchini Pickles from Modern Comfort Food
Zucchini Soup from Cook & Be Merry
Smoked Swordfish Carpaccio with Mango and Zucchini from Cooking Me Softly