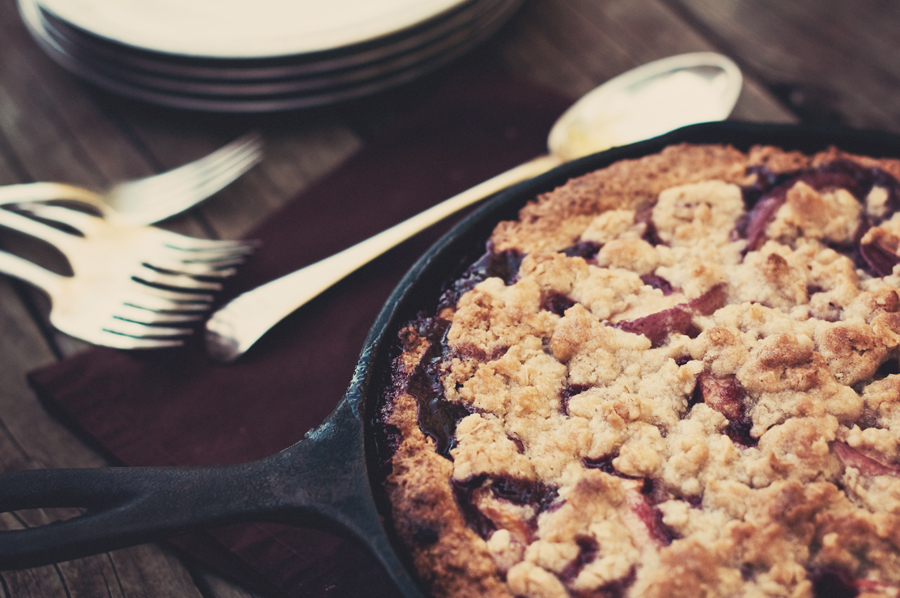 This week I'm kicking off five glorious days of peaches. You've got peaches on your counter? Fruit flies making a home in there? Well, I've got five delicious solutions for you.
Today's recipe is for an upside down peach and blackberry cobbler. So here's the thought process behind this: I wanted a cobbler. Check. I wanted it to be different. Check. I wanted it to be delicious. Check. This cobbler has your standard biscuit dough, but I added browned butter and thyme to liven it up and I used it as a bottom crust, instead of a topping. Then I cooked it in a cast iron pan. I filled this pie with juicy peaches and hand picked blackberries from the park down the road. Then, seeing how naked this cobbler would be without a topping, I also added a crisp topping filled with butter and oats and sugar.
This was the best damn pie I've had in a long time. So many things going on in your mouth, but in a harmonious and delicious way.
The best part about this cobbler/pie is that you can fill it full of whatever fruits you've got on hand. Though taking out the thyme in the crust may be appropriate if you are using apples or something along those lines. Thyme would be fine with strawberries though.
As summer comes to a close, peaches are one of the best fruits to make an appearance. The next thing you know we'll be munching on crispy apples and eating pumpkin pie. So if you've been craving something a little different, you might want to give this recipe a try.
I am also featuring this recipe on Tablespoon.com and will be embedding the recipe in this post. There are a number of other peach recipes in my Peachy Keen Summer Recipes Collection on Tablespoon.com that will be featured in upcoming posts on Guilty Kitchen, so you'll be getting a sneak peek by checking out the collection.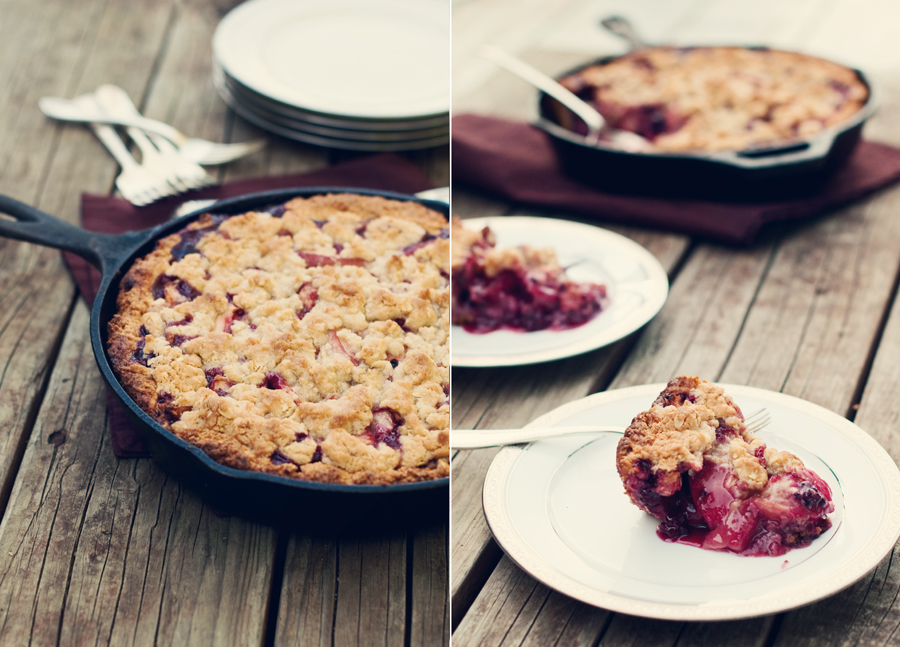 One year ago: Banana Bread Ice Cream

Two years ago: Salted Butter Caramel Ice Cream

Peach and Blackberry Upside Down Cobbler

Yield: 10-12 servings
Prep Time: 35 minutes
Cooking Time: 50 minutes

For the Filling:
2 cups fresh blackberries
3 peaches, pitted and sliced into wedges
1/2 cup suagr
juice of 1/2 a lemon
2 tsp corn starch
1 tsp vanilla
pinch of salt

1. In a large bowl, combine the peaches, blackberries and sugar. Let stand 30 minutes.
2. Drain the juices from the fruit through a colander into a small saucepan. Stir the lemon juice, cornstarch, vanilla and salt into the juices.
3. Allow the sauce to come to a boil, turn to low and simmer for 2-3 minutes, or until thickened.
4. Return juices to fruit and toss to combine. Set aside.

For the Biscuit Dough:
1 cup whole wheat pastry flour
1 cup pastry flour
1 tbsp baking powder
1 tsp fresh thyme
3 tbsp sugar
1/2 tsp salt
1/2 cup brown butter, cold and cubed**
3/4 cup buttermilk

**How to make brown butter: In a small saucepan, heat butter over medium high. Allow to come to a boil, but do not stir. Swirl the butter around every minute or so. When the butter begins to foam up and there is a nutty smell and a brown tinge to the butter, remove from heat and cool in refrigerator.

1. In a large bowl, stir all dry ingredients to combine.
2. Cut in the cold brown butter with a pastry cutter until small crumbs form.
3.  Pour in the buttermilk and stir until a dough is formed. Do not over mix. Pat the dough into a WELL greased 9″ cast iron pan, making sure to push the dough up the sides about halfway (it will rise a bit).
4. Pour fruit over crust and top with crumble topping (recipe follows).

For the Crumble Topping:
1/2 cup butter, softened
1/2 cup sugar
1/2 cup all purpose flour
1/4 cup oats
1 tsp vanilla

1. Cream butter and sugar together in a small bowl. Add flour, oats and vanilla and mix well.
2. Using your fingertips, break the mixture apart into the top of the cobbler.
3. Bake in a 375°F oven for 50-55 minutes. Cool on a wire rack to room temperature and serve with a dollop of freshly whipped cream or a scoop of vanilla ice cream.
Similarly delicious recipes from other fabulous food blogs:
Blackberry Cornmeal Cake from Food + Words
Grilled Peaches with Lemon Butter from Donal Skehan
Peach Walnut Bruschetta from Stetted
Bourbon Peach Torte from Hungry Rabbit NYC
Honey Soaked Peach Strawberry Shortcake from Adryon's Kitchen