This Creamy Cucumber Salad is a pretty popular iteration of the humble cucumber. I mean, what is there to do with cucumbers besides some kind of salad or carving them out for appetizers? It's not like you can cook with them, right? Although once, at a restaurant I used to work at that shall remain nameless, they offered a turkey and cucumber pizza. Let's just say I did not test it out. The only thing difficult about making this salad is slicing the cucumbers and onions thin enough to make a nice texture.
Well then, let's put our hands together for the brand new 13-cup Kitchen Aid Food Processor with their ExactSlice™ System. This thing takes slicing, grating, julienning and mixing to a whole new level. It features the first ever externally adjustable slicing slider so you don't have to make adjustments by taking lids off and getting messy! Yay! The slicer adjustment goes from 1mm all the way to 6mm and the ultra-wide feed tube accommodates even large tomatoes and potatoes, which really helps during food prep. Even with the added time in cleaning the food processor, everything just went a little easier, ya know? And it even uses less power than previous models, which you know I am excited about.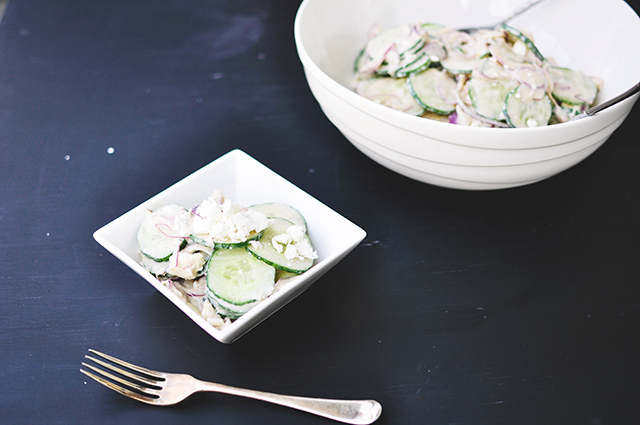 I have made a couple of things in the processor now and I LOVE it. I am always 100% honest with you on products I wish to review and this one is no slouch. Besides the very first time I used it, where I almost sliced my finger tip off, I haven't had anything negative occur during use. It mixed well, sliced well and grated up a whole gigantic cauliflower too. But you know what the BEST part about this food processor is?
I get to give one away to you guys! I love doing giveaways and this one is extra special, because it is for Canadians only! How often does that happen right? So let me know below what you would do with this bad boy if you had the chance to get your hands on it and you'll be entered to win! Lots of bonus entries too!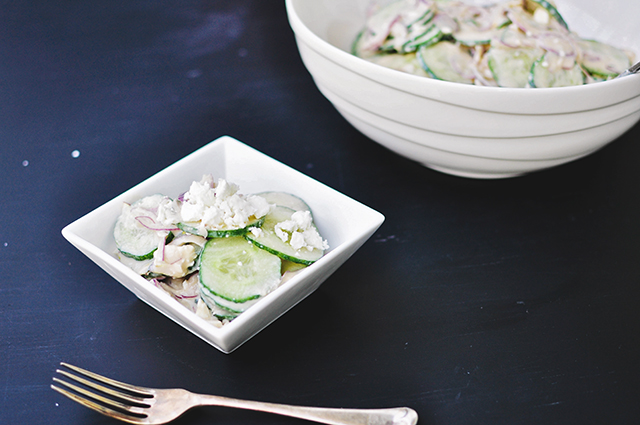 One year ago: Paleo Sandwich Bread
Two years ago: Chocolate Chia Energy Balls
Three years ago: Chai
Four years ago: Strawberry Rhubarb Pie
A refreshing Creamy Cucumber Salad for those hot summer nights. Takes less than 15 minutes to make!
Ingredients
1 1/2 large Long English Cucumbers, ends removed
1/2 red onion, peeled
2/3 cup plain 0% Greek yogurt
1 tsp lemon zest (from 1/2 a lemon)
2 tbsp fresh lemon juice (from 1/2 a lemon)
1/4 tsp sea salt
1 tsp chopped fresh thyme
1 tbsp aged Balsamic vinegar
1 tsp red wine vinegar
1 tsp Dijon mustard
100g crumbled goat feta
Instructions
Follow food processor manufacturer's instructions on setting up slicing blade. Set thickness to halfway and feed cucumbers into feed tube.
Set thickness to minimum and slice red onion using feed tube. Remove onions and cucumber to a large bowl.
In a separate smaller bowl, whisk the yogurt with the lemon juice and zest, salt, thyme, vinegars, and Dijon mustard.
When ready to serve, pour dressing over cucumbers and onions, toss to coat and top with crumbled feta. Serve immediately or wrap and refrigerate for up to four hours.
All Rights Reserved. Copyright Guilty Kitchen 2014