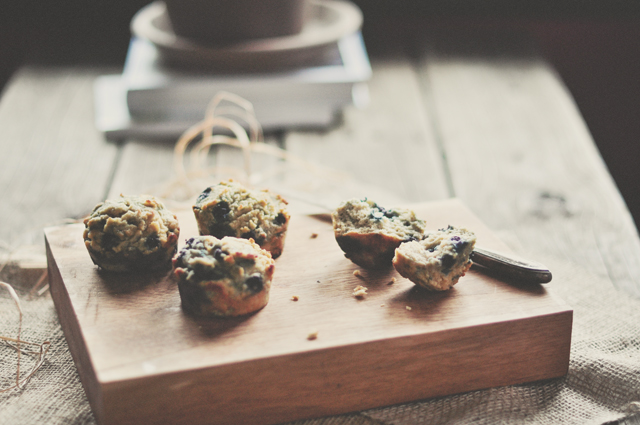 Life is pretty sweet right now.
I've got these two crazy, ridiculously cute, unimaginably annoying, super loving, curious, disturbingly loud and dirty kids. They rock my world and show me what life is truly about every. Single. Damn. Day. I'll be honest, sometimes, for the briefest of seconds, I wish I'd never had kids. I see those couples out, driving their crazy-ass expensive cars, staying up late, drinking all night, going to hotels and travelling when they want…and then I shake my head and I remember the depth of my love for these kids and how fulfilling my life is because of them and their constant need for language, and touching and knowledge. These two are my life.
Also I have the best, most supportive husband on the planet who has grown to love the things that I love. My throw weights around together, we eat awesome food together. We hang out, we go places. We make every minute count.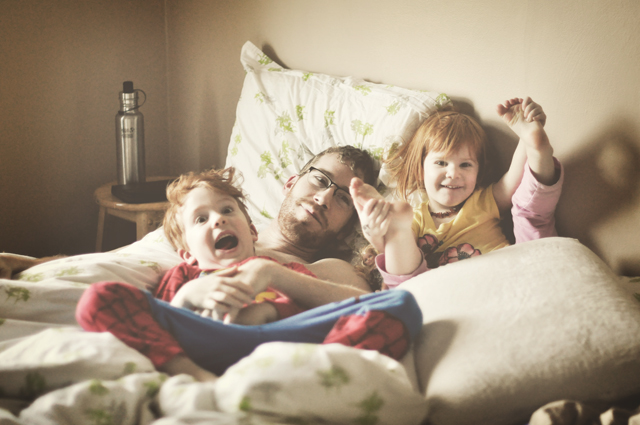 I honestly hope that I can help other people's marriages be like ours. First, let me say that we are not perfect. Of course we aren't. No one is perfect. We fight. We wish the other one would go away. We get mad at stupid shit the other one does. The difference is we talk about it. We talk a lot. We talk so much to each other that our kids have found sneaky ways of trying to divert our attention away from each other if we are talking. They make as much noise as possible until one of us cracks and yells at them to stop. Everyone does that right? Good.
In any case, we are travelling forward together in this awesome life we've built together. We are working together on projects and are attempting to spread our love of health, strength and fitness to others. We are doing a little personal training and diet coaching on the side right now. We will be doing it for free for the first little bit, so if you want to get in of the ground floor of this awesomeness, email us at elizabeth@guiltykitchen.com with your goals, current diet and current fitness approach. We will take on an additional five clients right now, so space is limited.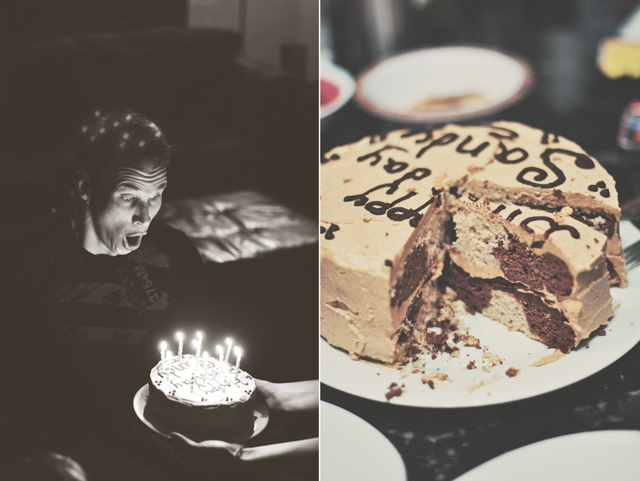 On a completely different note, check out this face! That's our friend Sandy who was surprised with a birthday cake at our house the other night. Another friend, Julie, made my Zebra Cake and brought it over for dessert. Oh. My. Goodness. I forgot how good this cake is. I think I ate 1/4 of it myself…I went back for seconds…and thirds…and a little itty bitty slice while doing the dishes..oh and I finished the kids pieces too. Yum!
Speaking of baking…
My kid goes to preschool, and at that preschool they are not allowed junk food, or nuts…which I love. Well, not the nut part, but I do love their philosophy of the kids being outside all day. In any case, I needed a snack for him to take to school that doesn't cost me $1 a portion and come in non-recyclable packaging. I hate "snack" food from the store…so expensive.
So I came up with these glorious  little paleo blueberry muffins. They are quick, tasty and free of all the usual allergens (though there is eggs). They are quick to make and completely Paleo. If you don't like blueberries, you could add any type of fruit, or even replace the fruit with 1/4-1/3 of a cup of chocolate chips (score!).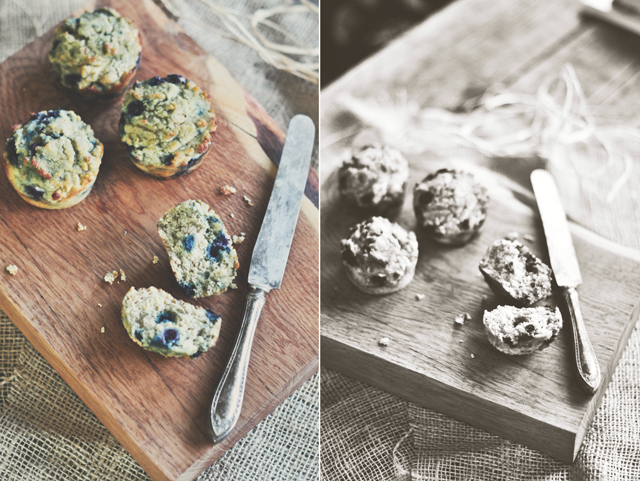 One year ago: High Protein Salad
Two years ago: Lemon Blueberry Roasted Banana Bread
Three years ago: Quick Chicken Fajitas
Quick and easy, school friendly Paleo Blueberry Muffins.
Ingredients
3/4 cup coconut flour, sifted if lumpy (I use Nutiva)
rounded 1/4 tsp of sea salt
rounded 1/4 tsp of baking soda
1/4 tsp of ground cinnamon
dash of ground nutmeg
6 pastured eggs
1/3 cup maple syrup
2 full droppers of liquid stevia
1/3 cup whole milk yogurt (grass fed if possible)
1 tbsp vanilla extract
1/3 cup + 3 tbsp of coconut oil, melted (I LOVE Nutiva here as well)
1 cup frozen wild blueberries
Instructions
Preheat the oven to 350°F. Line your muffin tins with paper or use silicon bakeware like I do (such easy clean up!)
In a small bowl, stir the dry ingredients together.
Add all the wet ingredients to the bowl with the dry ingredients and then stir together with a fork, whisk or small handheld stick blender. All methods will work, just make sure to get the lumps out.
Spoon into muffin tins until almost full (these do not rise like a traditional muffin, they only rise a tony bit). Place in preheated oven and bake for 25-30 minutes.
Muffins are done when just golden brown on certain spots and a toothpick inserted comes out clean.
Remove to a cooling rack and cool for 10 minutes. Remove from tins and allow to cool completely.
Notes
Storage: Will keep for about 4-5 days in a sealed container on the counter at a cool room temperature or in the freezer for a few weeks.
All Rights Reserved. Copyright Guilty Kitchen 2014