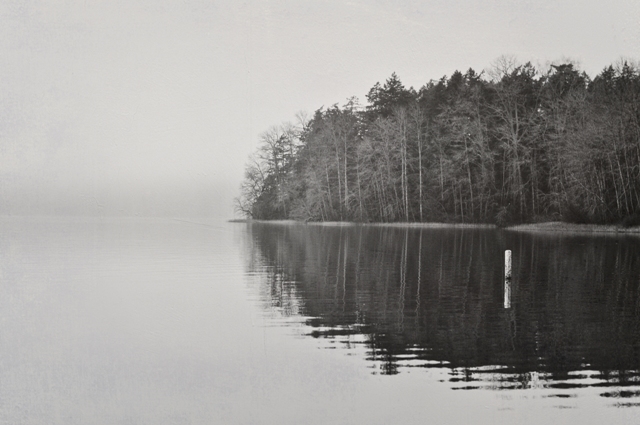 Here it is, what you've all been waiting for!
Waffles.
Who doesn't like crispy, fluffy waffles with pockets for filling with whatever kid of semi-liquid edible gold you can think of.
I like to put a little ghee on mine, or some coconut manna (coconut butter). But in the next few days, I'm going to be experimenting with dinner waffles…you heard me. Curry scented waffles with caramelized onions and mushrooms on top, maybe some runny egg gravy.
…drooooooooooooool…
Oh right, where was I?
So here was my dilemma: I'm trying to lean out a bit, but I need fuel to make muscles. Lunch is the worst meal for me in the creativity department. I usually default to salad with protein (usually leftovers), but that gets old (and expensive in the winter months). So I needed something more satifying. Something filling, with enough fat, carbs and protein to get me through my workout in the late afternoons.
Step in the coconut flour protein waffles. Enough fiber (12g) to really fill you up, not too many carbs (21g) and a shot of great protein (39g) with a little healthy fat for good measure (7.8g).
These are super quick to make and if you are paleo or primal or gluten free or nut free or soy free or dairy free, then these are for you. Paleo protein waffles, who knew? Make sure to use a protein powder that is suitable for you and your diet. I use whey isolate, but I'm thinking of switching to an egg white based protein powder to eliminate more dairy from my diet.
Try these waffles and let me know some topping ideas! I'm thinking I'll do a follow up post in the next month with more recipe ideas for these awesome little waffles.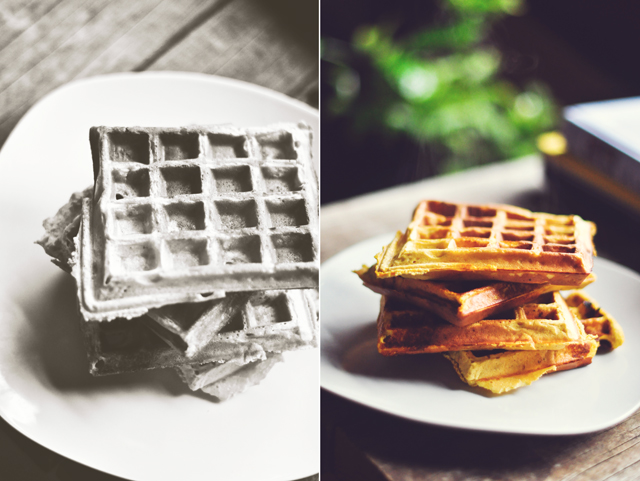 One year ago: Yogurt Panna Cotta with Earl Grey Grapefruit Jam
Two years ago: Chocolate Peanut Butter Layer Cake
Three years ago: Rosemary Roasted Beets
Ingredients
1 tbsp + 1 tsp coconut flour
1 scoop or 28g protein powder (unsweetened)
dash of cinnamon
1/4 tsp baking powder
1/2 cup pumpkin purée (you could also use apple sauce or mashed banana)
1/4 cup non-dairy milk (unsweetened), I use almond milk
8 drops liquid stevia (or equivalent sweetener of choice)
1/2 tsp vanilla extract
1 small egg
2 tbsp egg white
Instructions
Mix dry ingredients in a small bowl. Preheat waffle iron following manufacturer's instructions.
Stir wet ingredients into dry. Grease waffle iron with coconut oil or desired fat.
Pour waffle batter onto hot waffle iron and close the lid. Wait 4-5 minutes or wait for indicator lights to show that it is done. If you open it too soon, it may break apart.
Remove from waffle iron to plate and serve with desired toppings.
Notes
These freeze very well and make great toaster waffles too!
All Rights Reserved. Copyright Guilty Kitchen 2014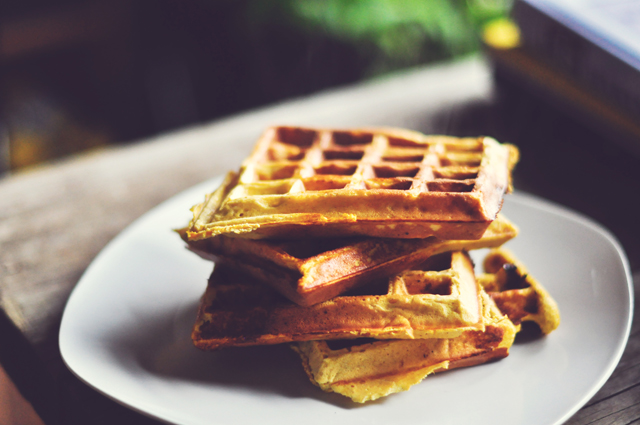 Removing the waffle from the iron can be tricky, but I like to use a spatula. And guess what? I want you to be able to use the same spatula as ME! Take a look at this beauty: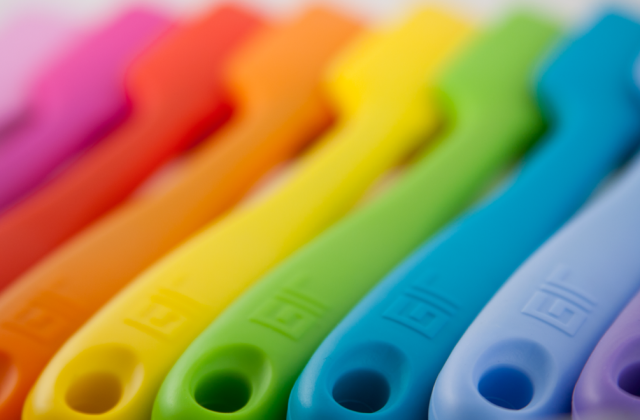 The Spatula by GIR (Get It Right) is:
The Spatula is a single piece of molded silicone, heat resistant from -40°F to 464°F. The
spatula's unique solid body construction make it easy to clean, dishwasher safe, and
nearly indestructible. An internal polymer reinforcement adds structure and heft, and
lends a degree of flex to the blade that allows it to curve around bowls and containers
while still being strong enough to manipulate and control foods effectively. It is designed
to mix, fold, sauté, and stir foods at any temperature.
AND it comes in a lot of fun and funky colours, which is what I am allllllll about. So who wants to win some of these?? Simply leave a comment on this post for a chance to win some of these bad boys. I will email the winners at the end of the week! There will be three winners and a choice of colour for each winner. 
**The winners are: Anna, Nadia and Tiffany! I will email you shortly. **
Follow GIR on their Social media channels: