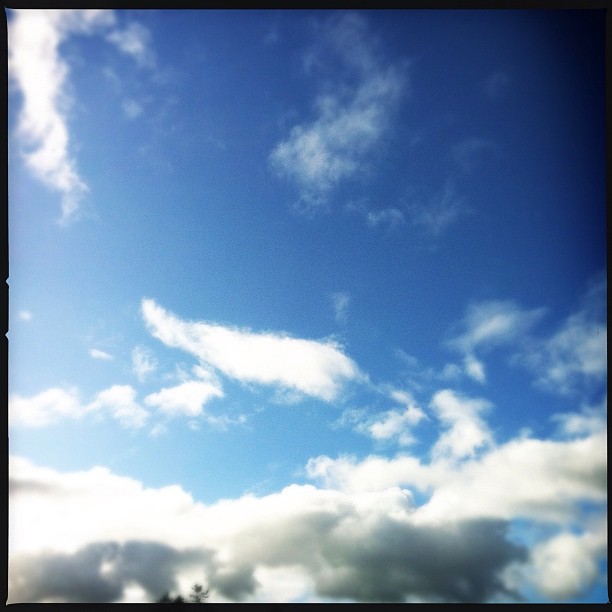 Cheat days.
These words have haunted me for far too long. About eleven years now, if you're counting.
I used to think that every day had to be a regimented, strict eating day and then only on the chosen day (or days in my case), could I indulge my true cravings. I would wait diligently until Friday night or Saturday night and then I would blow my calorie load (pardon me) on whatever I could get my newly toned hands on. After about ten years of on again off again dieting, crashing, splurging and guilt ridden excess, I think I finally found true balance. There are no cheat days. Never again will I call it those awful words. To cheat means to induce guilt, and we all know I have enough of that. From now on there will only be healthy living and healthy indulgence, for to have all work and no play makes Liz a dull girl. I will eat that beef rib and cornbread side with butter and I will drown it in chocolate porter. Then I'll work out like I always do and I will feel no guilt. I will have my piece of chocolate cake and some bacon ice cream. People will wonder "how does she stay so skinny?" and they will ask me, as they always do. But I'm always truthful. Work out. Hard. Move your body. Every day. Pay attention to what you eat, don't finish your kids plates, don't drink your calories, water is always best.
And I will always remember to breathe…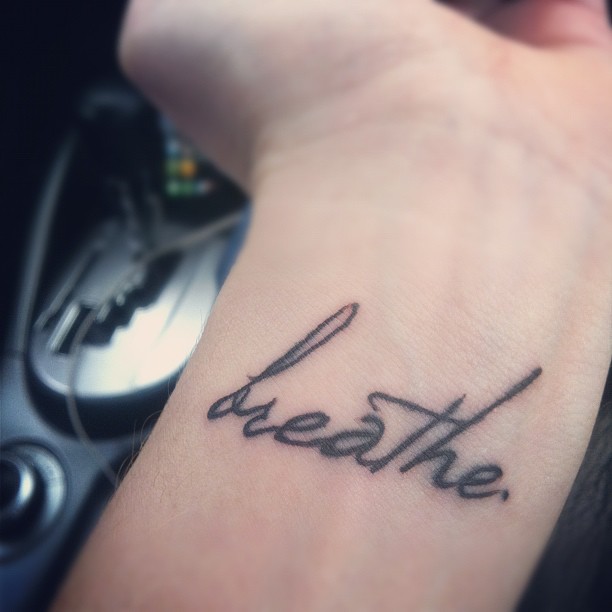 As each and every day brings me closer to my goals of having a ripped six pack and lean-as-Jennifer-Aniston-arms, I continue to keep enjoying the food that I am eating. As a righteous foodie, I feel that even in the healthiest, leanest of times, food must be enjoyable to the highest degree. In layman's terms: I like to eat good food. But good food doesn't have to be boring, overly simplified or tasteless. It's the opposite that is true in my mind. Healthy food should be exciting, it should blow people's minds! I like to serve food that people think is overly indulgent, but when I tell them it was made with half the calories of the original, I want them to be stunned into silence.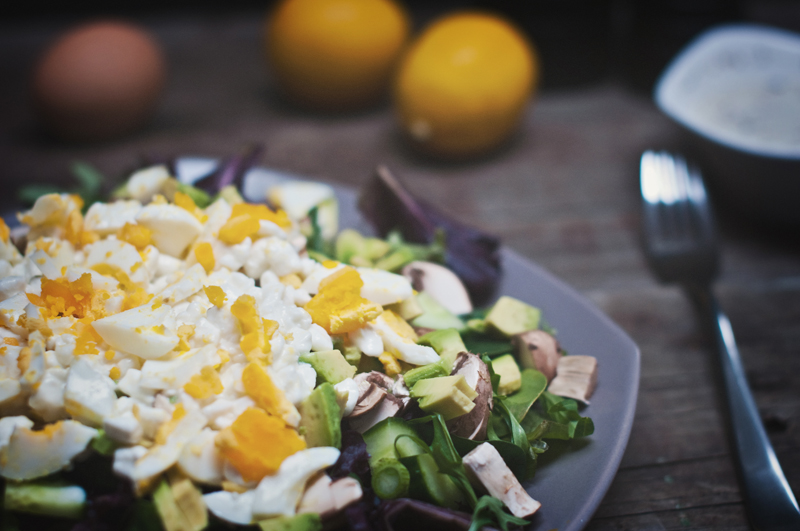 That's kind of how I go about making salads. Anyone that knows me, is familiar with my "big salads." I've been making salads for lunch and dinner for over ten years now. Salads helped me lose 65 pounds when I was 18. The best thing about salads is that you can grab the biggest bowl you've ever seen, a serving dish even, and fill it 3/4 of the way with lettuces and greens. Then you just top that off with a few choice additions that will make your salad shine and you've got yourself a killer meal. I've been known to make salads so big, some people couldn't finish them, wimps.
You can make a salad any which way you please as long as you steer clear of overly fatty foods and rich dressings. Easy enough. My biggest problem was always the dressing. I used to dip the very ends of the tines of my fork into my fatty dressing and use about a teaspoon for the whole salad. This got old after a few years. Then I discovered that I could have somewhat creamy dressings without all the fat! Instead of cream, sour cream or full fat yogurt and oils, I just use buttermilk. A little dash of lemon juice, garlic and salt and pepper and you've got yourself a creamy, tangy dressing that goes with just about anything you can dish out. I pour that stuff all over my salad and I am absolutely guilt free.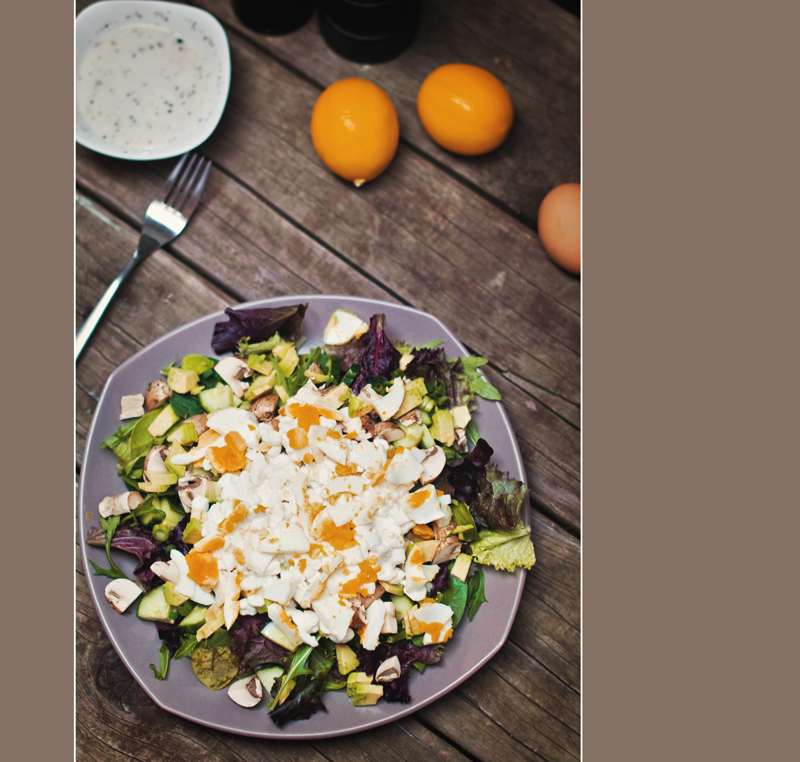 High Protein Salad
Yield: One serving
Prep Time: 10 minutes
2-3 cups (50g) Baby spring mix
2 green onions (15g), chopped
4 inches cucumber (100g), quartered and sliced
4-5 white mushrooms (50g), halved and sliced
1/4 of an avocado (50g), diced
1/2 cup (125g) 1% cottage cheese
hard boiled egg, diced
juice of one Mayer lemon (or use regular)
half to one clove garlic, minced or grated
3 tbsp low fat buttermilk
sea salt
fresh cracked pepper
1. On a large plate, layer the ingredients as listed except for the last three.
2. In a small bowl, mix the lemon juice, garlic and buttermilk. Season with salt and pepper. Pour over salad and dig in!