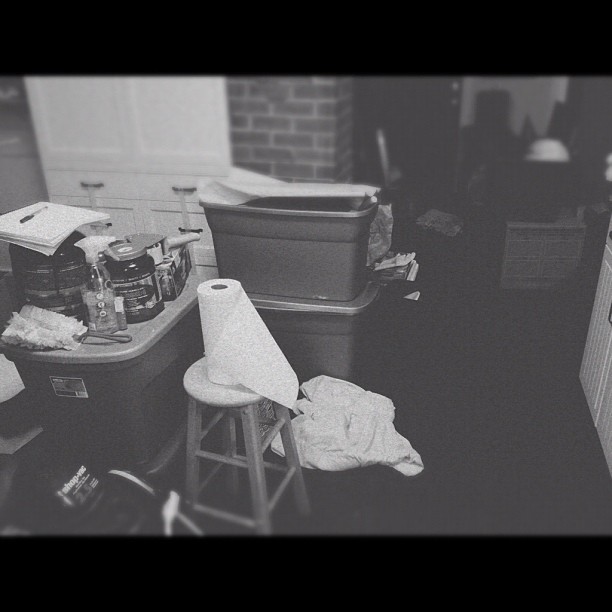 I woke up today feeling like myself for the first time in probably two weeks.
It's been awful quiet around the blog…and here's why. The above photo is our old house. A house we LOVED. A house with a huge open floor plan that allowed us to do crossfit in our living room. But we were renting it, and the owners decided they wanted it back. So we were forced to find something else, quickly (to avoid moving on January 1st…a nightmare in it's own right). We searched and searched, desparate to find something in our neighbourhood so as to not lose the closeness we'd developed with our awesome Paleo/CrossFit obsessed neighbours, whom we love.
After many appointments at various houses (with varying levels of disappointment), we lucked upon a house not even a five minute walk from our old house. It's practically on the same road. Unfortunately, it does not have an open floor plan, nor does it have high ceilings (you know, for those big kettle bell swings, thrusters and wall balls) and so it does not have a very functional workout space for someone who is 6'3″ (ahem…obviously not me…). 
BUT, it was in our desired neighbourhood, and though it is a little above what we wanted to spend, we took it. That's how much we love this neighbourhood.
Here's a quick shot of the living room. It was built in 1941 and has been completely renovated. We love it more each day…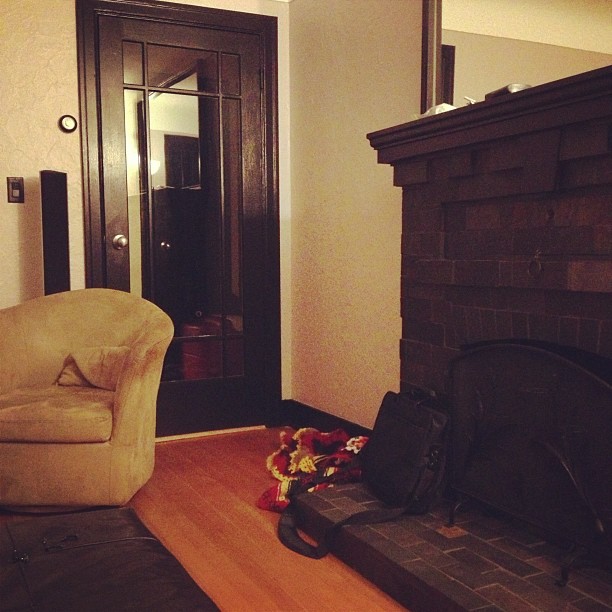 And here's why I haven't posted after the move: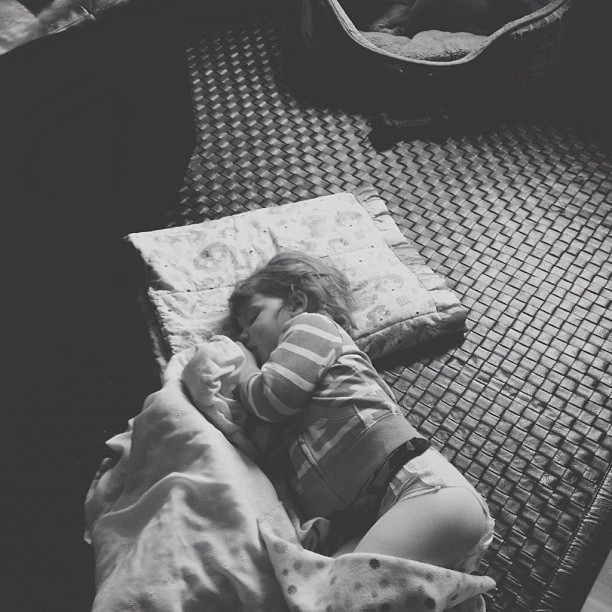 The sickness. First it was the boy (before we moved), and then not two days after we moved in, both Adrian and I were struck. And now today, the littlest one has gotten it too. Passed out on the rug…
So there you go. With packing, moving, cleaning house, moving chickens and coops and dogs, and kids and toys and well, you know. It took us down to our lowest, and then to be struck by a horrendous stomach bug….well, we were distraught. When I can't stand to look at bacon, there is something WRONG.
So when I noticed this morning that I had not posted since November 5th, I felt panicked. I hate to leave my readers in the lurch. I'm sure you all want recipes, adventure and story telling. I will be back at it as soon as I can, because this house has one thing I've never had the pleasure of having: a sun soaked studio just for ME. All my props have a home, I have beautiful sunlight and I have renewed fervor! I can't wait to get back into it.
For now I just wanted to discuss something I know is a bone of contention to many Paleo eaters. Dairy.
Do you eat it? Do you not? Why?
Have you found a good source of pastured dairy in your area? 
I have recently stopped eating dairy (after going totally mental over it for a while), because I have a feeling it makes my skin break out. Although I don't know if this is a good enough reason to make me stop having cream in my coffee entirely ( I LOVE cream). Let me know what you have found out!