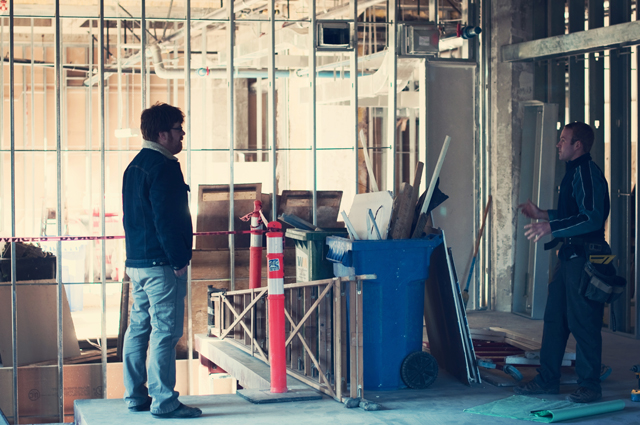 There's something about watching the creation of a new business. Maybe it's because it's a friend of mine, or maybe it's because I love coffee, but watching the renovation, construction and overall building of the new 2% Jazz location (in the Hudson Building) has been nothing short of pure excitement. Having been through the same process before with Smoken Bones (conveniently, right around the corner on the other side of the building), I was well versed in the art of construction photography.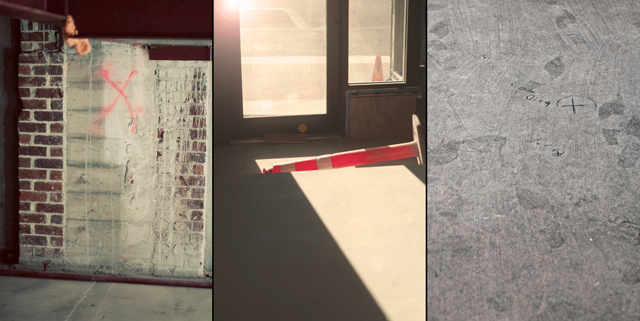 There's a certain nuance to photographing bits and pieces of a space. The raw materials, the contractors, the blueprints, footprints in drywall dust…catching the right angles in the right lights, making sure to not miss any precious details. Capturing the space before it becomes the cozy enclave it will be gives you a deeper attachment to it. Each little nail, paint brush stroke and imperfection has a special meaning. It's especially more meaningful when you have known the person opening the space for a number of years…like nine. What attracted me to doing these little photo shoots and covering the openings in this magical building were all the memories they evoke.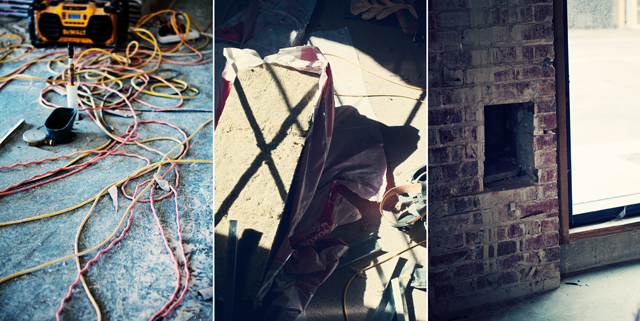 The Hudson is located in the old Hudson Bay building on Douglas street just outside of downtown Victoria, BC. For most Canadians, The Bay has a certain way of bringing back old memories. It's the department store where you were taken to buy a special outfit, or a winter coat, maybe some makeup or perfume for mom, a gift for the grandmothers…The Bay left this iconic building, instead moving to a more popular mall a few blocks down. The insides of the building were shredded and torn down, leaving only the facade. It sat like that for a long time, and then suddenly, it was under construction. To become beautiful downtown modern condos with business space on the ground floor.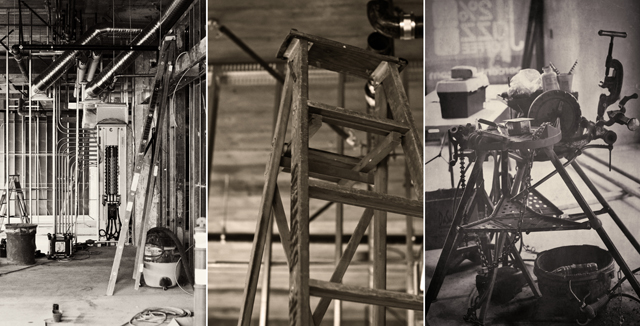 "The Hudson is a fantastic opportunity. I have never in 15 years had a presence downtown and I believe it is time. I grew up shopping at The Bay and have watched that part of town go downhill ever since The Bay moved. My friend Ken [Hueston] from Smoken Bones turned me on to the project and together we believe that we are going to be part of the revitalizing of the neighborhood. The building it's self is gorgeous, the location is surrounded with offices, the Arena is a block away and the potential of the block is exciting. I really wanted to move downtown to expose Victoria to what I've been doing for years." says Jones.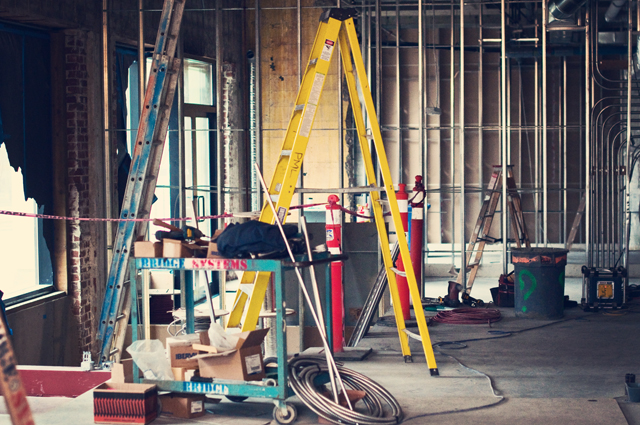 After finishing my coverage of Smoken Bones' construction, I offered the same thing to Sam, owner of 2% Jazz. The cafe/roastery was slated to open in the back of the building and I jumped at the chance. Sam and I go way back. Here's the story: When I was going to college, he had a conveniently located coffee cart right outside the front doors. I visited often. Every morning, if not twice a day. I got to know the man behind the counter with his intense love of coffee. I learned about his kids and his beautiful white dog, who was merely a puppy at the time. But why a cart?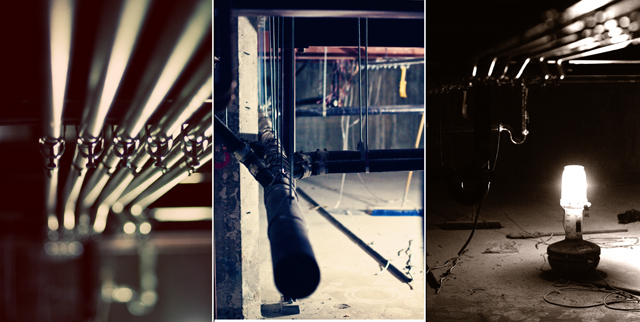 "Ah the cart…..I had been cooking my way through university and was needing a change from the kitchen life style. I got a job at the coffee cart that at the time served Canterbury coffee and was called Cuppucinos. The cart was a cross between Seattle style street carts and the new drive-thru huts that we're starting to pop up in America. I loved the job and the customer base was tremendous. When the three owners wanted to sell, I was there to pick it up. I had a love hate relationship with the business. I loved the job, people and the opportunities. I did not love the business side of the job and the outdoor environment posed many challenges.  I stuck it out for nine years, owning it for seven. When the opportunity came to move into the building next door I could not very well say no. Armed with a 26er, sledge hammers and an axe, one of my employees and myself ceremoniously trashed the place. No regrets."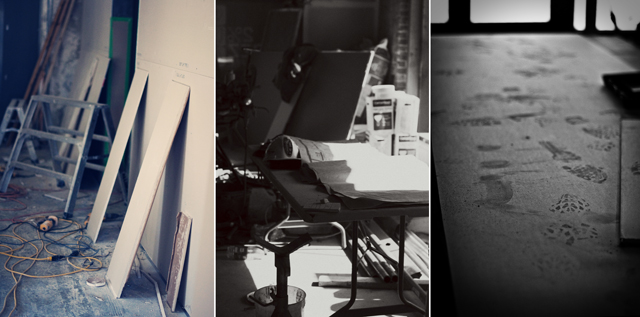 The cart closed and they opened their first stationary shop in a building next door. The café still stands and will remain there with the new Hudson location acting as a more downtown location and the main roastery for all the wholesale beans.
Being that this city of ours is awash in amazing cafés and coffee shops, I want to make sure you get to know your baristas, your coffee roasters, your fine java purveyors. Let's start with the basics. What does "2% Jazz" mean anyway? A shortened quote from Maceo Parker, it actually stands for the title of this post: 2% Jazz 98% Funky Stuff.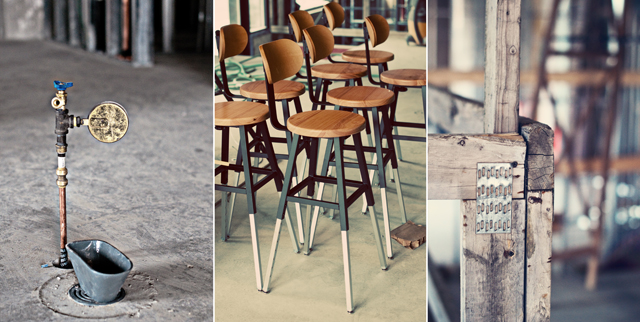 Of Maceo Parker, Sam says: "Maceo is my musical hero, he turned me on to all things funky. 2% Jazz is more of a feeling you get. If jazz is improvisation, then having at least 2% improvisation in your life makes things interesting and fun. I want people that come into my cafés to leave with a smile on their face – that's what 2% Jazz can do for you!"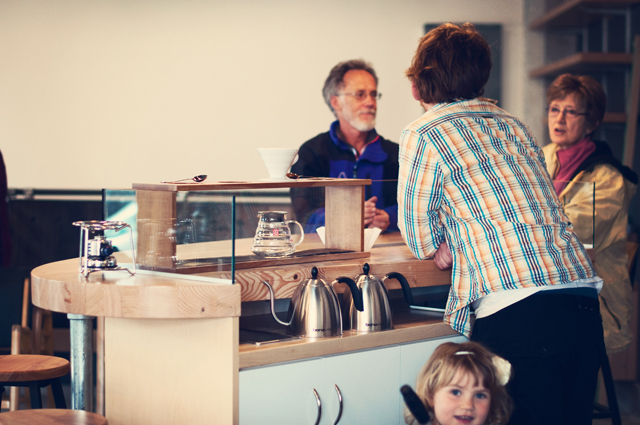 And that's exactly how I feel when I go into 2% Jazz. A warm and fuzzy feeling like the guy behind the counter actually gives a shit if I want almond milk instead of soy, or a pour over instead of a French press, cause you know, sometimes I'm a total coffee snob and I want my barista to appreciate that. Don't just sling me an Americano and walk away to chat with your fellow employees with your emo haircut and your hipster jeans. And don't even get me started on restaurant coffee, usually the last thing a restaurant cares about. But really, what is better then Sunday brunch with your pals fueled by sixteen cups of java before the eggs hit the table? Or following that delicious creme caramel with a shot of amazing espresso? It was this lack of caring in most restaurants that got Sam started in the first place. Having been a sous chef before opening his own café, Sam found it frustrating to work in restaurants that just didn't care about the drip. He found himself having to improve the coffee programs in every restaurant he worked at. "I've been enjoying coffee since I was twelve and thanks to my parents I always had fresh coffee. I remember our weekly excursions to go to the Faema dealership on Main street in Vancouver. I would walk in and feel dwarfed by the wall of whole bean coffee and still remember the sweet/bitter smells that hung in the air. I come by my love for coffee honestly, it have been brewing in my heart for a long long time."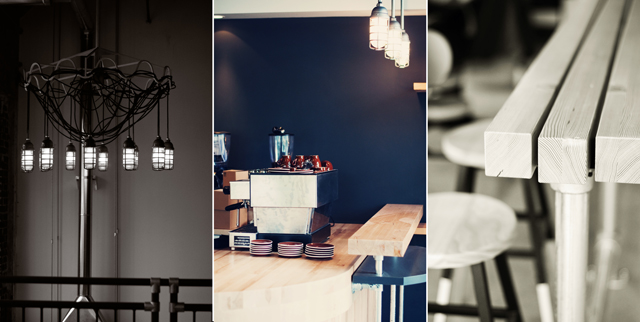 So surrounded by coffee and beans and people enjoying the fruits of his labours, what does Sam Jones drink when given the choice? He eludes this question and instead answers the way any good chef would when asked to pick their favourite meal: "Of course I have no one favorite, however there are growing regions that I love. The Horn of Africa is the birth place of coffee and still they produce the most unique and flavorful. If there was one countries coffee that I could take to a desert island it would be Ethiopia."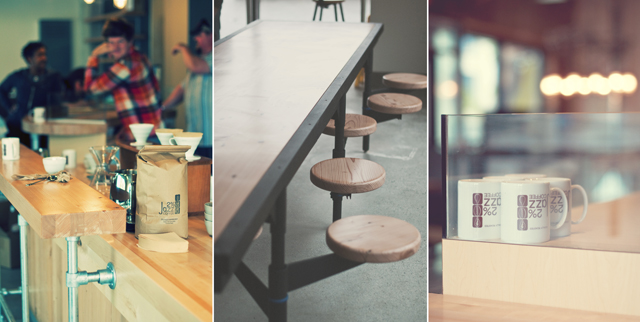 Nestled in among those beautiful modern condos, a gorgeous salon (Design House Salon), a brand new bank, a Bikram Yoga studio and a Southern BBQ shack, what will the café look like? When you go to the old location, it is a cozy little space with art for sale on the walls, three tables to sit at and a back area covered in posters and a cozy couch to chill at with friends. Will the new café have a more downtown approach? The vision for the space is definitely a more polished "Urban Barn" look. Which ties in beautifully to the already finished portions of the building itself. "I want to become the place that Victoria comes to when they want coffee for home. I am building a coffee Roastery and that is the focus of everything in the space. There will be two bars, so I can't say that I am not also building a cafe, but the focus will be on the beans, not the cup." says Jones.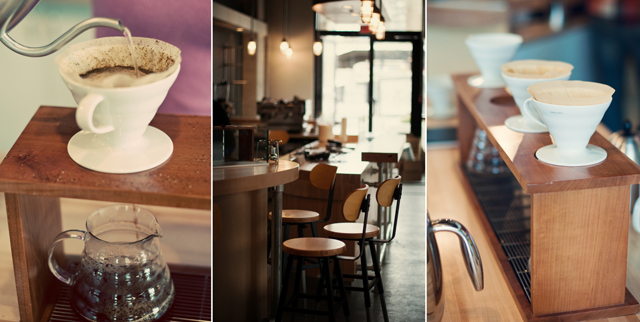 When I asked Sam how he felt about all the competition that has presented itself in Victoria (which if you have not been in a while, has changed dramatically in the last ten years), his reply was poignant and to the point: "I believe that honest people in honest business can live together without conflict. I have been in business for 15 years and have never felt that I have had any competition. I run my coffee business very differently than anyone else in town. The coffee market is so big that really there will always be room for innovation, expertise and a great product. The cream will rise to the top leaving a better overall selection for the public. And isn't that what the service industry is all about? "
Indeed.
2% Jazz is slated to open on May 7th, 2012. See you there!