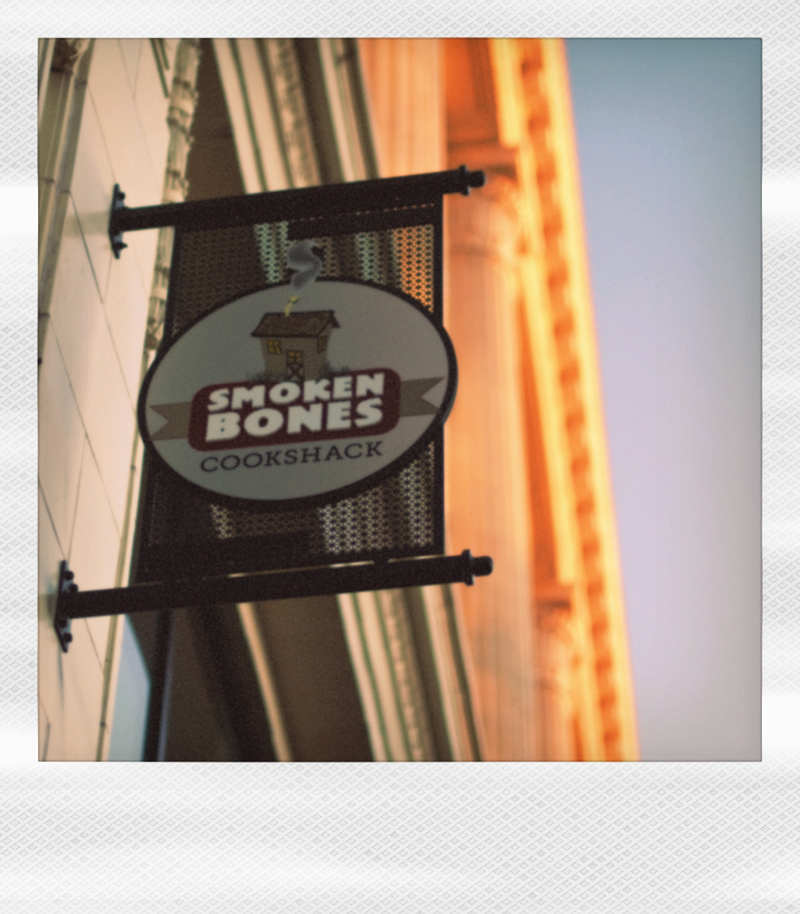 It all starts with a plan. At first, it's in your head and you only catch glimpses of it as you sleepily roll around in your warm bed. But then you catch it by tail the with the tips of your fingers, and it begins to come to life. You grasp that idea with the strength of 900 lb. gorilla and you don't let it go for any reason. You think about it constantly, you eat it, breathe it, dream it. You get up in the middle of the night, keep pads of paper with you wherever you go, manically type on your iPhone in the middle of the aisles of your favourite grocery store. It takes you over from the inside and then finally, it begins to take shape. Physical plans and blueprints get printed, rolled tightly to unfurl at the job site. Contractors are hired, fired, yelled at, throttled, threatened and ultimately become a piece of the background as the maddening pace of a restaurant's construction takes foot.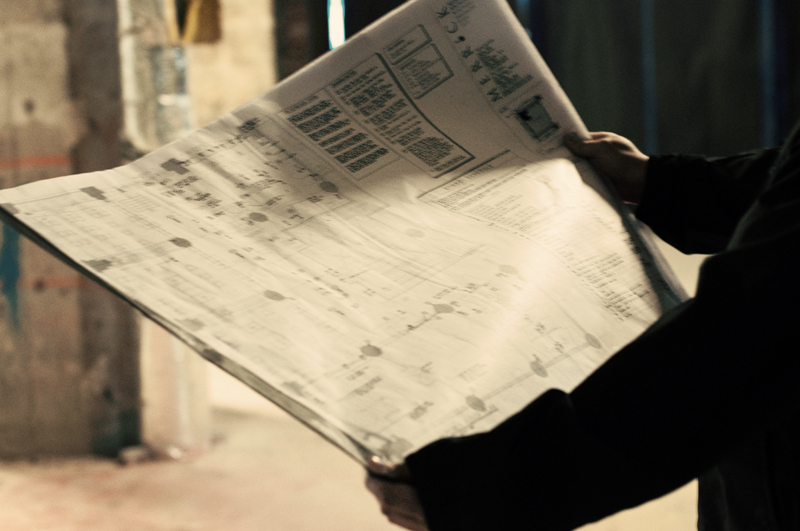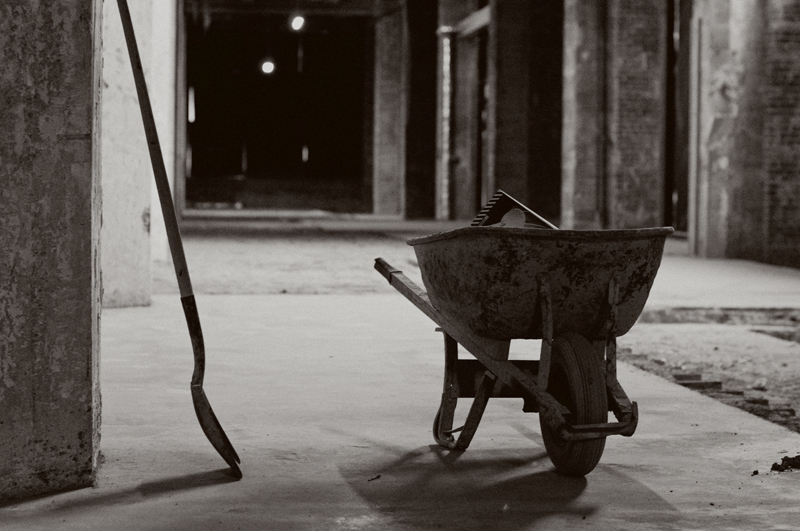 Space is leased, designs are created, ground is broken. Breathing life into a dream is no small feat. Imagine the logistics, the money, the stress, the loss of sleep, the ten in a row eighteen hour days, the lack of contact with friends and family, unless they are helping you with the drywall as you try to keep up with an ever encroaching opening deadline. Imagine the phone calls, the one line emails, the credit card bills, the staff headaches, the food procurement, getting the menu absolutely perfect and of course having everything come together as one at just the right moment.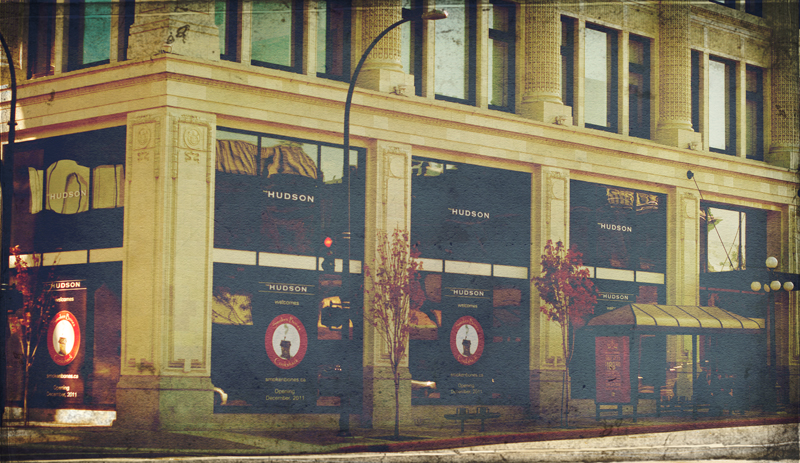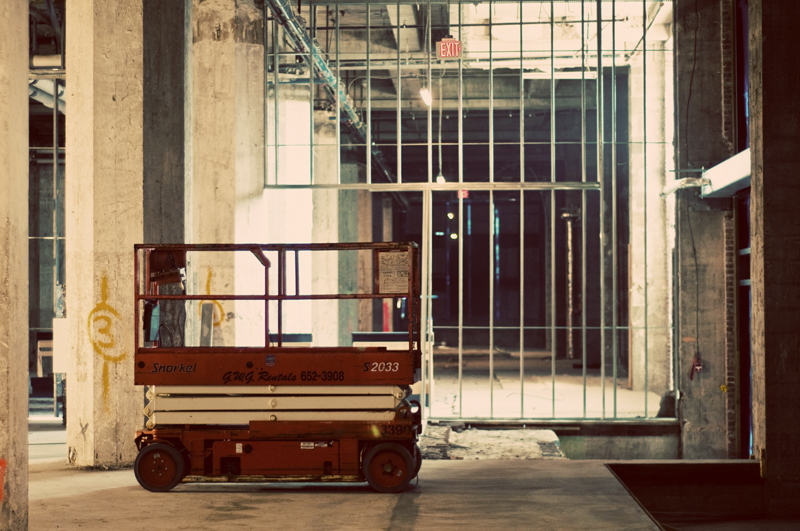 Is it possible in a small food driven city such as Victoria, to close down your flagship restaurant with no notice to the patrons and move 14 km away to a completely new location? Can you completely overhaul the look and feel and still maintain your customer base? Why not?
Ken Hueston, owner of Smoken Bones Cookshack and ultimately it's beating, quivering heart, did just that. Closing the original Langford location in September and aiming for an opening sometime in December in the new "edge of downtown" location. Ken's vision is a beautiful, raw, open, inviting, unpretentious, casual, drool worthy BBQ restaurant and watering hole. Describing himself and his Head Chef, John, Ken explains they are "rustic chefs" and the aim of Smoken Bones Cookshack is to offer a blue collar restaurant that is totally unorthodox. A place where everyone is welcome, from the dusty construction workers to the suit and tie businessmen and women who can sidle up to the bar together and clink their Pabst blue ribbons and Mason-jar-on-a-stem wine glasses as they watch the latest Canucks game on the big screens. "Food is supposed to be about getting people together, it's not about what you're wearing. We're building a place for that to happen. This is the right way to look at food." Ken says about the long awaited restaurant.
Beginning construction in October, I followed the progress almost religiously via my camera lens. Parking in the loading zone outside the new location and sneaking into the often dusty, loud and seemingly abandoned building, I felt like paparazzi. Construction workers, welders, drywallers and the like paid me no mind and I grew to appreciate that. There was often little progress between visits, but I took photos on each occasion anyway, wanting to not miss even one little detail in it's own timeline.
Soon there were more and more people inside when I showed up. Sometimes sitting on overturned pails eating their sandwiches and chatting. I gave a slight wave and entered the dark abyss of the barely lit interior. Sometimes the views looked the same, almost eerily untouched, but often there was a major change and I sought them out like a truffle pig seeks his treasure.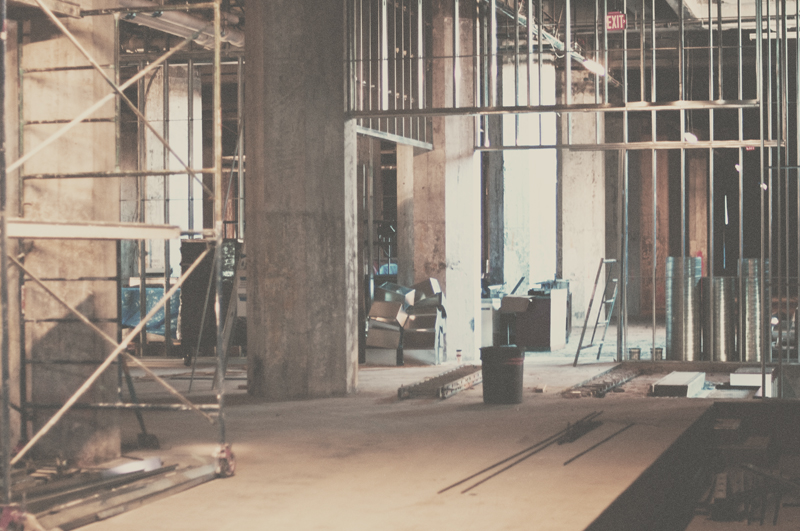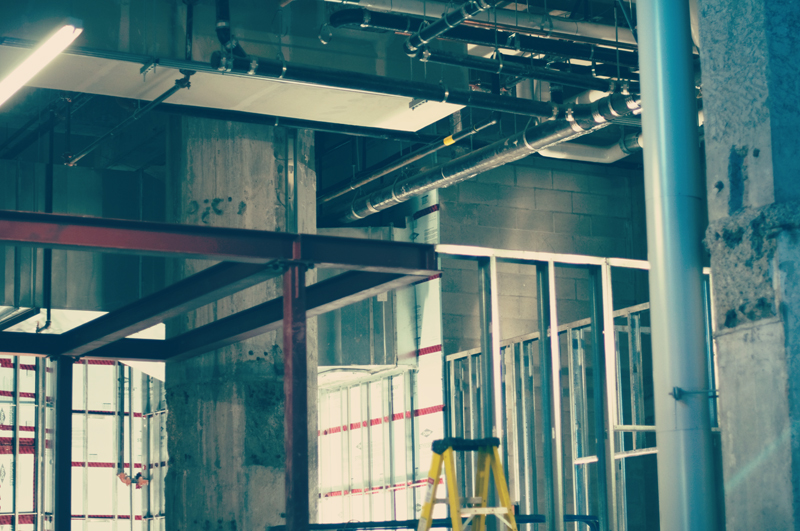 Soon, the details started to show through. Ken was often present when I arrived and I was given the grand tour at every occasion. Showed every little nook and cranny, I felt like I should have been on the other side of the lens, wearing a pair of beige Dickie overalls with crow bar in one hand and hammer in the other. I felt like I should have been helping more. As the deadline slipped past, and the days turned to the holidays, I felt like I needed to be there in a different facet, but instead I just kept diligently showing up, clicking my shutter, adjusting my ISO and depth of field, capturing the waning light of day or a conversation between friends.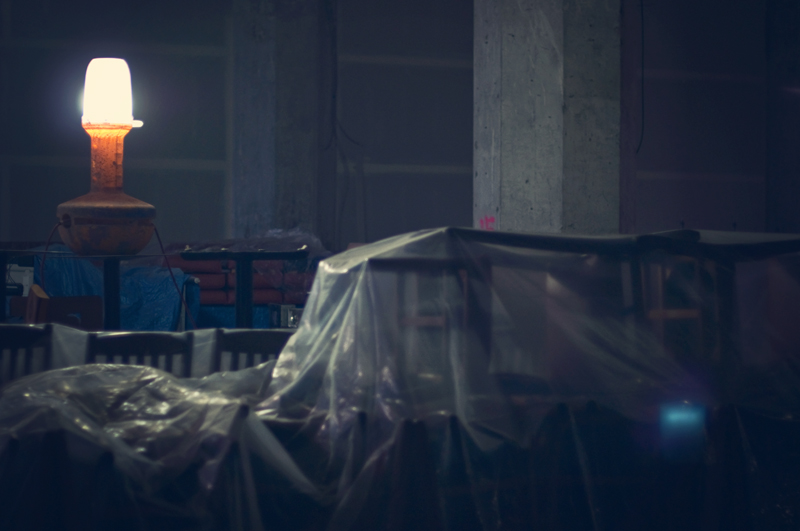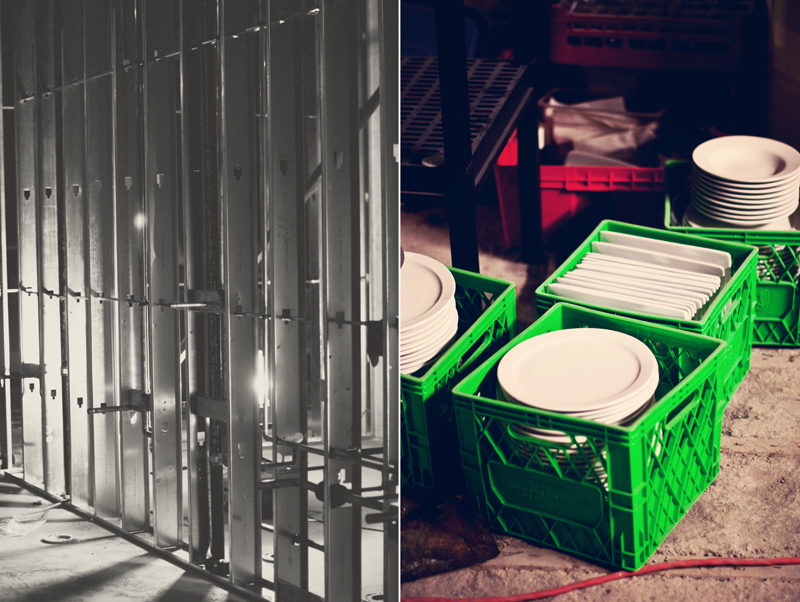 From behind my camera, I began to get to know this building, this restaurant, this place, these people, the food, the atmosphere. A restaurant, a great restaurant, is not simply a place to eat. I don't go to restaurants to sit there and talk solely of the food. I may be an obsessive foodie who let's her stomach's every whim guide her, but I am no food snob. I may mention how good the food is, or remark on a technique to my fellow diners, but I rarely go on and on about the food. I want restaurants to take me away, to offer me an escape, to be a place I want to go because it makes me feel a certain way. I want to feel welcomed and accepted. Restaurants are places I love to go because I love knowing the people that make the food, that sling the drinks, that wipe my table and bring me my bill. I like to know that Tania prefers working the bar to the lounge and that Marco is the best shortrib cook while John excels at making charcuterie. It's these intricacies I devour when I get to know a restaurant.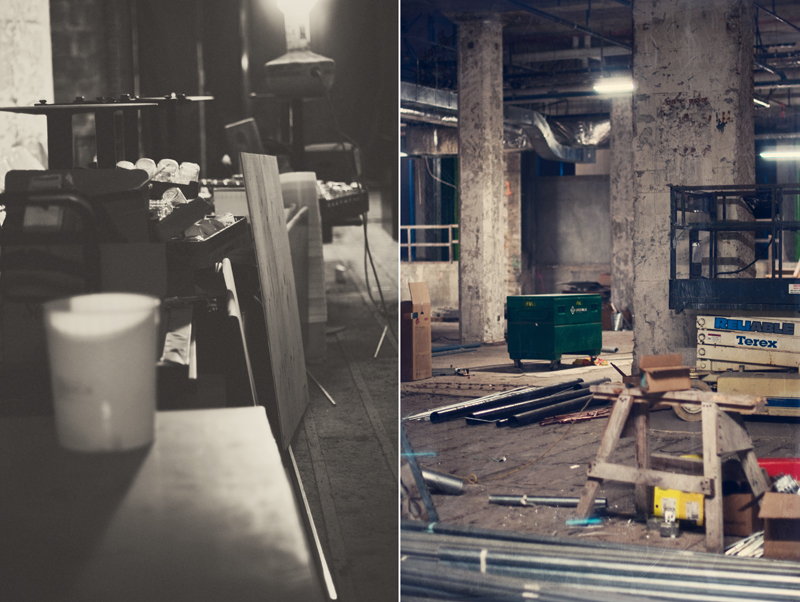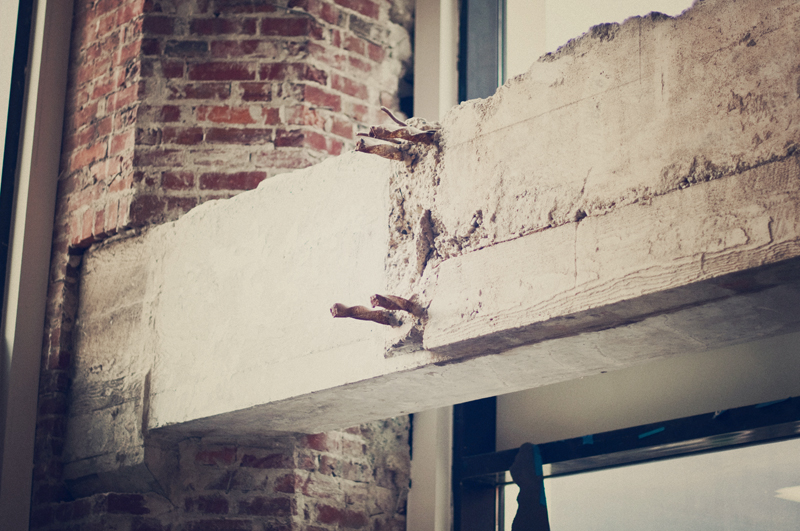 People often ask me what my favourite restaurant in Victoria is. I often don't know how to answer. I know the answer they are looking for, but I know my answer probably will not satisfy. I change my mind like the weather here changes from sunny and cloudless to flurries of snow and hurricane force winds.
Smoken Bones has yet to even open it's front doors for the first time, but I can tell you this: it's my favourite restaurant in Victoria. I know these people, I've watched them participate in it's creation, from the owner and the executive chef to the bar manager, Jaye Lee. I have watched them with my ears covered with ice cold hands as they jack hammered away at cement pillars to get the Douglas fir beams "just so". They have all become carpenters because of a dire need to speed the process up. With each passing day, the stress only multiplies and the chatter continues to come from the naysayers. But they just keep pushing on. Clocking in every day and clocking out every evening long after the sun goes down. Deadlines must be met in order to obtain the innumerable licenses one must have in their possession to open a dining establishment. Hoops must be jumped through, asses may be kissed and surely no shortcut will be taken.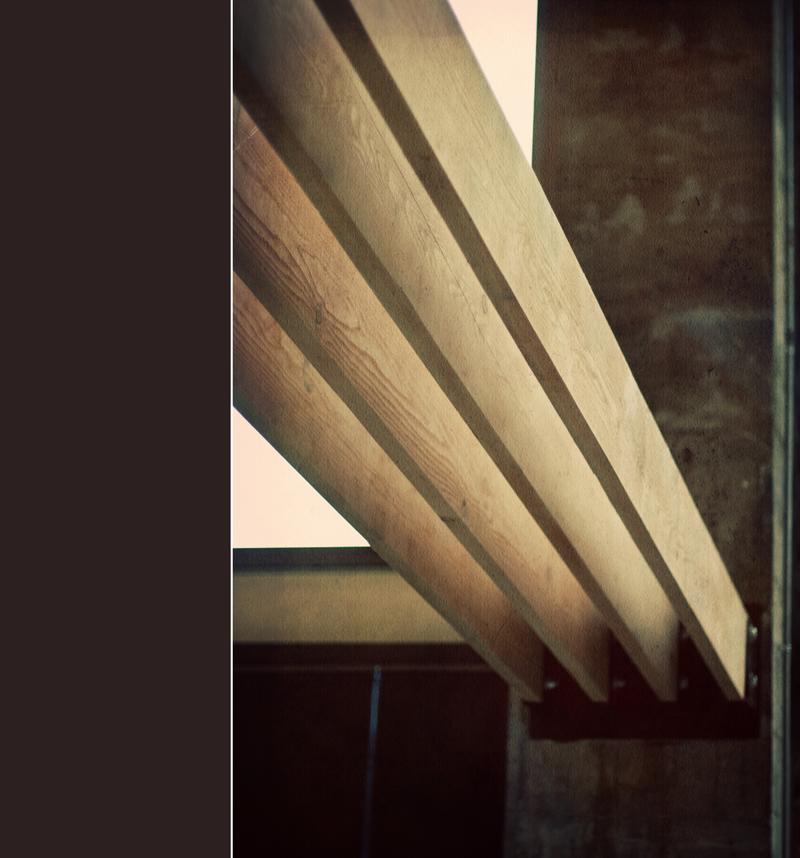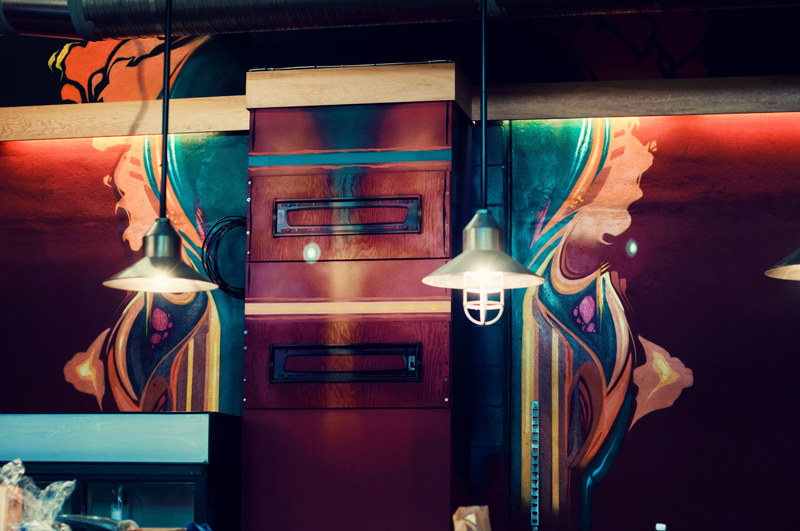 When I asked what kind of style the restaurant would have inside, Ken said he didn't want a "West coast restaurant", the kind where ankle length apron-ed waiters with starchy white shirts bring your food on a silver platter and ask if you would like alder smoked sea salt on that. He wanted a different kind of twist on West coast, with soaring Douglas fir slabs bought just for the space and a solid wood bar cut from two whole trees grown on the Hueston's family property. A place where graffiti on the walls is a welcome and colourful addition and the beer on tap is so fresh and local you can almost see the brewery from the front windows.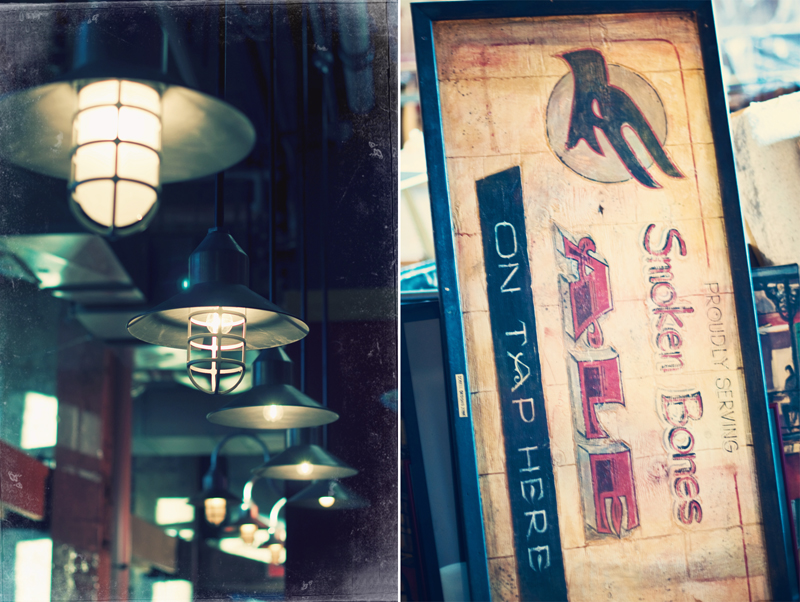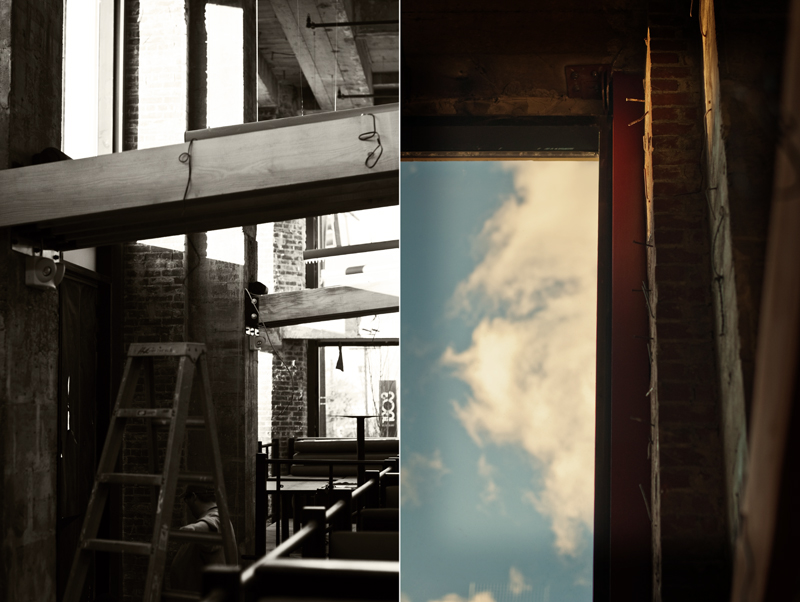 As construction dragged on and the year switched over, things began to really start to look like a restaurant. Those little details appeared that create that warm and inviting space you ache to come back to again and again. The atmosphere is what you want, but the food is really what you crave. And that's where John Brooks comes in, the executive chef and man behind the smoker. His level of dedication is none to be messed with. He offers proof with his "Jolly Hogger" tattoo on his left arm. Only a man who lives and breathes meat would go ahead with a tattoo like that, obtained from a friend for a beer.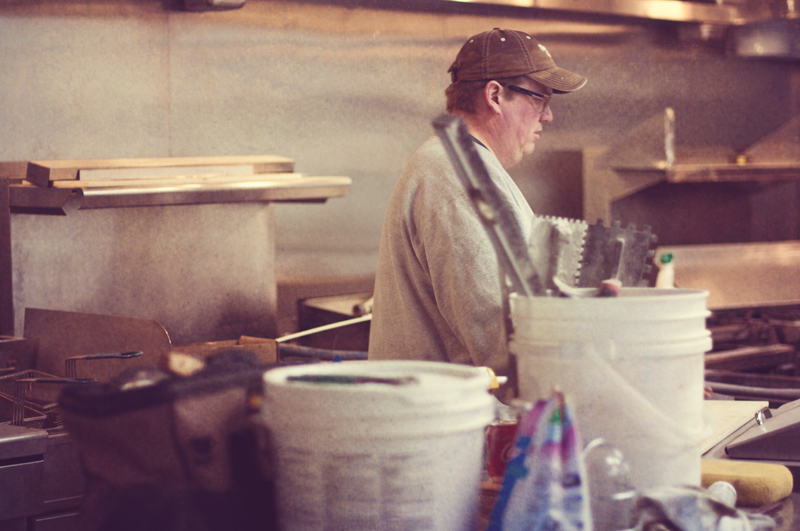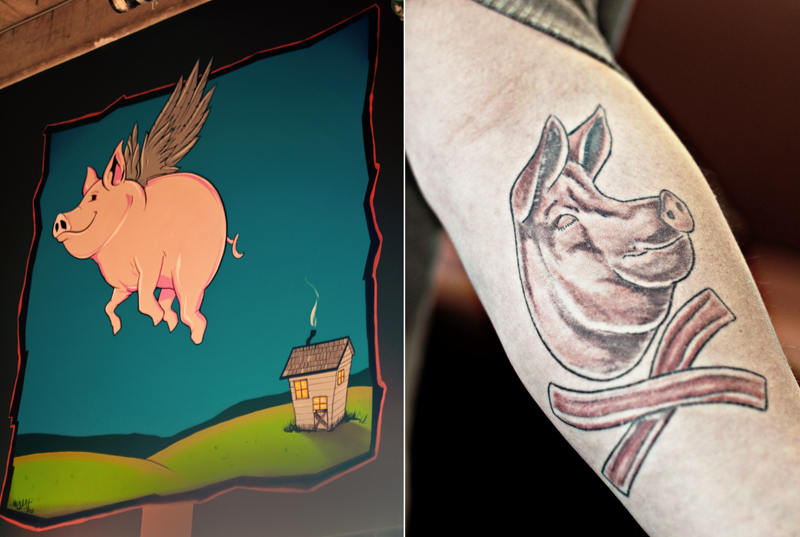 And honestly there is no shortage of porcine mascots for you to gawk at as you suck back a Cookshack Caeser and lick BBQ sauce off your fingertips. They only stand to amplify that relaxed atmosphere that this place really achieves. A space this cavernous, with this many seats (110) could become completely uninviting but somehow these guys have managed to add all those little touches that it needed. In all the time that I've spent there during cold and dusty winter months, I never once felt like I was in a construction site. Only that I was being welcomed by friends who were happily working away.
As anyone who has ever started a business knows, it is hard. There are barriers, and naysayers, impossible walls to jump over, ideas that must be changed because they simply will not work or are not allowed by "the man". But who in the food industry hasn't thought about opening their own restaurant, of making that gauzy dream into a reality? How many of us can say that we took our whole lives and plugged it into a place for other people to come and eat. That we put our whole lives on hold to achieve something we just had to have? It's just something most of us wouldn't do.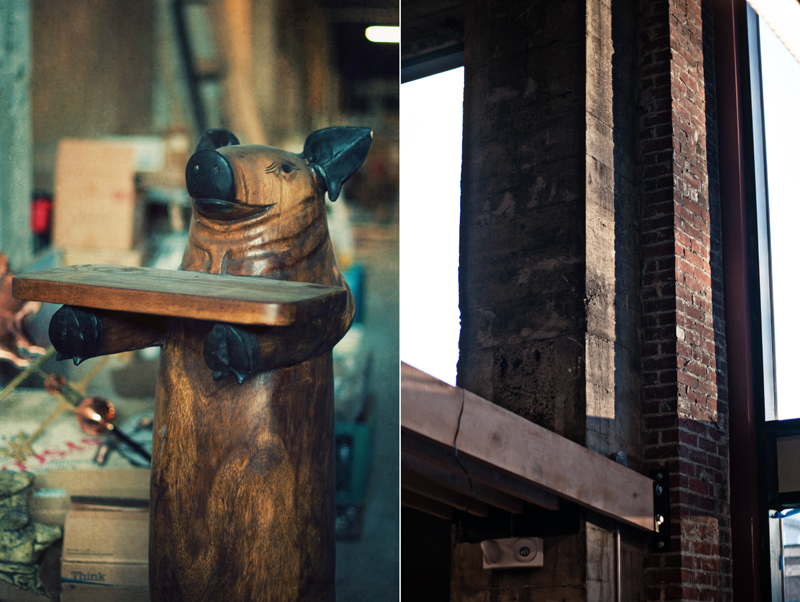 But when something like a restaurant is done right, where every little minute detail (baby change tables in the men's room!) is taken care of, expanded upon and fully realized, it should be celebrated. Victoria is known as a foodie destination, a place where a person of any means, background and taste can come and find a place to eat. It is also known as a place where restaurants open and close like a revolving door in a department store.
As a food writer, food lover and person of this city, I feel like it is my duty to go to every restaurant that I am even remotely attracted to and eat there. Have drinks. Make friends with the bartender. Sit at the bar and chat with the waitresses. It is not our place to put grudges on restaurants because they closed their only location when they wanted to be better for us. We hold in our hands the fate of every restaurant in our city, the smallest of the small businesses. So let's get out there and support them.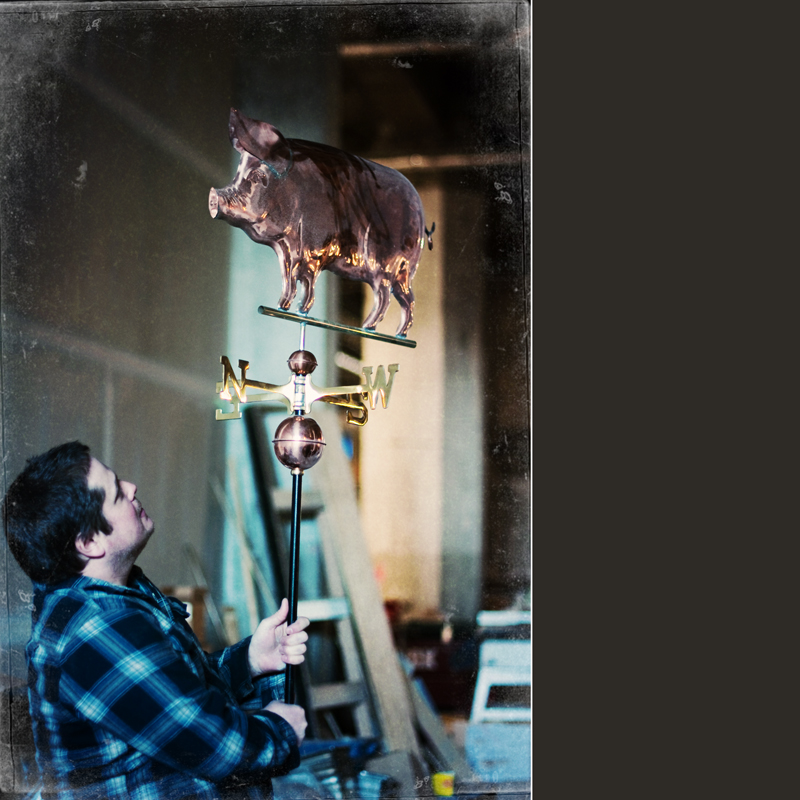 January 20th, 2012. This Friday at 5pm. It's the day Smoken Bones will open. It's the day that the game has been changed in Victoria. There is a new standard for restaurants and this will be the gauge they are measured against.