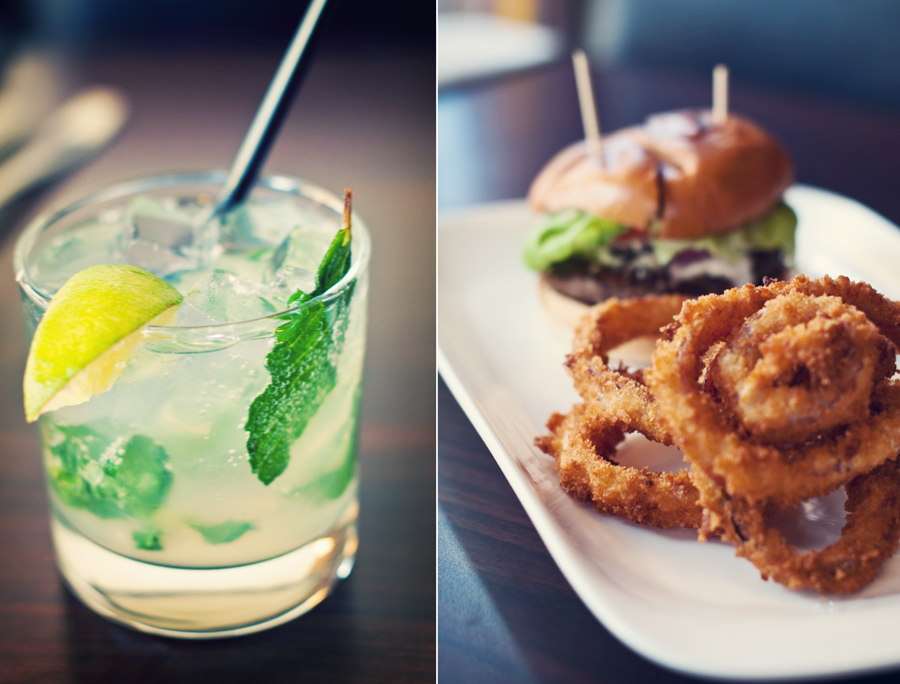 I first heard about Bin 4 Burgers on Twitter a month or so prior to their opening. I have to say, the Twitter and Facebook campaign they are using is very modern and is thoroughly working. It has me talking the place up to people I know don't even use Twitter (ahem*luddites*ahem) just to make sure they  know all about it. The drawback to all of that cyber hype (with all the comments from people that had been there) is, needless to say, I had high expectations.
So on a Friday afternoon (with the two kids in tow), we decided to drive downtown at 11:30am to make sure we got a table for lunch. Surprisingly enough, we even got a parking spot!  We arrived just as the doors opened and the front of house staff were waiting for us at the front desk with smiles on. Pretty good sign…
After walking in and checking out the lay of the land, we were led into the street front windowed section. Lots of natural light, perfect for photos. We started to pore over the menu with greedy, starving eyes. Shall we go for the veggie burger? Oh wait, there are two veggie burger options? And they are totally different? I have to say, this was a very pleasant surprise. Normally with one option (and a lowly, forgotten, bottom of the menu one at that), the vegetarian in us is left wanting. In this case, we were pleasantly surprised to have a couple of different options.
But we weren't going for the veggie option this time. This time, we were in it for the meat. After reading every minute detail of every burger on the menu, we decided to have the so-called "My Big Fat Greek Burger". Described as:
"Peace Country lamb, olive tapenade, oregano yogurt, feta cheese, butter lettuce, tomato and red onion".
We don't get many opportunities to eat lamb (baaaa….), but we both love it unconditionally. Serve us lamb any which way but overcooked, and we'll love you till the cows come home. Or in this case, maybe the sheep…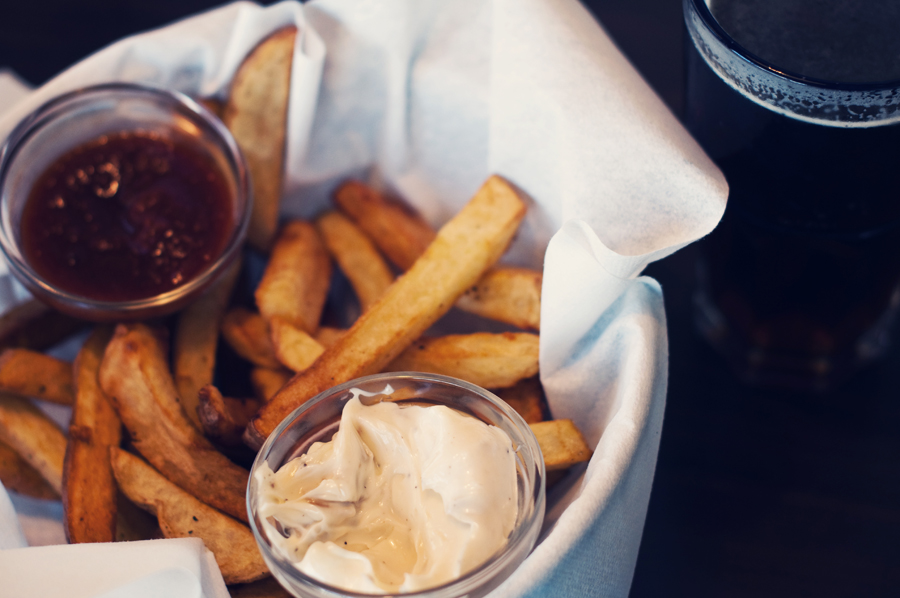 While we eagerly anticipated the arrival of our succulent burger (and munched on some gratis housemade chips, yum!), we decided to quench our thirst a little with that days beer special. The brew was the "London Rogue" from Craig St. Brewing in Duncan, BC (a smaller town located just 55 minutes drive from Victoria). Those who know me, know I love a great brew. I can't tell you how thrilled I was to be able to have some Craig St. Brewing barley pop at a brand new burger lounge in downtown Victoria. Honestly, ten years ago, who woulda thunk it? When Elizabeth and I lived in Shawnigan Lake we frequented Craig St. Brewing's sister restaurant and next door neighbour (sadly, they don't let the kidlets into the pub side) Just Jakes. My honest first impressions of this local brew? It was great, and I was pleasantly doing the happy beer dance in my chair while sipping. You know the one you do where you kind of bounce from butt cheek to butt cheek while swaying and humming a little bit? Yeah! That's the one.
Back to the burger….
We ordered Onion rings for our side since the allure of the "panko crusted" goodness quoted in the menu was to good to be ignored. Crispy, deep fried onions? With multiple (and drool inducing) sauces to be chosen to go alongside? Um, yes thank you.
So our burgers arrive. I say it plurally, but we only ordered one. Upon hearing that we would be sharing this simple meal of one burger and one side of onion rings (how indulgent of us), the lovely kitchen heroes in back had taken that extra effort and cut our burger in half, set each side on a lovely plate and given us each our fair share of greasy (in a good way) rings.  As you can imagine, we wolfed them down without really discussing it too much. Our hands dripping with gooey goodness, only pausing momentarily to wipe at our chewing faces with the lush paper napkin at our disposal.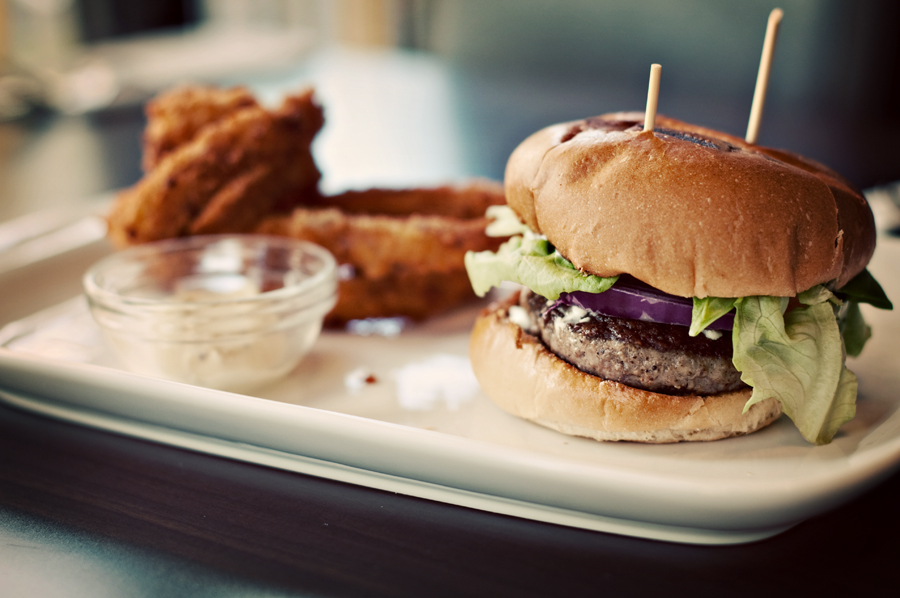 The Nitty Gritty: The patty was a good size, not huge, not small. The tapenade and feta cheese were in enough quantity to enjoy their flavour but not completely overwhelm the delicate lamb. The lettuce was tasty, crisp and buttery (hence the name) and the tomato, well, I don't think you can buy a great tomato in Canada in November. It wasn't bad by any stretch, but a really juicy, umami filled tomato can only add to an already fantastic burger.
The staff were very friendly and attentive (something sometimes hard to find in Victoria) and the owners, Sara and Dan, were very cheerful and accommodating to our crazy children.  Our overall experience was a good one and there was only one downside. There are so many more burgers to try! The menu is not overly large, but if you are in the mood for a great burger, you may have trouble choosing just one. There are also great sides and appetizers, as well as cocktails, wine and beer to choose from. One of those appys is seriously calling our name, Albacore Tuna Lettuce Wraps. Described as:
"tartare of albacore tuna, toasted coriander ponzu, green onion, cilantro yogurt, fresh lime, sesame seeds, fresh butter lettuce cups"
So yes, we will be back, probably more than a few times. With this "date night" deal they have, how could we not try and force a night out without our children: 50% off Burgers after 9pm with purchase of a drink. Not just booze, but any drink.
Thank you for opening your doors to Victoria Bin 4 Burgers! You are a welcome place to have a good meal.
Note from Elizabeth: My only complaint is the lack of anything  for kids to eat! I know the crowd they are trying to appeal to is more of the business types on weekday afternoons, but on weekends there will be kids! Maybe just a smaller burger for kids (sliders?) or some sandwiches (even PB & J! Which not enough restaurants offer)…just please give us some healthy and delicious options for our kin. I love the fries and so do my kids, but I feel like one of "those" moms when I give my kids a basket of fries, a ramekin of housemade ketchup and another of truffled mayonnaise for their lunch. Just sayin'.
Cheers!
Adrian and Elizabeth