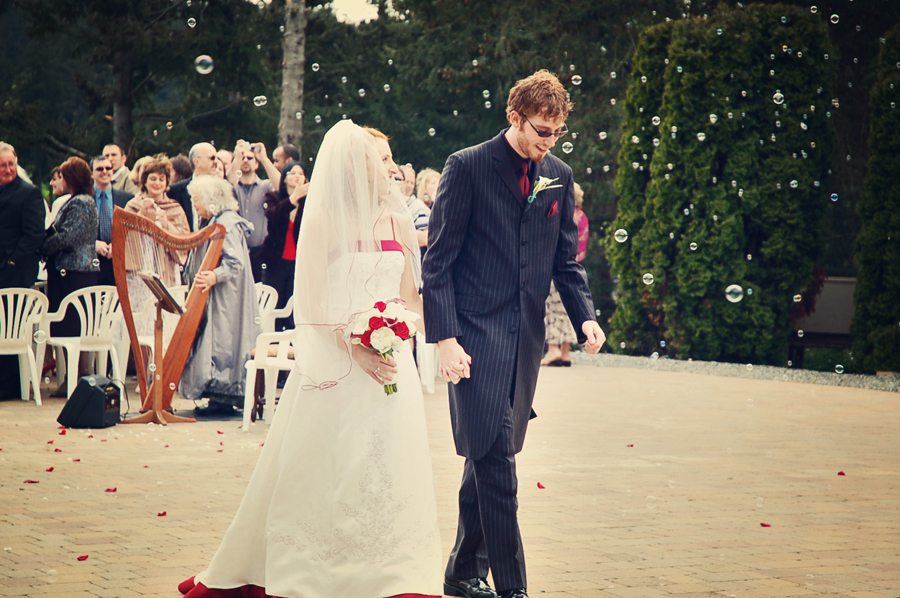 Introducing….Adrian
It has been too long. I have gone too long without being more than a bit player in Guiltykitchen.com. I have watched my lovely wife build Guilty Kitchen from nothing to thousands of hits per month, thousands of followers on Twitter and hundreds of fans on Facebook. She works tirelessly every day and nightto bring you, our kind readers, food and photography of all kinds.
But enough about Elizabeth. This post is introducing me! Ha!
I was born and raised in northern British Columbia in a small town called Terrace (population: about 10,000 people). By north, I mean so far north that in the summer the sun only sets for a short period of time. I was far away from anything resembling "foodie" food and it was never a thought in my mind. Good food was bought from "Subway" by money my sister gave me. McDonald's was the place to work and Tim Horton's had 3, yes, 3 locations to serve the small population. I still remember the day that a 7-11 opened for the first time. WOW! 7-11 in Terrace! We had finally made it as a town.
Fast forward about 10 years and I moved to Victoria via Prince George and Kelowna (Don't get me started on those towns… ). I moved to Victoria with my girlfriend of the time into a small one bedroom apartment near downtown. She went to the University of Victoria and I tried my hand at Camosun College since University in Prince George amounted to a lot of marijuana, beer and debt instead of learning. Camosun was amazing and I ended up working for a local IT firm in town called Smart Dolphins in between semesters. The funny thing about college is, I never finished. I ended up staying with Smart Dolphins and 10 years later, I regret nothing.
I met Elizabeth for the first time when her roommate (my girlfriend at the time) herself and I, all rendezvoused at a pub in Victoria. Elizabeth was this firey red head with short hair and a great job. After Elizabeth's roomate and I broke up the only thing I thought to do was to date Elizabeth. During my time dating her roomate I learned so much about Liz. Her habits, her work ethic, her bra size… wait…. nevermind. I always thought that we would work together. We wanted the same things in life: a career, a car and a routine. I know, it sounds lame, but that is what I look for in a woman… mmmm routine…sounds like poutine…
After a short period of time (about a month) Liz and I moved in together and we started planning a trip to Mexico for my birthday. MY BIRTHDAY! She took us to Mexico for my birthday… what a woman right? I told myself during that trip, about 6 months into our relationship, that if it went well, I would buy her a ring. Yes, that ring. Let's just say, the trip went well. We continued to "click" and within a week of coming back home I went out and bought Liz the ring she wears today. Then, knowing myself, I gave the ring to my mother so I wouldn't give it to Liz in a drunken happiness stuper that I tend to fall into after about two beers.
I waited from October, when I purchased the ring, to December 21st to give it to her. I got my buddies to help me stage it. A bottle of red wine in a paper bag and some candles were setup along the waterfront in Victoria. I took Liz for a walk and we moved into my chosen location. The bag was sitting on the bench and the candles had all been blown out by the stormy weather. I was so nervous that I dont remember what I said to Liz that night. I just know I got down on one knee and asked her to never leave me for the rest of our lives. Instead of just saying yes, her head was swiveling around. My friends both ran up from where they were hiding in the bushes with a video camera and a still camera. (For the record: Liz thought that it was bums running up to take back the wine in the paper bag on the bench). After she realized it was my buddies, she said yes and the rest is history.
Over time, dear readers, I will try and be a part of this blog even more. I hope my writing is interesting enough to keep you coming back. I promise I will only be around from time to time, this is still Elizabeth's Guilty Kitchen. Not Adrian's.  With that, onto Elizabeth, and the recipe.
Until next time!
-Adrian
A note from Elizabeth:

In honour of our new partnership in this venture, I decided to feature one of Adrian's all time favourite foods. Curry. In any form, shape, colour, consistency or spiciness. Curry will conquer his heart. This recipe is one of our regular rotation dinners, I hope you enjoy it as much as we do.

One year ago: Edamame Cilantro Dip

Two years ago: Soft Corn Taco Shells

Coconut Lentil Curry

Yield: 4 servings
Prep Time: 30 minutes
Cooking Time: 60 minutes

1 tbsp cumin seeds
1 tbsp sesame oil
9 cloves garlic, minced
2 tbsp fresh ginger, grated very fine
2 cups tomatoes, pureed (canned without salt is fine)
2 tsp turmeric
1 tsp fenugreek, ground
2 tbsp coriander, ground
1 tsp salt
10 curry leaves
1/4-1/2 tsp cayenne
1 cup toor lentils (aka pigeon peas or yellow lentils)
3/4 lb guy lan (or use broccolini or broccoli)
1/2 small pumpkin, cubed (about 1.5 lbs) (You could also use sweet potatoes, regular potatoes or any other starchy vegetable)
2 cups water
400ml coconut water, shaken
1/2 cup fresh cilantro, minced

1. Heat sesame oil in a large, heavy bottomed deep pan. When hot, add cumin seeds and stir around until they darken slightly, about 1-2 minutes.
2. Add garlic and ginger and sauté for another 2-3 minutes or until slightly browned.
3. Add tomatoes and spices and cook for five more minutes or until oil glistens on top of the tomatoes.
4. Add the water and lentils. Bring to a boil then lower to a simmer. Add vegetables, cover and cook for 30 minutes. Lentils will have a firm bite to them but should not be crunchy.
5. Stir in the coconut milk, bring to a boil and simmer for 2-3 minutes (longer if you want a thicker curry). Stir in cilantro and serve over brown rice.
Similarly delicious recipes from other fabulous food blogs:
Island Coconut Chicken Curry from Green Mountain Cafe
Italian Sausage Stew with Lentils from  Jungle Frog
Curried Lentil Soup from Simble Bites
Puran Poli from A Pinch of Love
Curry Roasted Cauliflower from Healthy Seasonal Recipes