Today marks another guest post. This one comes to us from Laura of Gourmette NYC. Laura is a wordly traveller, adept at numerous languages, and makes a mean vinaigrette, according to her blog. New to the food blogging scene, Laura brings a knowledge of classic European foods as well as her own take on modern food.
Today she brings us a classic French recipe, clafoutis. Somewhere between a cake and a custard/pudding, clafoutis have been made in France for centuries and have recently been brought back to the spotlight by the movie Julie & Julia.
I have a ginormous prune plum tree right outside my kitchen window and just about daily it is producing 20 lbs. of fresh fruit. So thank you Laura, I'll get right on this!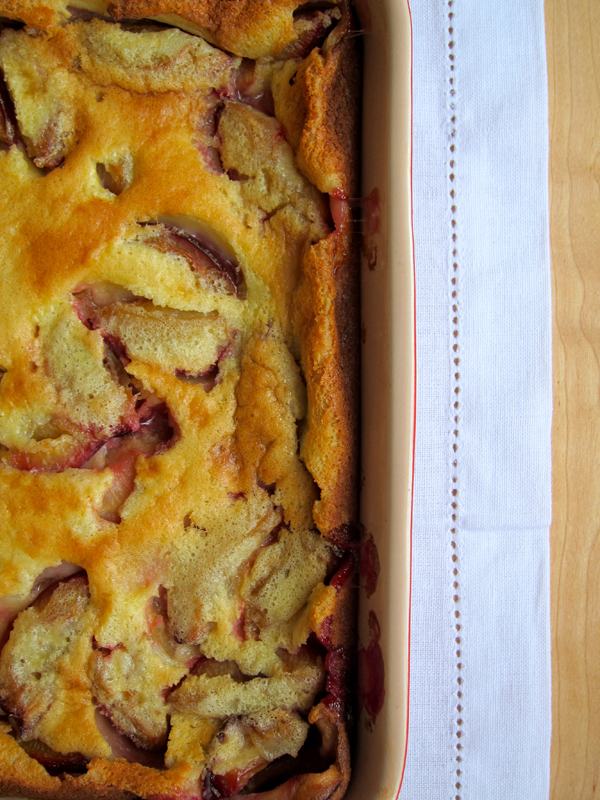 Every summer, for as long as I can remember, my family and I have taken the seemingly endless journey to the very last stop on Bretagne's train line. There, after a transatlantic plane and a cross-country train, we descend onto the station's platform, greeted by my stoic Breton grandfather, Papi. In that moment, we breathe a sigh of relief, happy to have arrived and eager to devour our first meal of crêpes and cidre. Yet, in that same moment, we nervously evaluate the state of the weather and hope that it will be good to us.
"Il fait beau ces temps ci?" We ask Papi how the weather has been, to which he responds with a detailed account of the weather's recent temperament.
If we are lucky, it has been warm and sunny, ideal for long days at the beach and late dinners in the garden. But, you see, Bretagne's weather is fickle. It may be sunny at one moment and rainy the next. Un crachin, a light drizzle or "spitting," is not uncommon. And, the most beautiful summer to date was undoubtedly the year of la canicule, the heat wave.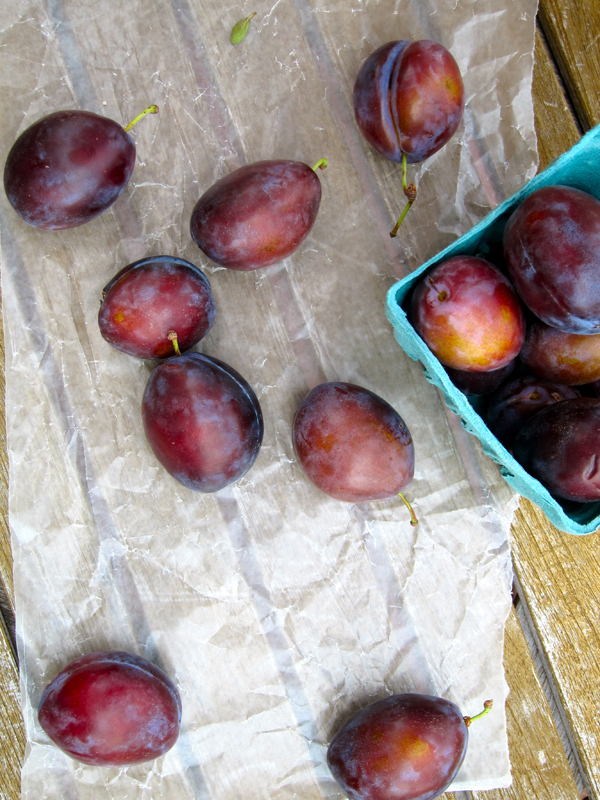 And, yet, we continue to return, not for the weather – we would be in Corsica by now – but for the family and friends, the beautiful beaches, and the wonderful food. I dream of the food all year long, eagerly anticipating our first visit to the marché, where we buy sweet strawberries, small new potatoes, tender green beans, freshly caught seafood, and juicy roast chickens. There, we stock up on bunches of plums – tiny, yellow mirabelles, small, green reines claudes, and deep purple Italian plums, the essence of summer meals in Bretagne.
Sweet and tender, Italian plums are a staple in our summer kitchen. We eat them as a snack or baked into clafoutis, my mother's signature dessert. Reminiscent of summers spent in Bretagne, clafoutis aux prunes is a perfectly sweet custard, dotted with juicy morsels of Italian plums. It is a simple dessert, easy to prepare, and very forgiving. We often alter the quantities of sugar, flour, and heavy cream, depending on the sweetness and consistency we seek to achieve. It is a dessert that compliments the effortlessness and laissez-faire attitude of summer vacation.
So, on a recent Sunday, nostalgic for the carefree summers I have spent in Bretagne, I knew of nothing better than to bake a clafoutis aux prunes. As I sifted, stirred, and whisked together the seven unassuming ingredients, I temporarily escaped to Bretagne as the sweet smell of the clafoutis brought back memories of family dinners, picnics on the beach, and baking with close friends.
One year ago: Sockeye Salmon Salad

Two years ago: Mile High Apple Pie

Plum Clafoutis

Yield: one 9 x 12 cake
Prep Time: 20 minutes
Cooking Time: 45 minutes

Italian plums (enough to fill the bottom of a 9 by 12 baking dish)
3 tbsp Vieille Prune de Perigord
½ cup sugar
½ cup flour
1 tsp salt
1 ½ cups heavy cream
6 eggs

1. Preheat oven to 375°.
2. Quarter plums and toss them with the Vieille Prune de Perigord. Set aside.
3. In a medium bowl, sift the flour. Add the sugar and salt, and stir.
4. In a large bowl, whisk the eggs to a froth. Add the heavy cream, and stir. Add the dry ingredients, mixing well.
5. Butter and flour a 9 by 12 baking dish. Distribute the plums on the bottom of the baking dish, incorporating the plum juices to the batter. Pour the batter over the plums.
6. Bake for 45 minutes, or until golden brown and just firm. Serve warm or at room temperature, alone or with whipped cream or vanilla ice cream.

Note: this recipe is not an exact science. If you prefer a sweeter dessert, use ¾ cups sugar; if you prefer a cakey texture, use 1 cup heavy cream. You may also substitute Italian plums for other fruits, such as apricots, cherries, pears, or peaches. And, if you cannot find Vieille Prune de Perigord, you can substitute the plum eau-de-vie with a Jamaican rum or other liqueur.
Similarly delicious recipes from other fabulous food blogs:
Golden Spiced Plum Jam from Crumb
Plum Cardamom Coffee Cake from Savory Sweet Life
Strawberry Plum Crumble from Verses From My Kitchen
Gluten Free Plum and Blueberry Custard Tart from Healthy Green Kitchen
Plum Cupcakes with Sweet Corn Ice Cream from Zoe Bakes