These two are partners in crime. They are inseparable when it comes to one activity….fishing.
On our way to a friend's house (a three hour drive), we had to pull over and go fishing for an hour. Sadly we caught nothing and the fish just laughed at us as we cast lure after lure directly on top of their heads. I guess they weren't buying our fake fishies…
What we didn't catch that day though, we made up for in the grocery store. As I mentioned in my last post, there is a resurgence of my favourite salmon in our local rivers. What was once thought of as slowly dwindling, suddenly burst back on to the scene this year and everyone is going Sockeye crazy! It's as inexpensive as ever, available at any store and even off the back of fishing boats as they come into dock.
Today's post is a lesson on filleting a whole salmon as well as removing those troubling pin bones that everyone hates.
How to fillet and pin bone a whole salmon**
**Already gutted and head removed!
First, you're going to need a very sharp fillet knife. Very sharp, sharpness is key. If you don't have one, go buy one. Make sure it is very flexible, not a boning knife. These two knives look the same but are very different.
Step 1: If the salmon has not been descaled, you'll need to start there. Just scrape with a scrubber of any kind in the opposite direction of the scale growth. You may want to do this outside…as scales will fly everywhere. Most stores sell whole salmon already scaled, but if you are buying direct from the fisherman, you'll need to do this.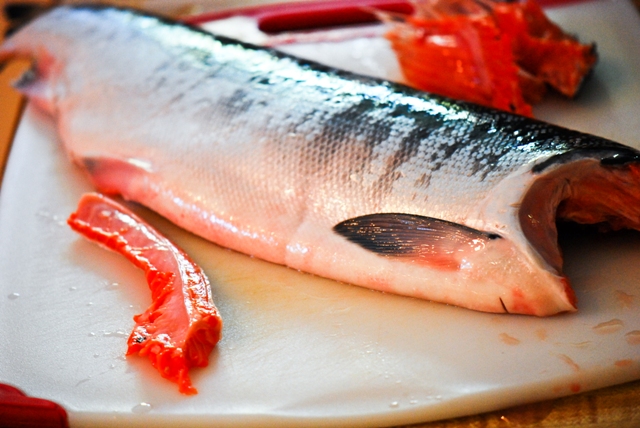 Step 2: Place the salmon on a cutting board one side up. Place your knife at the tail, blade towards the head. Get that knife in there and slide gently up the spine (keeping downward pressure on the blade to get as much meat on your fillet) towards the gills. You may need to wiggle the knife back and forth, but try to keep that steady pressure on.
Continue to slide up toward the gills until you reach the pectoral fin (the one next to the gills). Cut around the fin and up to the spine. Done.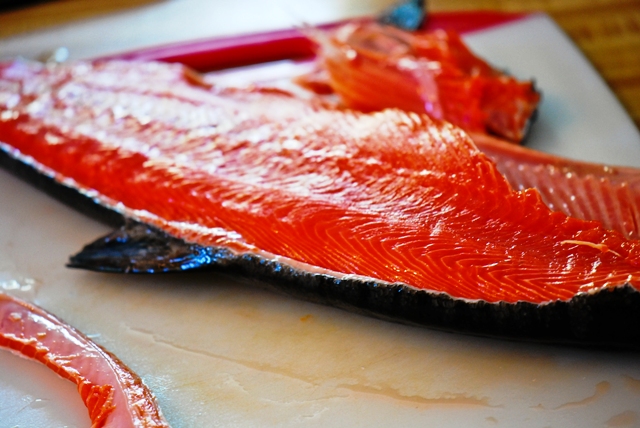 Step 3: Flip salmon over and repeat step 2 (You will also have to remove the ventrical and anal fins if they come off with your fillet, just cut around them leaving as much flesh as possible on your fillet.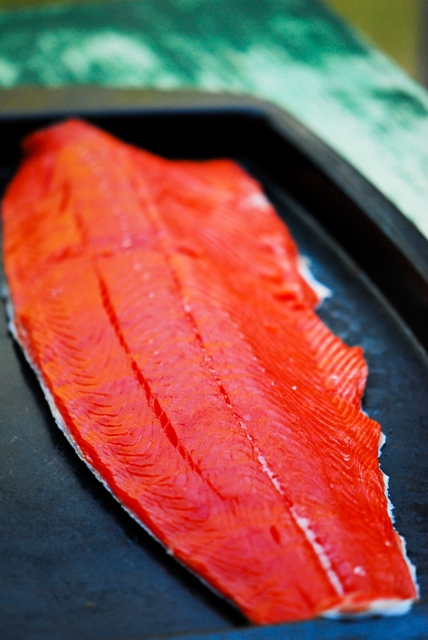 Step 4: You now have two whole salmon fillets. You may have to remove the rib bones that may or may not have been left on your fillet. To remove the rib bones, Find the edge of the bones and slide your knife under them and along the edge of the rest of the bones. In as smooth an action as possible, continue slicing down the ribs until you reach the fatty belly, they should come right off. You may also want to slice off the fatty belly as it can be very "fishy" to most people and makes the fillet look better.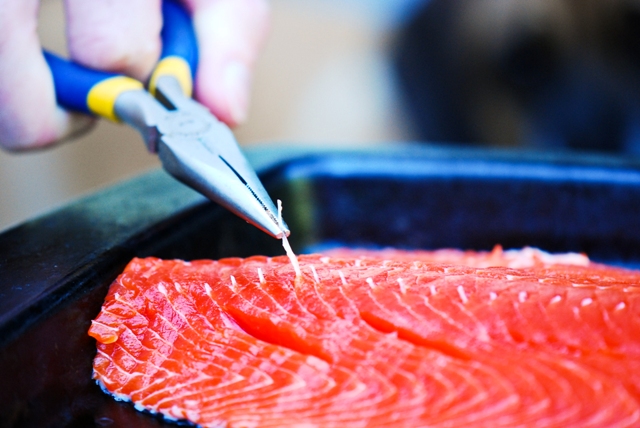 Step 5: Pin boning. Using needle nose pliers, tweezers or a specialty pin boning instrument, begin to remove the pin bones. Run your fingers down the fillet and you will be able to feel them. Grab the end of each bone and pull, continue until you can no longer feel bones.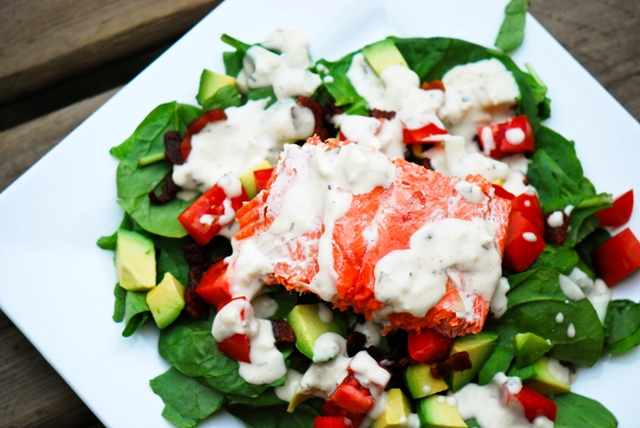 Sockeye Salmon Salad

Yield: Two dinner sized salads
Prep Time 30 minutes
Cooking Time: 20 minutes

2 salmon fillets (about 200g each)
4 cups baby spinach, stems removed
5 pieces of extra thick bacon (double smoked if you can get it), diced and cooked crisp
3 whole lemons, sliced about 1/8″ thick
2 tsp grapeseed oil
coarse salt (kosher, flaked sea salt, etc.)
1 avocado, cubed
2 roma tomatoes, diced
1/4 cup Parmesan cheese, shaved

Cooking the salmon:

1. Place the fillets on an oiled sheet of aluminum foil on top of a baking sheet. Preheat your barbeque to about 400°F (medium high).
2. Place oil, salt and lemon slices directly on flesh.
3. When barbeque is hot, slide aluminum foil from baking tray to the grill of your barbeque. Cook with lid closed for 15-20 minutes. Test for doneness by looking at the flesh, it should be pink on the outside and slightly redder on the inside. Overcooked salmon is my biggest pet peeve. It should be served medium rare and will look slightly underdone to most people, but this is the best way to eat it.
4. Remove from barbeque be sliding back onto the baking tray and allow to rest for 5 minutes.

Assemble your salad:

1. Place spinach on plates or bowls, top with crumbled bacon, avocado, tomatoes and Parmesan cheese. Top with small slices of your salmon.
2. Enjoy with a nice Chardonnay and you have yourself the perfect summer meal!

Note: For dressing, I used Saucy Mama's Sweet Onion Marinade, which paired beautifully with the salmon.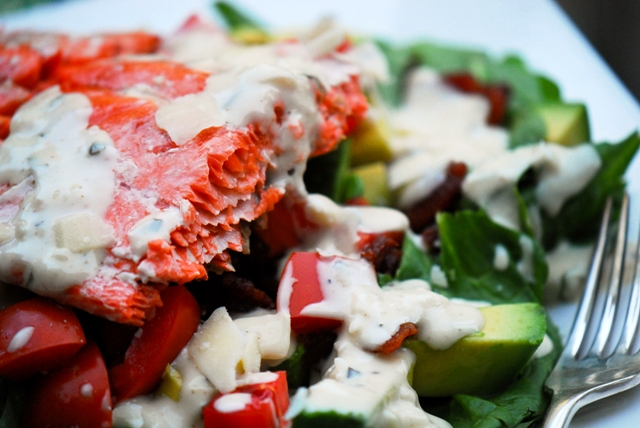 Similarly delicious recipes from other blogs:
Wild Sockeye Salmon Quiche on Gluten Free By Nature
Salmon Salad on Simply Recipes
Grilled Salmon Salad on Yum Sugar
Poached Salmon and Purple Corn Muffins on Canelle et Vanille
Miso Marinated Grilled Salmon on Andreas Recipes