It's warming up (for the moment) here on sunny (rainy) Vancouver Island. We had a chance to head out for a walk in the neighbourhood for a minute the other day. Boots were a must, but it was a fairly nice day for a walk.
I realized when we were walking, me holding camera, Adrian holding Cohen's hand and sporting a small child strapped to his chest, that life is pretty good. We live in a beautiful place, surrounded by nature, chickens and a gorgeous lake. We have two beautiful children, who fill my life with energy and love (craziness). Both our parents are still together and not killing one another yet as they head farther down the road to peaceful retirement or whatever you get at the end of that road.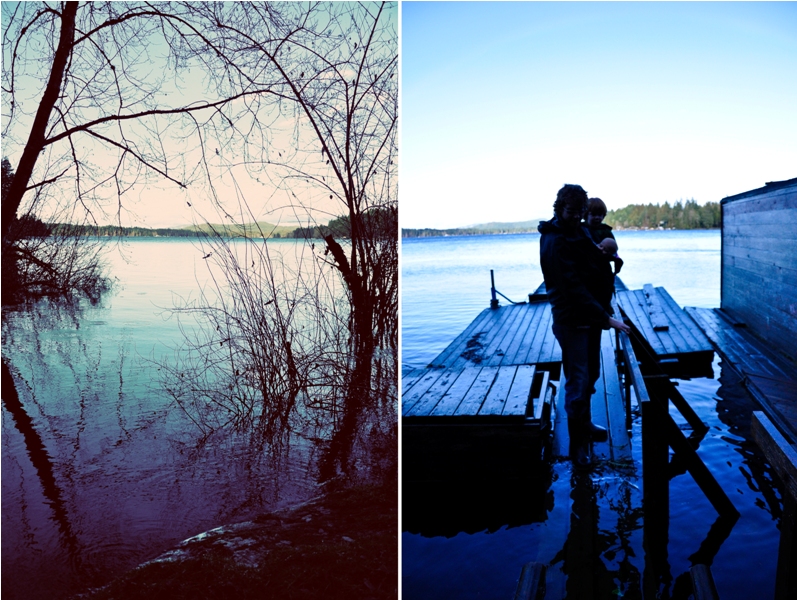 I married Adrian because he was perfect for me and came along at the exact right time. He asked me one windy night, late in December in a gazebo outside of a hotel down on the waterfront in Victoria. I said yes of course and the rest is history. We had a dream wedding, a fabulous honeymoon and then the kids started coming nine short months later.
I love weddings. I love engagements. I love the planning and the fanfare of it all. Really, if I had the oomph, balls and time (money) I would be in a college class right now learning the ins and outs of event planning so I could be a wedding planner. I thrived on that stress during the planning stages, I even had an accordion folder with everything organized alphabetically. I may be a bit obsessive, but it paid in the end.
So whenever anyone I know or am close to or even a friend's friend is getting married, I want in. I want to help. I want to decorate, or help pick the dress or bake the cake or take the pictures. Me! Me! Me! Oh please let me help!
Which is why I baked two cakes on Saturday. That's right, two.
Two friends of ours are getting married, to each other. We are excited for them and want to help. Not only did I volunteer to take the pictures, but I also want to make them cake! So I baked two and frosted them and let them decide which one was best. I'm cool like that. But then I had two cakes, which doesn't bode well for my new diet and exercise program. So we split them, gave half to the lucky couple and then shared with the neighbour, and then we enticed our son to eat some and then we gave in and ate the rest.
First, we made my favourite carrot cake ever. It was a hit. In fact the last piece is dessert tonight and I could care less that we're having this stuffed sole for dinner. Just give me the cake and no one gets hurt, alright?
The other cake is this cream cheese pound cake with mocha frosting. I made it last year for Cohen's second birthday. Except I filled it with lemon curd and covered it with Elmo's face. Only slightly less sophisticated then the way I made it this time. Originally, the bride wanted espresso buttercream, but I'm a sucker for chocolate and I talked her into my favourite buttercream frosting recipe ever. So next time you need to impress someone with a delicious cake and have only a short time to make it, this cake wins every time.
One Year Ago: Cochinita Pibil

Cream Cheese Pound Cake with Mocha Frosting

Yield: One 8″ round two layer cake
Prep Time: 20 minutes
Cooking Time: 35 minutes

For the Cake:
3/4 cups unsalted butter, room temp
4 oz cream cheese, room temperature
1 – 1 1/2 cups sugar
3 eggs, room temperature
1 vanilla bean
1 tsp vanilla extract
1 1/2 cups cake or pastry flour
1 tsp salt

For the Frosting:
1 cup salted butter, room temperature
1 1/3 cups icing sugar
2 tsp vanilla extract
2 tsp instant coffee or espresso
1/3 cup cocoa

1. For the Cake: Preheat oven to 350°F and grease two 8″ round baking pans. In the bowl of a stand mixer with beater blade attached (or in a metal bowl using a hand held mixer), beat butter and cream cheese until well blended, about 3 minutes.
2. Pour in sugar and beat until fluffy, about five minutes.
3. Add eggs one at a time and mix until completely combined before adding next one.
4. Split vanilla bean lengthwise and scrape out seeds, add to mixer and pour in vanilla extract as well.
5. Turn mixer to low speed (to avoid sending flour into your sinuses), add flour and salt in two even additions.
6.  Pour batter evenly into the two greased baking pans, tap to eliminate bubbles.B
7. Bake for 35-40 minutes. Cakes should be golden brown on the outside but not too brown. If it browns too quickly, tent it with aluminum foil. If you notice one cake browning more than the other, rotate the cakes in your oven (top to bottom or right to left)  to eliminate hot spots.
8. Cool in the pans for 10-15 minutes, turn out onto cooling rack and cool completely.
9.  When making into a layer cake, it is necessary to cut away the crispy edges to make a more uniform cake shape. What I do is take a bread knife and cut small pieces at a time until I have a perfect circle with no crispy bits. Then I put the second layer cake on top of the first one (the already cut one) and I use that one as a guide for the second layer. Works every time!

10. For the Frosting: In the bowl of a stand mixer with beater blade attached (or in a bowl using a hand held mixer), beat butter until fluffy, about five minutes.
11. Dissolve instant coffee or espresso powder in vanilla extract.
12. With mixer on low, add 2/3 cup icing sugar to butter and blend until completely incorporated.
13. Add vanilla and coffee to butter and beat in remaining 2/3 cup icing sugar.
14. Beat in cocoa until completely incorporated. You may have to scrape down the sides of the bowl at this point.
15 Frost cake (instructions follow).

How to (simply) Frost a Two Layered Cake:

1. Position your first layer on whatever plate or platter or cake stand you will be displaying the cake on when it's done. If you want it to be clean and fancy looking, make four strips of wax paper and lay them in a square pattern under the edges of your cake. This will keep the plate clean and you can remove them easily when done.
2.  Spread the frosting over the top of the first layer with an offset spatula as thick as you can manage. This is the filling.
3. Place the second layer on top of the frosting and coat the two layers (top and sides) with a very thin coating. This is the crumb coat and will keep crumbs out of the final finished cake.
4. Frost cake with remaining frosting  and cover. (Tip: If you don't have a cake stand with lid, place four toothpicks in the cake, leaving half of the toothpick exposed. Lay plastic film over the toothpicks and around the cake lightly. When ready to serve, simply smooth out the holes from the toothpicks.)
Similarly delicious recipes from other fabulous food blogs:
Chocolate Mousse-Filled Chocolate Layer Cake on Cookin' Canuck
Perfect Pound Cake on The Pioneer Woman Cooks
Eggnog Pound Cake with Crystal Rum Glaze on My Baking Addiction
Avocado Pound Cake on Joy The Baker
Mojito Pound Cake on Eric Cooks