Mexican food.
What do those words conjure up for you? To me it means avocados, corn tortillas, limes, salt, tequila and meat. I've never really had a bad experience with Mexican food, save for all those awful hangovers from tequila. Even on trips to Mexico, I've never been disappointed. I think the only time may have been when ordering something somewhere (*ahem*Taco*ahem*Bell), which I don't know if I actually would consider "Mexican food", more a cheap knock off. The same way in which Western pizza is a knock off of a wonderful dish from Naples . Many in Naples consider only two pizzas as "real" or "pure", known as the Marinara and the Margherita. What we have in North America is somewhat better described as pizza pie, stacked to the nines with so many toppings, the crust becomes more of a transportation device from plate to mouth. (Don't fret though, I have one recipe on Guilty Kitchen already, and come back next week for another!)
I love a good, authentic dish from anywhere on the planet. Why? I prefer the unadulterated version as my first experience, so that I may take it home and alter it myself based solely on an original recipe that dates back for generations. I like to know I've tried the "real deal". A good example for me is salsa. Salsa found lining the shelves of your local grocery store can be better defined as a sort of tomato sauce, thick and full of chunky tomatoes, onions and peppers. Salsa, as defined by Wikipedia, refers to any sauce.
When on travels to Mexico, which foodies like myself would highly recommend, there are usually three varieties that are offered with your meal: salsa verde (green sauce), salsa roja (red sauce) and salsa cruda or pico de Gallo (raw sauce). The red and green sauces are very liquidy and the green more spicy than the red. The pico de gallo is my favourite, a chunky, fresh, drier variety of salsa, perfect for dipping. In any case, salsa is subjective; people will like what they prefer and so forth.
The dish on offer today is Cochinita Pibil. A pork dish originally from the Yucatan, now enjoyed all over Mexico. It is hard to find a true recipe though, as it seems everyone has taken their turn in making it their own. My mother introduced me to this recipe a few years back; her's was simple, with only five or six ingredients and it was very sweet. I loved it, but upon talking to my sister the other day about the recipe, neither of us could come up with it. Being that my mother is currently out of communication somewhere on a nice beach on the Baja, I had to make do with my own interpretation.
My personal recipe is slightly sweet, a little spicy and full of strong flavours. Use more pork to tone down the recipe, or tweak it as you go.
Cochinita Pibil
1/2 tsp salt
1/2 tsp white pepper
1 1-2 lb pork loin roast (shoulder, butt or leg roast would be awesome too)
2 L water
4 bay leaves
3/4 tsp cumin
3/4 tsp oregano
3/4 tsp Cinnamon
1/2 bar achiote paste (about 4 oz)
juice of 1 lime
2 cloves garlic, crushed or minced
330ml 100% orange juice concentrate
1/2 cup apple cider vinegar
1 large chipotle chile in adobo sauce
2 Tbsp brown sugar
1 large onion, halved and sliced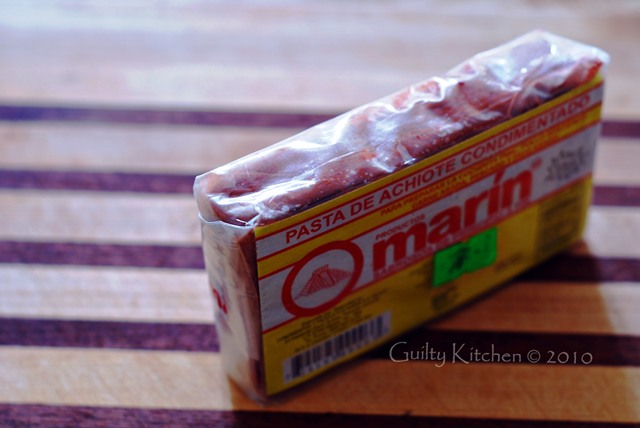 1. Place loin in large pot, sprinkle with salt and white pepper.
2. Pour water over, add bay leaves and bring to boil.
3. Lower to simmer, cover and and continue to cook at a low simmer for 2 hours.
4. In blender add all remaining ingredients, except onion. Blend in pulses until completely combined.
5. Transfer pork loin to another large pot (or you can put it on a plate while you measure out the remaining water).
6. Measure out remaining water, you will need 3 cups.
7. Put pork loin in pot, grab two forks and begin pulling the meat apart, essentially "shredding" it.
8. Pour achiote mix over and add 3 cups of the simmering water.
9. Simmer for the next 2-6 hours. I simmered mine for 6, and it came out just divine. Uncovered, and the water will evaporate faster, so if you plan on simmering for 6 hours, keep the lid on for the first 4 and then remove it.
10. Add the sliced onion in the last 60 minutes, stirring often to keep it from sticking to the bottom of the pot. Most of the liquid should be gone now, leaving you with a nice, moist consistency.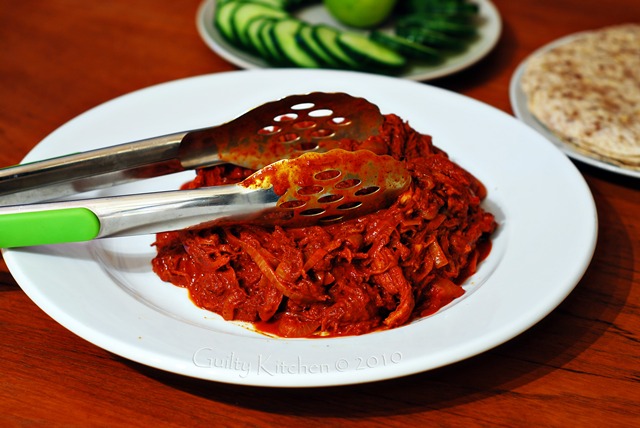 Serve in tacos, with guacamole and sour cream, or by itself. I like the sour cream to curb the spiciness. You could also serve this with taco chips or over a salad. Whatever you want to do with it, it will be out of this world.
To accompany your cochinita pibil, my mother (who lives in the Baja for 6 months of the year) serves jicama and cucumbers, coated in lime juice and a sprinkle of salt at the last minute. They are refreshing, crunchy and amazing with this meal. My local grocery store had some pretty sad, moldy jicama when I checked, so we went with just cucumbers.