Carrot Cake. What makes it such a quintessentially important dessert in the lives of North Americans?
When looking into the history and importance, one can find that  it apparently started to become extremely popular in the late 1960's and early 1970's as a fad "health" food. Carrots in a cake, apparently, make it healthy. Of course you would have to ignore the up to 1 1/3 cups of oil included in most recipes, but that's not the point I'm trying to make.
Carrot cake is like the brownie, it is everywhere all at once and everyone has their own ideas about what makes it good. A quick Twitter poll gave me the impression that most people want it to be moist, with a fantastic cream cheese frosting. I would have to wholeheartedly agree on those two points. What I couldn't agree with though, is the addition of pineapple, coconut or raisins. While I can stand a few raisins in the cupcake form of this sweet dessert, I am not a fan of other fruits, and especially not the tough, chewy texture of coconut. Sorry. I did find that no one missed it, and most people agree with me. Although I know there are many who would not, I do think the addition of those things to this recipe would not hurt it in any way. So if you have to have them, give it a go, and maybe add a bit of baking time (and flour) to make up for the additional moisture.
The other thing I can't get over when I am making carrot cake is the sheer volume of oil. As the world's #1 fan of butter and all it's derivatives, adding a cup or more of simple, unflavourful oil to my cake makes me think sad things. So I brainstormed. I researched. I found out what the differences are in a creamed batter, a cupcake batter, an oil based baked good and butter based. I found out what happens when butter is used in cakes (over time it dries out as the butter hardens up and the moisture evaporates) or if oil is used (moisture is retained as there is no water to evaporate). What epiphany came to me was that butter could be used as long as that water was removed (butter is 80% fat and 20% water).
Clarified butter, or ghee, is simply butter that has had the milk solids, whey and water removed through slow simmering, skimming and filtering through cheesecloth. Most of the butter flavour is retained, while all the bad water content is evaporated. Replacing oil with ghee in this (and any recipe) adds the complexity of butter flavour, while still retaining the texture that using oil would give.
The frosting is a simple, tangy cream cheese frosting and works perfectly on this cake.
On a completely different note, I'm in labour. Like right now. It's been going on for two days and the final result is imminent. So if I don't set you up with a fantastic recipe in the next few days, please understand why! I'll be back as soon as I can.
A Better Carrot Cake

Yield: 1 9-inch, two-layer cake (approximately 12 pieces)
Prep Time: 30 minutes
Cooking Time: 25-30 minutes

2 cups all purpose flour
1 1/2 cups dark brown sugar, packed
1/2 cup granulated sugar
2 tsp baking soda
1 tsp baking powder
2 tsp ground cinnamon
1/2 tsp ground cardamom
1/2 tsp freshly grated nutmeg
1/4 tsp powdered ginger
1 tsp salt
4 eggs, beaten
1 cup clarified butter or ghee, melted (recipe included in directions)
1/3 cup buttermilk
1 tbsp vanilla extract or 1 tsp extract and 1 large vanilla bean, split and seeds removed
zest from one orange
3 cups finely grated carrot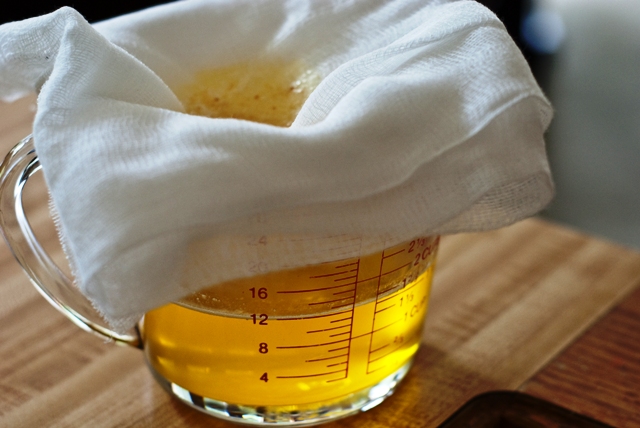 1. Prepare clarified butter or ghee:

Heat 1 1/2 cups unsalted butter over medium heat until it begins to simmer, turn heat to low.
Allow to cook, skimming froth away from top as you cook. This is the whey. You can discard it or use in cooking elsewhere.
When the butter is clear and a vibrant yellow with particles on the bottom of the pot beginning to turn brown, remove from heat.
Strain through a few layers of cheesecloth to remove any stray particles. Done!

2. Preheat oven to 375°F. Grease two 9-inch cake pans with butter or shortening. Line bottoms with parchment paper, grease the paper and then coat in flour.
3. In a large bowl, sift together the dry ingredients. Ensuring the brown sugar is not clumped up.
4. In a seperate bowl, mix together the eggs, buttermilk, clarified butter, vanilla (and bean, if using) and orange zest. Stir in the carrots.
5. Mix the dry ingredients into the wet ingredients, but do not overmix.
6. Pour the batter evenly between the two cake pans, and bake side by side in preheated oven for 25-30 minutes.
7. When done, allow to cool for 10 minutes in pans. You may need to run a knife around the edges to dislodge the cake. Turn upside down on cooling racks and peel paper off if needed. Allow to cool completely before frosting.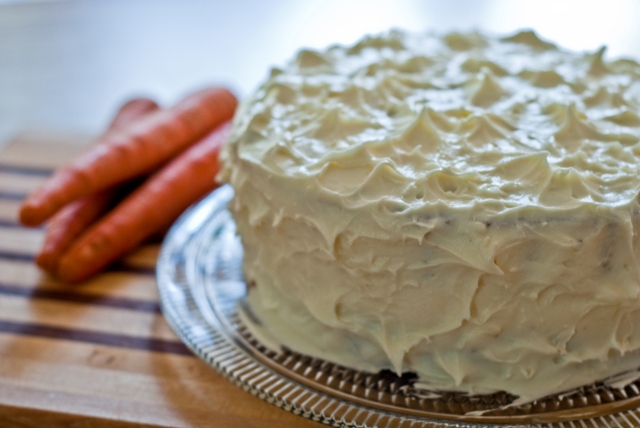 Cream Cheese Frosting

Yield: Enough frosting for this cake
Prep Time: 10-15 minutes

8 oz cream cheese, softened
1/2 cup (or 4 oz) salted butter, softened
2/3 – 2 cups icing sugar
1 vanilla bean or 2 tsp vanilla extract
1 tbsp lemon juice (approximately 1/2 a lemon)

1. Beat cream cheese and butter together until completely mixed, no lumps!
2. Add vanilla and lemon juice.
3. Add sugar gradually until the desired consistency is reached. Frost cake immediately.