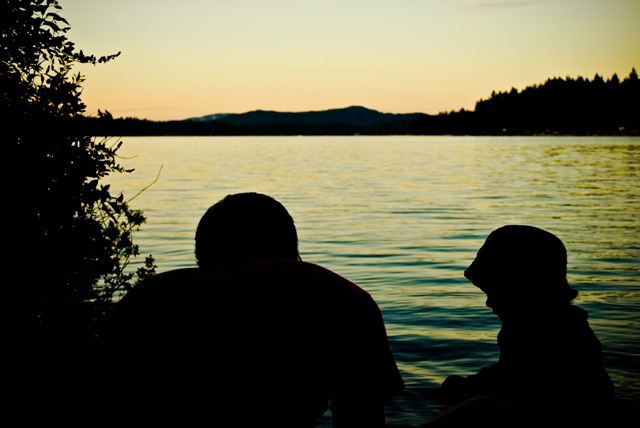 The cooling off period is here. Crisp evenings, dewy mornings and the crackle of fires and smoke filled air. Autumn is a season full of emotion for most people, scents, sounds, sights; they all conjure something different for everyone. My favourite part about autumn, besides the oversized sweaters, scarves and inevitable hallowe'en references is the food. Who can resist the last of the summer's harvest and all the bounty of the return to heavier foods?
Here in the guiltiest of kitchens, we are finishing off our chicken coop (Only the fence and the chickens are needed to be 100% done!) and readying ourselves for the big birthday bash on Saturday. Look forward to a recipe for tiramisu no-bake cheesecake coming your way, it should be pretty good!
Today I present autumn on a plate. Simple, flavourful and full of all the things that comfort most on those drizzly cool evenings.
Butternut Squash and Bacon Risotto

Yield: 6 servings
Prep Time: 30 minutes
Cooking Time: 45 minutes

1/2 butternut squash
1 tsp grapeseed oil (or other vegetable oil)
2 oz dried shiitake mushrooms
4-5 cups mushroom stock from dried shiitakes (chicken or vegetable would be fine too)
3 tbsp butter, divided
1/2 large sweet onion, diced
1 clove garlic, minced
4 fresh thyme sprigs (about 1 Tbsp fresh thyme)
1 1/2 cups short grain brown rice
250 g thick cut, double smoked bacon, cut into cubes
1/2 cup vermouth or dry white wine
1 tbsp white truffle oil (optional)
1/4 cup Parmesan, finely grated

1. Brush squash half with one teaspoon of vegetable oil and roast in a 400°F oven for 45-60 minutes or until softened and cooked through.
2. Remove from oven and let stand. When cooled, peel and dice into large cubes. Set aside.
3. In a large bowl, fill with four to five cups of hot water.
4. Place in dried mushrooms and allow to steep for 30-45 minutes. When reconstituted, remove woody stems and dice but reserve the water for use asstock. Set aside.
5. In a large heavy bottomed saucepan or pot, heat one tablespoon of butter. Add in onion, garlic and thyme and sauté for 2-3 minutes or until vegetables begin to turn translucent.
6. Add mushrooms and rice and cook, stirring constantly, for 5-10 minutes.
7. Add mushroom stock one cup at a time, stirring between additions and allowing the stock to be completely soaked up by the rice before adding more.
8. Meanwhile, in a small heavy bottomed pan, cook the bacon until crisp. Drain on paper or kitchen towels and set aside.
9. When last of stock is used up, add vermouth to risotto and allow to cook off a bit.
10. Stir in remaining butter, cubed squash and bacon. Sprinkle with Parmesan and stir in.
11. Serve with a drizzle of white truffle oil or more Parmesan for garnish.
Similarly delicious recipes on other blogs:
Butternut Squash Muffins on 101 Cookbooks
Butternut Squash and Sweet Potato Gratin on Pinch My Salt
Butternut Squash and Caramelized Onion Galette on Smitten Kitchen
Red Quinoa with Butternut Squash, Cranberries and Pecans on Gluten Free Goddess
Achiote-Rubbed Butternut Squash Tacos on Herbivoracious