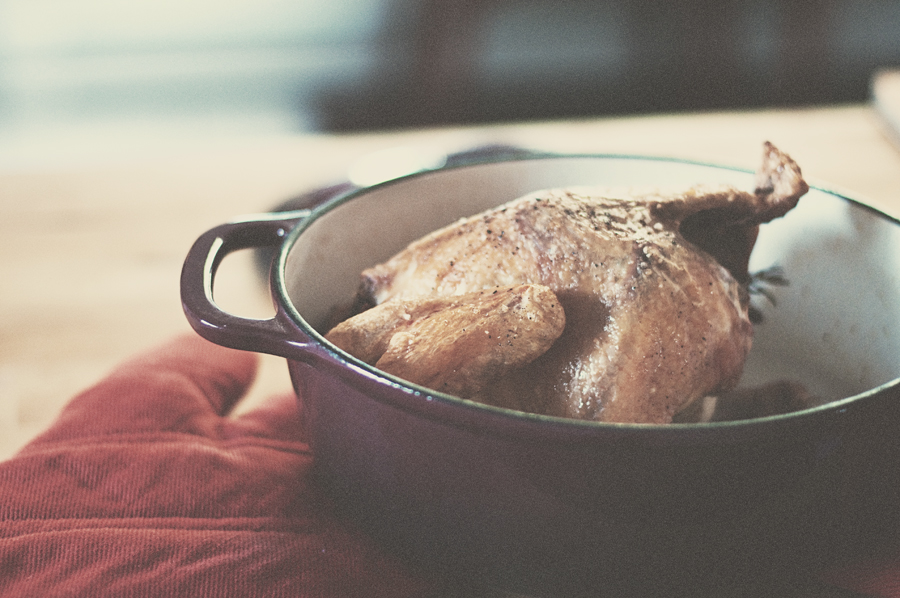 For my second part of my Canadian Tire Kitchen Crew Mission I decided to show what can be done with dinner in less than 20 minutes of prep. Yes, it is possible to make a most fabulous dinner with such little prep time and I didn't have to use a slow cooker either. Most people that I have met assume I spend a lot of time in the kitchen, and this would be an accurate representation of my life, yes. BUT…I don't like to be in the kitchen all night long, especially as it's the only time that I get to spend with my husband and the kids at the same time.
The kids are so young they still go to bed relatively early and that's fine by me, but spending quality family time together is rather important as well. The best way to do this is to throw something together quickly and get it in the oven so that we can head outside (barring wind, rain, snow, clouds that are any shade of gray, thunder, falling leaves, you get the picture…I like nice weather).
One of my absolute favourite things to do in my Dutch oven is to roast chickens. The KitchenAid 3.5 Quart Dutch oven with lid is the perfect little roasting dish for poultry. Once the chicken is stuffed full of flavourings and coated in oil and seasoned, it roasts up just perfect in the cast iron walls of the Dutch oven. After roasting, there is a lovely crust of fat and flavour left on the surface of the Dutch oven. Do not scrape this out or remove it! Place all the bones and little bits that you aren't going to eat back into the Dutch oven (including the herbs, garlic and lemon), fill with water, bring to a boil and turn down to simmer. I let mine simmer overnight on the lowest temperature my stove will go to. In the morning I strain it out and voila! The perfect chicken stock, low sodium, low fat (once you refrigerate and skim off the offending fats) and full of flavour.
So what do you do with the roasted chicken when it's done? We often eat it with a simple salad. I cut up the breast and cube in onto a fresh salad of greens, corn, tomatoes, mushrooms and goat cheese while Mr. Guilty prefers to eat a juicy leg, thigh and wing alongside his salad. Sometimes we just carve it up and serve it with whatever vegetables are in season and a grain such as quinoa or bulgur. We're pretty easy to please. When we have it on salad, we can actually stretch the chicken out for two meals as the kids don't eat much meat yet.
So that makes this chicken a fabulous, easy and cheap dinner for anyone! If you have trouble with the carving part of the recipe, see this YouTube video for a helpful video demonstration on how to carve chicken.
One year ago: Butternut Squash and Bacon Risotto

Two years ago: Prosciutto Wrapped Cornish Game Hens with Caprese Salad

Roasted Chicken

Yield: 4-6 servings
Prep Time: 10 minutes
Cooking Time: Varies

1 roasting chicken (2-3 lbs.)
1/2 a lemon
fresh herbs (rosemary, thyme, oregano, sage, etc.)
4-5 cloves garlic, peeled and slightly crushed
2 tsp Grapeseed oil
fine sea salt (Himalayan, celtic, fleur de sel, etc.)
fresh cracked black pepper

1. Preheat your oven to 425°F. Dry the outside of the chicken with paper towels (or a designated cloth towel).
2. Place the garlic, herbs and lemon into the cavity of the chicken.
3. Rub the outside of the chicken with the oil and season with salt and pepper on all sides.
4. Set the chicken breast side down in the Dutch oven.
5. Roast uncovered in the preheated oven until a thermometer stuck in the thickest part of the thigh reads 165°F. Do not overcook (check at 30 minute intervals until you get the hang of it. Believe me, you'll make it so often you'll have this part down pat in a few weeks.)
6. Let rest 20 minutes before carving.

Disclosure:

I was provided with compensation, including a free KitchenAid Dutch Oven, in exchange for creating this post for the Canadian Tire Kitchen Crew series. All of the opinions are 100% my own and reflect my honest opinion on the product. If I didn't love it, I would say so.
The Kitchen Crew series highlights my stories, recipes & tips with promotional consideration made possible by Canadian Tire. If you want to uncover your kitchen's true potential, stay tuned to the Kitchen Crew for my weekly missions.
Similarly delicious recipes from other fabulous food blogs:
Roasted Garlic Chicken Pizza from Gimme Some Oven!
Modernized Caesar Salad from Food Nouveau
Chicken and Roasted Broccoli Salad from Perry's Plate
Roasted Chicken Salad with Pear and Walnuts from Angie's Recipes
Roasted Chicken, Raisins and Coriander on Giant Couscous from Salad Pride