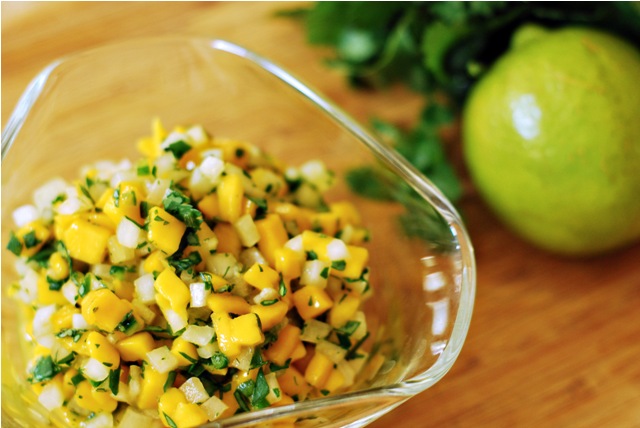 Just a quick entry today, as I am catching up on household chores after a week long visit with my sister and her utterly adorable daughter. I love babies but it only made me more apprehensive for what may be a coming storm to the Guilty household. We are about to be a family of four, four! I'm exhausted just thinking about it, but I know we'll enjoy (almost) every minute of it when the time comes.

But how could anyone not love this?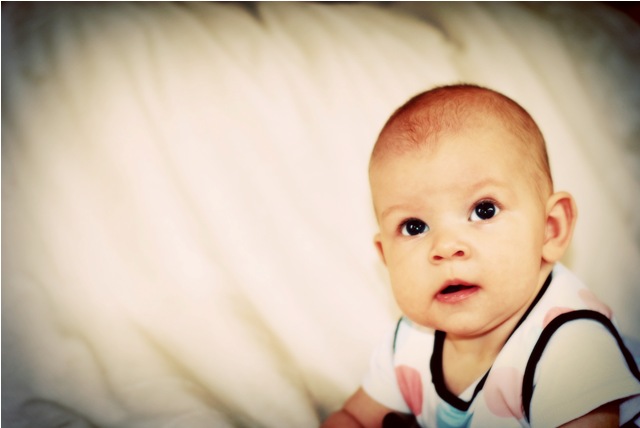 My point exactly. Babies are so darn cute, you can't help but love their squishy little faces.
But that has nothing to do with today's recipe, which is for a fruit salsa. I have done a grilled peach salsa before, but I thought I would put up this salsa recipe now as well, as summer is coming and all those fresh fruits in your grocery store can be turned into an amazingly tasty side for many dishes. Served up along side halibut (in season now), fish tacos, chicken breasts, salads, or even just as a delicious side dish, fruit salsa is very versatile.
I'll be back in a few days with a summer grilling season must-have. Until then!
1 cup (when chopped) of fresh fruit (ataulfo mango, cantaloupe, strawberries, honeydew, watermelon, peaches, nectarines, papaya, apricot, etc.)
1/2 bunch cilantro (about 1/4 cup chopped)
juice of 1 lime
1/2 medium sweet onion (walla walla, vidalia, etc.)
1 small jalapeño
1. Cut fruit into small cubes about 3/4 cm x 3/4 cm and place in small mixing bowl.
2. Add lime juice and finely minced cilantro.
3. Chop onion and jalapeño (remove pith and seeds first) into cubes the same as fruit.
4. Mix everything together in bowl and let sit in refrigerator for at least 30 minutes prior to meal to allow the flavours to meld.