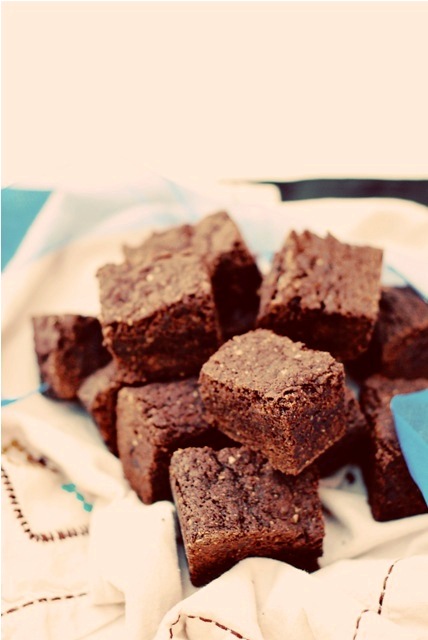 Um….what?
Vegan Brownies? On Guilty Kitchen? What kind of guilty, purely indulgent treat is this?
Good questions. I'm not usually one for giving up dairy or eggs or meat, although I have done my fair share of vegetarianism/veganism, when I was a lowly single living with my grilfriends. Not only was it a great way to save money, but it kept me trim as a race horse and fit as a fiddle.
Nowadays, I am nary without eggs or giant jugs of milk (or cream!) to satiate the crazy little tornado running through the house. So why a vegan brownie? Because someone dared me to do it, dared me to make my own recipe for vegan brownies. And not just anyone…a fellow pregnant woman also nearing the end of this 9 month journey, and we shall call her "Phatty" (totally not derogatory). Someone with just as many raging hormones and ridiculous cravings as me. A dare set forth by a fellow pregger can only be responded to with an affirmative. Yes of course I will make you vegan brownies, because no one says no to pregnant women, not even another pregnant woman.

And what a challenge it was! I have rarely been without enough eggs in my refrigerator to make simple baked goods, and when I have run into the conundrum I have been nothing short of seriously dissapointed in the results. Bananas, applesauce, tofu, flax….what should I use? Well, it all comes down to what the eggs are there for in the non-vegan version in the first place. Are they there to bind the whole thing together? Or maybe they are the leavening agent, or maybe they add the always important moistness. Whatever the eggs do in your recipe, you need to know that information and replace accordingly. Here is a fabulous reference (source: http://www.egglesscooking.com/2008/09/10/egg-replacement-baking-event/):
If eggs are binders in a recipe, it can be replaced with Arrowroot, Soy, Lecithin, Flaxseed Mix, Pureed Fruits or Vegetables, Silken Tofu, Unflavored Vegetarian Gelatin Powder (agar agar). The ratio is, for every egg replaced, 1/4 cup of the substitute is used.
If eggs are leavening agents, Buttermilk, Yogurt, Baking Soda, Commercial Egg Replacement Powder such as Ener-G can be used.
If eggs are moisturizers, Fruit Juice, Milk, Water or Pureed Fruit can be used.
To that end, I grabbed my notebook full of notes and recipes. I flipped to my decadent chocolate brownie recipe and I started the cogs a'turnin' in the old rusty brain bucket. What could I do to this recipe to make it still be fudgy, chewy and most importantly, chocolate-y?
Well folks, I've done a lot of recipe experimentation and reformulation in my life and have had to do it all over again and again to the same recipe(s). It takes work to create a recipe and be so impressed with it, so enamoured with it's final form, that you are willing to stamp your name on it and call it done. I think I might have hit my peak with this one. This is by far the most decadent, fudgy, dense, chocolate-y brownie I've ever made and it contains not one animal product to speak of! Me. The lover of cream and butter and cream and more cream and buttermilk and fluffly light whipped cream. Me! So now I share it with you, dear readers, in the hopes that you pass it along to anyone you know who might be dairy intolerant, is a non-animal consumer or even people like me who are willing to try it.
1 cup coconut oil
4 oz. (or 112 grams) bittersweet chocolate or to be even more strict just use unsweetened chocolate with 70% (or more) cocoa solids.
1 tsp vanilla
2 tsp instant coffee or espresso powder
1/2 cup hot water
2 cups sugar**
1 cup cake or pastry flour
1 cup whole wheat flour
3/4 cup dutch process cocoa
1 tsp baking powder
1 tsp baking soda
1 tsp salt
2 Tbsp flax seeds (ground)
6 Tbsp hot water
1. Preheat oven to 350°F and grease an 8 x 8 pan.
2. In a double boiler or a bowl set atop a pot of gently simmering water, melt the coconut oil, chocolate squares and vanilla together.
3. Mix the coffee (or espresso) powder with the 1/2 cup of hot water and stir into the coconut/chocolate mixture. Add sugar and remove from heat. The sugars will dissolve a bit but you don't need to completely dissolve it.
4. In another bowl, sift together the flours, cocoa, baking powder, baking soda and salt. Whisk to combine.
5. In yet another bowl (small one), mix the flax seeds and 6 Tbsp of hot water, allow to sit for 2-3 minutes.
6. Combine the chocolate/coconut oil mixture with the flour mixture and stir to incorporate. Add the thickened flax and stir that in as well.
7. Pour the batter into the greased baking pan and bake for 30-40 minutes. Start checking the brownies after the first 30 minutes to ensure it is baking evenly.
8. When finished, remove the brownies from the oven, set atop a cooling rack and get busy somewhere else. These babies need to be utterly cooled before consuming. If you attempt to eat them before they are properly cooled, they will crumble. When they are properly cooled, you can't even tell they are eggless, I promise!
** Most popular brands of white and brown sugar are NOT vegan. An animal product called "bone char" is used in the bleaching or whitening process and therefore renders the sugar useless in vegan baking. Although I'm sure some vegans are not aware of this, it is better to use something else just in case. In this recipe I used 1/2 cup of sucanat, 1/2 cup organic cane sugar in the raw and 1 cup of organic demerera (just because I had all three!). Any sugar will do (I prefer 1 cup white and 1 cup brown for flavour) but if you need a truly vegan product, look for the sugars I mentioned.