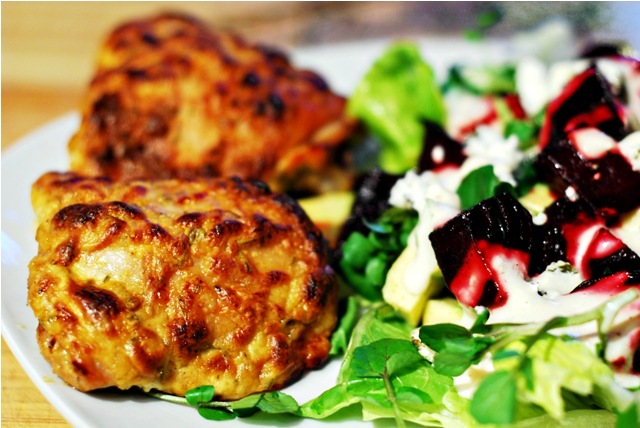 Happy St. Patrick's Day! Sadly, I didn't bother with the gren themed food or drink this year, as I'm Irish all the time…
I do have a fabulous lamb stew though, if you are looking for something specifically "Irish-y", you'll find it here. There is also a fabulous beer bread to go with it as well. So pop on over there if you are feeling like getting your Irish on today. Otherwise, scroll down for a fabulous Easter dinner!
I swear I'm not holding back on you, faithful readers, but I have this recipe I've been using for ages. We must eat it at least once a week and have since we got married (maybe even before). Usually we eat it on chicken breasts (bone in or not) because I try to eat healthy and I like to avoid too much fuss. Sometimes though, Mr. Guilty just has to have some skin, so I give in and make it with thighs. Really, you could slather this sauce all over an entire chicken and it would be just as good, it's a very versatile sauce.
To go along with our same old same old chicken, I needed something new and exciting. I became inspired seeing a traditional Ukrainian dish called tsvikly. Traditionally used as a festive relish at Easter, I decided to make it into a salad instead. I didn't think just having a side of relish with my chicken would be enough food though, so not being one to stick with a recipe or tradition, this salad was born! Seeing the flavour combination of horseradish and beets had my intrigued and I just had to try it! Serving the beets still warm makes for a very interesting texture and consistency to this salad (and also allows the goat cheese to melt a little bit) which had the whole family coming back for more the next night.
So if you are looking for an Easter dinner that is not your same old traditional (read: somewhat boring) ham, than try this über flavourful salad!

Roasted Beet Salad with Horseradish Cream

7 or 8 medium sized beets
1 Tbsp grapeseed oil
fresh ground salt & pepper to taste
1/4 cup sour cream
1/4 cup plain yogurt
2 heaping Tbsp Horseradish (the hotter the better!)
1/2 cup buttermilk
2 Tbsp Dijon mustard
1 Tbsp red wine vinegar
fresh ground salt & pepper (heavy on the pepper)
1 clove garlic, grated or minced
Mixed greens (I used watercress, romaine and escarole)
1 avocado, cubed
1/4 cup chèvre, crumbled

1. Peel beets and remove tops and bottoms (alternately you can roast with the skins on and peel them off afterward, although I find this more messy than doing it beforehand). Cube into chunks about 3/4″ x 3/4″. To avoid heavy messes, I do all the peeling and cutting of the beets in a sink full of water.
2. Mix beets with oil and salt and pepper. Toss in a pyrex or other heavy baking dish and roast (covered) for 30 minutes at 400°F. After 30 minutes, uncover and continue to roast for another 30 minutes.
3. Meanwhile, mix together the sour cream, yogurt, horseradish, buttermilk, Dijon, vinegar, garlic and salt and pepper. Refrigerate for at least 30-60 minutes before using to allow the flavours to develop.
4. On plates, arrange the greens, , followed by the avocado, goat cheese and finally the beets (still warm) and then drizzle the dressing over top and serve. Delicious!

Dijon Rosemary Chicken

4 chicken thighs or 2 breasts (bone -in)
1/2 cup sour cream (do not use yogurt, it tends to seperate)
2 1/2 Tbsp Dijon mustard
1 clove garlic, minced or grated
1 Tbsp fresh rosemary, minced
1/4 cup (or slightly less) canola oil
Salt & pepper

1. Mix all ingredients except the chicken, in a small bowl.
2. Coat chicken on all sides and place in a roasting pan.
3. Roast in a 400°F oven for 45 minutes.