Happy Hallowe'en folks! I know, I know, no Hallowe'en post? No scary dirt and worms or cupcakes shaped like spiders? No mummy dogs or kitty litter cakes? Sorry, I'm just not that into Hallowe'en. I used to be, dressing up in sexy outfits, hitting up the bars and clubs with my girlfriends. Those were the days. Now I'm kind of stuck in the middle though. I have a young toddler, who has no idea what's going on, plus I don't want to freak him out too much. Of course I love giving away (and eating) candy, but other than that, it's just a regular day. We'll be celebrating by attending the village's annual bonfire, heading to a friend's house, making escargot and fondue and giving away buckets of candy. I may even be dressed as a cat. Not a sexy cat mind you, more of a Disney type costume, complete with leg warmers and giant fluffy head. I'm a Mom now you know…
Maybe when the wee one is at a more understanding age, then we'll get into it. For the meantime, it's just another holiday that requires me to spend inordinate amounts of money and spend too much time decorating. I like to save it all up for Christmas. I'm one of those annoying Christmas freaks. I could start celebrating in July. I love every minute of it, and this year will be no different.
So I leave you with my very favourite, personal recipe for Banana Bread. When I was a kid, I used to make banana bread all the time. My Dad loved it, and so did I. But this time, I decided to tweak it a little. Brown butter makes everything better, as you may have learned if you've been reading this blog for a while. Also, I wanted to make that banana flavour just a little bit stronger and more robust, so I roasted them. If you like banana bread, but use it mainly to get rid of old bananas, try this recipe out. It would also make really good muffins, just remember to shorten the baking time accordingly.
Brown Butter Roasted Banana Bread
3 medium bananas
1/2 cup butter
1 cup brown sugar, packed
3/4 tsp salt
1/2 cup sour cream
1 tsp baking soda
1 cup cake flour
1 cup whole wheat flour
1 tsp cinnamon
1 tsp vanilla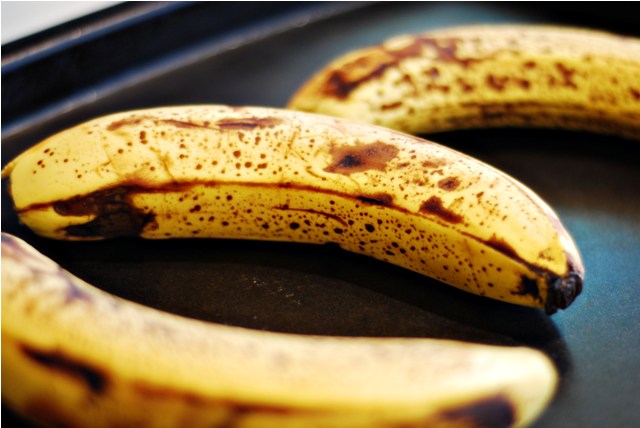 1. Roast bananas whole with peel on for 15-20 minutes in a 350°F oven.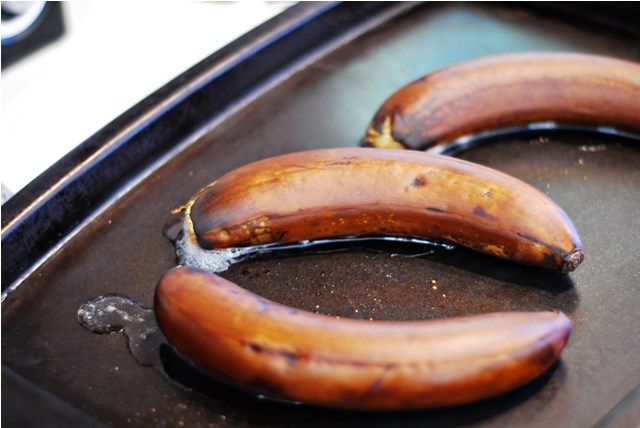 2. Grease an 8″ x 4″ loaf pan.
3. In small saucepan, melt butter over medium high heat. Do not stir, instead swirl the pan and watch until it begins to foam. Once the foam begins to subside, and the butter has browned sufficiently, remove from heat and set aside.


4. In medium sized mixing bowl, stir together brown butter, salt and sugar. It will look like this, kind of separated. That's okay.

5. Stir the sour cream and vanilla into the sugar/butter mix. Mash bananas and add in as well (chunks are okay!).
6. In separate bowl, mix together the flours, cinnamon and baking soda. Stir until well combined.
7. Add the flour to the wet mix in two portions, but try not to over mix.
8. Pour into greased loaf pan and bake for 45 minutes to 1 hour (in the already preheated to 350°F oven).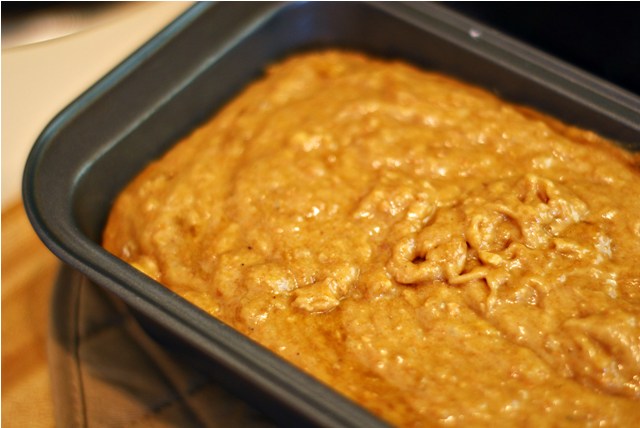 9. Cool 5-10 minutes in pan before turning out onto cooling rack. Turn upright and allow to cool completely, although you will be able to cut into it while it's till warm.

10. This bread is awesome toasted with butter, cream cheese or even Nutella.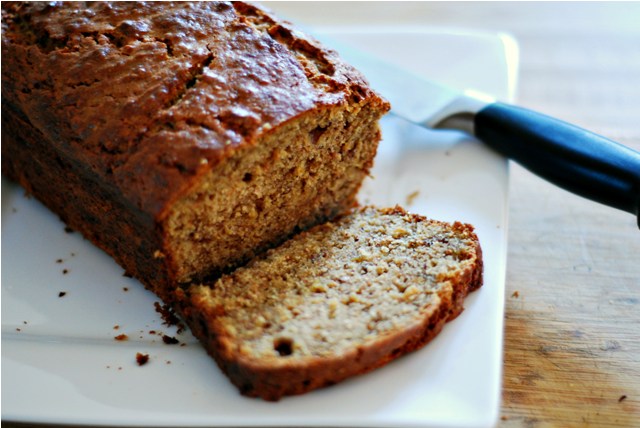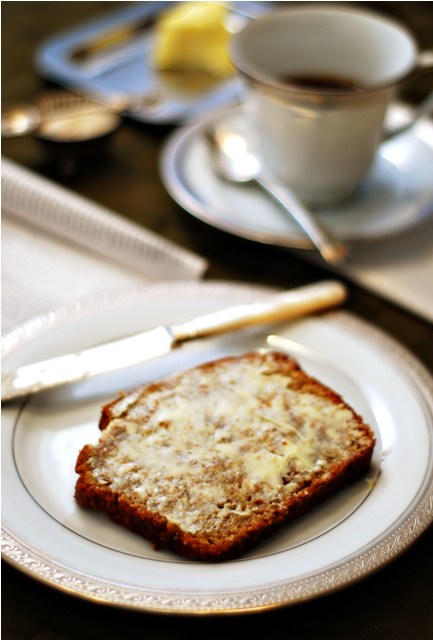 What? You've never had banana bread for breakfast? It's healthy…enough. It's got bananas, and whole grains, what else could you ask for right?