Sometimes I set out to make one thing, and I end up making a completely different beast. This is just one of those times. This weekend, I set out to make a delicious Manhattan clam chowder. As a child, when traveling on the widely despised BC Ferries in order to leave this rock, I would be confronted with cafeteria food. Now, as a child, I wasn't too picky about what I ate. I do admit I was probably just as bad as any other kid, but I was by no means a food snob at the tender age of 12. One of the staples of the ferry's cafeteria (even to this day), is a rather salty, bland and corn starch thickened, Manhattan clam chowder. The "red one" as some people put it. It's hard to get a clear definition of what a chowder is, but I usually take it as a thick soup (almost a stew) that is thickened with potatoes and usually contains seafood and bacon.
What I set out to make was a sort of seafood filled, stew-like (in consistency) soup with lots of flavour but not too hard on my thighs. I'm leaving that to the three hundred mini chocolate bars and little packets of candy in the bowl on my counter. It practically sings to me every time I walk by. It may be the only part about Hallowe'en that I do enjoy. Who doesn't like candy and chocolate? And if you don't, what, pray tell, are you doing here?
As I was saying, a had been dreaming of this chowder, when it occurred to me that it's similar to a Cioppino. If you are in the dark here, a Cioppino is an Italian fisherman's stew/soup. Usually made, historically, from the leftovers of the day's catch. Mostly, the seafood was thrown in whole to add richness to the broth. As in clams with shells on, crabs, ditto. Personally, I don't have the luxury of buying huge amounts of expensive seafood. It's a bit of a tease really, living on the coast surrounded by fresh seafood. Most of the good stuff here is a bit out of reach, reserved for special occasions and a headline at the meal. I'll stick to buying sustainable, yet affordable varieties. If you do wish to expand this stew, see notes at the bottom of the recipe.
Manhattan Cioppino
6 slices thick cut bacon, diced
2 stalks celery, diced
1 clove garlic, minced
1 Yellow or sweet onion, diced
1 lb potatoes, peeled and diced (I prefer Yukon gold)
1 28oz can diced tomatoes in juice
1 5.5 oz can tomato paste
900mL Chicken stock (or even better would be homemade fish stock)
1 tsp each dried basil, marjoram and thyme
salt & pepper
1 Bay leaf
1/4 cup red wine
1 tsp Worcestershire sauce
1/2 lb (or more) halibut or other white fish
2 142 g cans whole baby clams in water
1. Sauté bacon in deep saucepan until crisp. Remove to paper towels to drain. Set aside.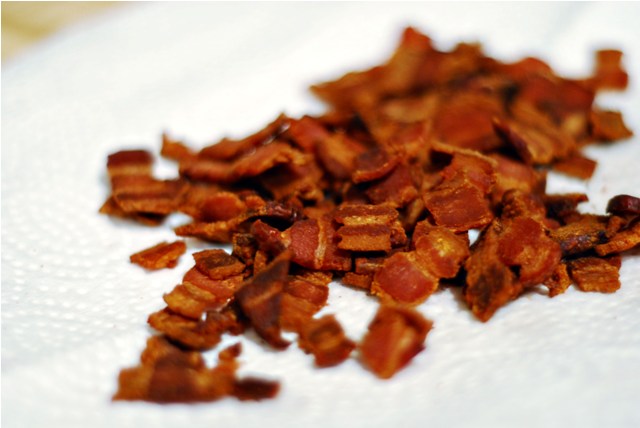 2. Pour out all but 3 Tbsp. bacon grease.
3. Sauté garlic, onion and celery in bacon grease until softened, about 5 minutes.
4. Add potatoes and sauté another 5 minutes.
5. Add wine and simmer for a minute or two. Add tomatoes, tomato paste, herbs, stock and Worcestershire sauce. Simmer for at least 1 hour and up to 2 hours.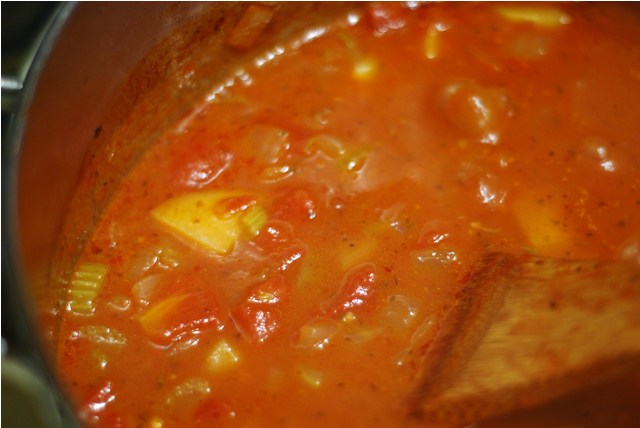 6. Add in clams and halibut & simmer for 20-30 minutes. Add bacon in final 5 minutes.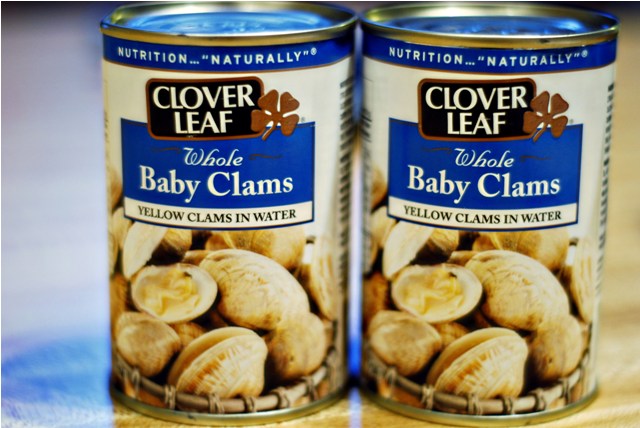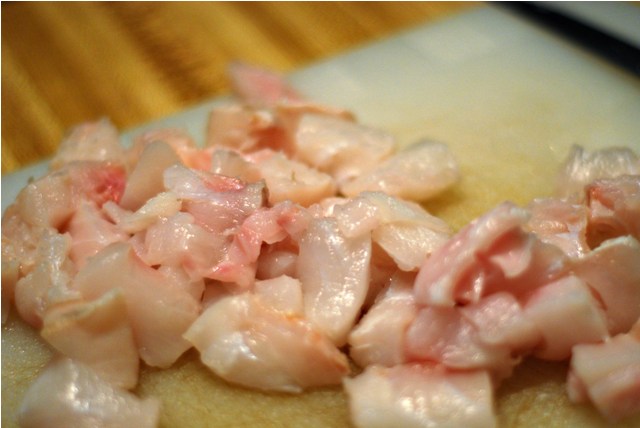 7. Serve with crusty bread.
** Note: To make a more rustic Cioppino, try using clams in the shell and adding more seafood such as crab, prawns, shrimp, other kinds of white fish, etc.