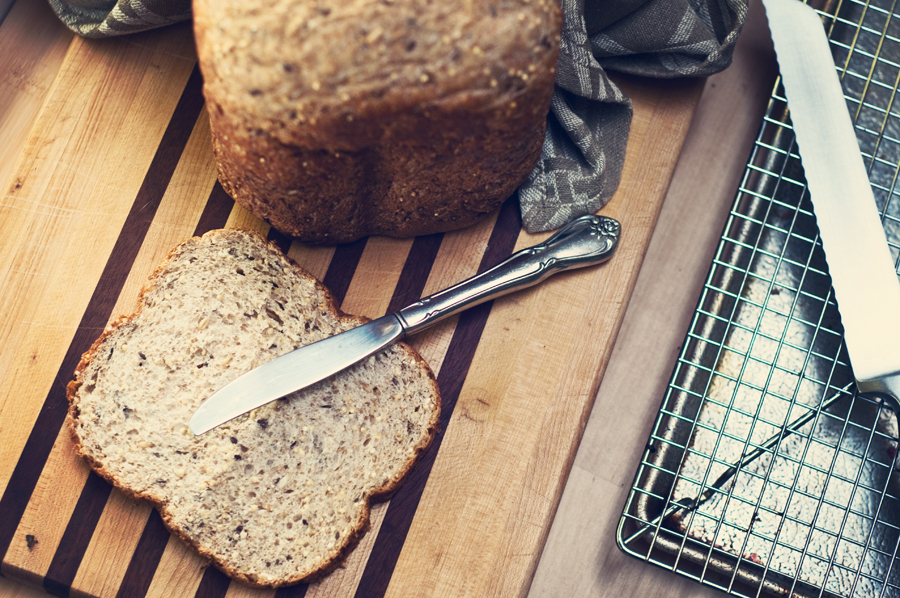 After my last post, it occurred to me there were other things I do during my days that I didn't mention. Did I mention I make all our own bread? Yeah, I somehow manage to bake bread from scratch one or two times a week. But you know how I can manage such a feat while also juggling two Satan spawn children, blogging, recipe creation, blah blah blah?
A bread machine!
I had never used one until about four months ago, when my Mother-in-Law so generously gave me her old Black & Decker. This beauty has seen it's fair share of dough, yet still goes strong. It also makes some fantastic bread.
Having never baked bread in a machine before, I took everything the ancient instruction booklet said to heart. Put everything in the machine in the right order. Check. Follow the recipes exactly. Check. Take bread out when it beeps. Check. Things couldn't be easier!
Then I found that the recipes in the book were mostly white bread ( we don't eat white bread) and that the whole wheat recipes were either bland or contained huge amounts of white flour. My goal was to create my own simple recipe that contained no dairy and was 100% whole wheat. No easy feat. This was my first attempt: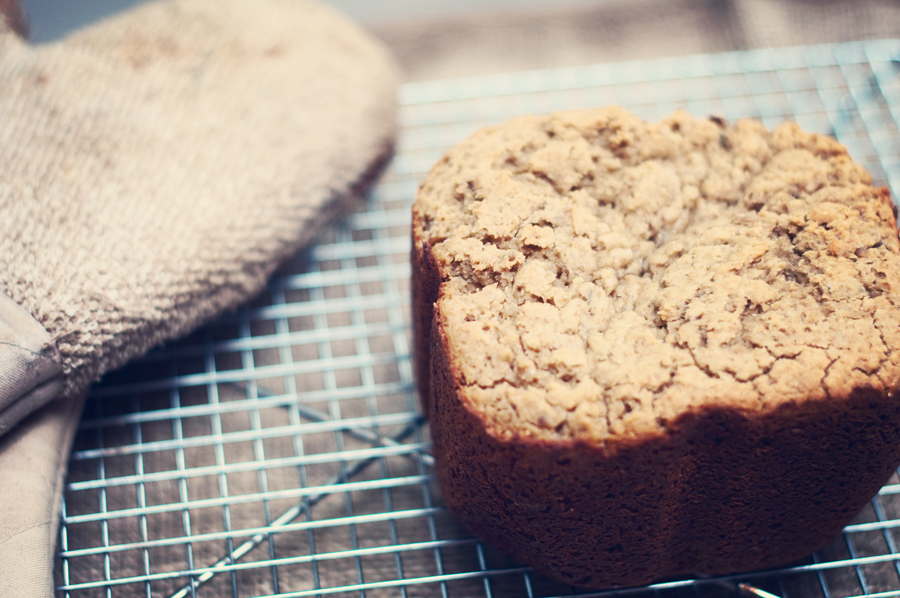 What did I do wrong? That sucker weighed a ton! It was so dense and heavy. I fed a few slices to the kids, who loved it, but the chickens loved it even more.
Failures in the kitchen are okay, you just have to come to terms with the loss of the ingredients and a kick to your pride. I knew that I had added the salt in the wrong step, thereby eliminating the yeasty growth that cause bread to rise. I also used a bunch of gluten free flours. The whole recipe was a big failed experiment. Taste-wise though, it was nutty and delicious! So says me, but Adrian would say otherwise.
After a few weeks of fiddling with the recipe and gradually decreasing the white flour and increasing the yeast, I finally figured out a vegan recipe that is 100% whole wheat. It literally takes me about 10 minutes to pour the ingredients (by heart) into the baking pan and then 4 hours and 10 minutes later, fresh hot and delicious bread!
The smells that come out of my kitchen on these days are intense and wonderful. I love making my own bread, and I will never buy another $6 organic loaf again. This loaf probably costs me about $2.00 every time I make it.
There are always lessons to be learned in the kitchen and this one was one that taught me perseverance is key, you just have to keep trying. Also, follow directions when it comes to baking, they are probably right on the money.
One year ago: Homemade Twix Candy Bites Chocolate

Two years ago: Chocolate "Macarons" (a failed attempt) with Chestnut Purée

Whole Wheat Machine Bread

Yield: 1 2lb loaf
Prep Time: 10 minutes
Cooking Time: 2-4 hours (depends on your machine)

1 cup almond milk (or buttermilk, skim milk, any kind of milk)
2/3 cup water
2 tbsp  butter (or lard, olive oil, etc.)
2 tbsp honey (or agave, maple syrup, etc)
2 tsp salt
3 3/4 cups whole wheat flour
3/4 cup cereal or seeds (I've used 7 grain cereal, a blend or flax, millet and sunflower seeds, just straight sunflower seeds and old fashioned oats all successfully)
2 1/4 tsp (or 1 pkg) Active dry yeast
2 tbsp vital wheat gluten (optional, but will guarantee a fluffy loaf)

1. Place all ingredients in the order they are listed into the baking pan of your bread machine.
2. Follow the directions on your machine for whole wheat bread. **Please note I actually set mine to rapid bake for this recipe
3. Remove from machine when done and allow to cool on a baking rack for at least one hour.
4. Slice and enjoy!
Similarly delicious recipes from other fabulous food blogs:
Cracked Pepper and Chive Bread from All About Food
Bread Machine Challah from Dine and Dish
Cinnabon Clones from The Cooking Photographer
Soft Garlic Knots from Salad in a Jar
Cinnamon Raisin Bread from Lemon Drop