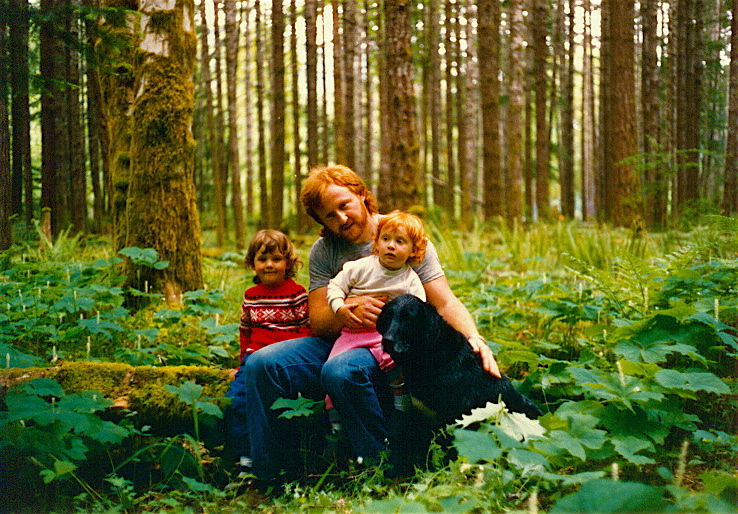 Who is that shaggy creature?
No, not the doggy, that's Boomer.
I mean that shaggy red headed creature…the big one. That's my Dad, which of course means that's me, and my sister. Aren't we cute?
Remember when I told you I was going to share a bit of my history. Well there it is.
Here's another one. Get ready, it's pretty embarrassing , but I think I can handle the humiliation.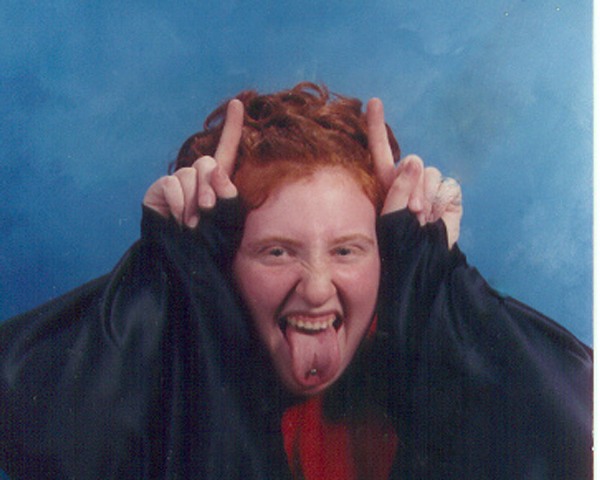 Oh my god. I can't believe I just posted that on the interwebs. I'm so embarrassed!
There's me, at 18 (ten years ago) in all my plump faced glory. That was the last shot taken on my grad film strip. Classy.
How about one more?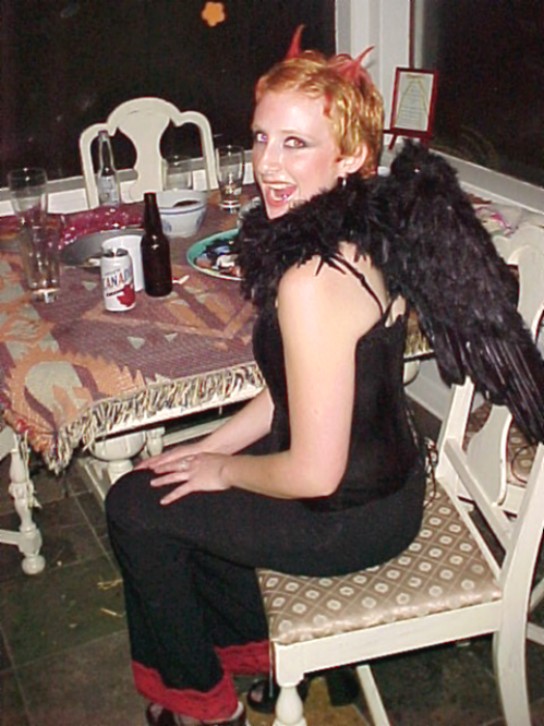 There's me about 7 years ago. Weight Watchers man, Weight Watchers. It really works.
I just realized there's a theme going on here. I guess I have a little evil devil in me, and it's also good timing for Halloween.
I meant to do that.
Okay enough reminiscing, let's get onto the reason I was so plump in the first place. Food. Big food. Creamy food. Food with lots of unbalanced nutrients. Fat, sugar, carbs. You get the idea.
Today's recipe is a throwback to the days when I ate whatever I wanted, and enjoyed every minute of it.
Here it is friends: Twix Candy Bites.
I've been wanting to make Twix bars at home now for a while, and I finally gave in and decided to make them. Also my husband wouldn't stop bugging me to get it done. Guess I shouldn't have mentioned it. In any case, I decided that I didn't like any of the recipes I could find for homemade Twix bars as they all had either a prepackaged cracker crust or a shortbread crust. Neither of these are really Twix like to me. It should have a crunch to it and be somewhat like a cracker, but sweeter. So I set out to make my own version. What I found was it's not as easy as it looks. Cookies are hard to make crispy and I didn't want to burn it. So I settled on pretty crispy, and not crumbly like shortbread. The caramel layer I left to the experts, namely David Leibovitz. His salted butter caramel looked perfect, and chewy, and dark. Yum.
After making the cookie and caramel layers and testing it out, I decided they were too rich to be bars, but would instead make fantastic little chocolate candies. And so it was. These would be perfect for giving away as part of your Christmas baking, or even as a hostess gift at your next get together. Either way, you should make some tout suite (that's French for "right now!").
Homemade Twix Candy Bites

Yield: 40 bite size chocolates
Prep Time: 20 minutes
Cooking Time: 60 minutes

Cookie Layer:

1 1/4 cups all purpose flour
1/2 cup granulated sugar
1/2 tsp sea salt
60 grams unsalted butter, refrigerator cold and cubed
1 tbsp vanilla
5 Tbsp heavy cream

1. Preheat oven to 350°F.
2. In a medium sized bowl, stir together the flour sugar and salt.
3. Cut the butter in with a pastry cutter or two forks until a fine crumb like consistency is formed.
4. Mix the vanilla and cream together and pour into the dry ingredients.
5. Mix until a dough forms (it may be crumbly, this is fine).
6.  Press into a greased 8″ square pan.
7. Prick with a fork to avoid puffiness and bake in preheated oven for 25-30 minutes or until a golden brown colour develops over the surface.
8. If it puffs up after removing from oven, push down gently with your hands.
9. Cool completely.

Caramel Layer:
Adapted from David Leibovitz

3/4 cup heavy cream
1 tsp vanilla extract
1/2 tsp sea salt
1/2 cup golden syrup
1 cup yellow sugar (or use granulated)
60 grams salted butter + 2 tbsp, cubed and at room temperature

1. In a small saucepan heat heavy cream and  two tablespoons of butter with vanilla and sea salt. Bring to a boil, remove from heat and cover it to keep warm.
2.  In a larger saucepan fitted with a candy thermometer, heat the golden syrup with the sugar. Stir constantly until the sugar melts then stir only to avoid hot spots until it reaches 310°F.
3.  Remove from the heat and stir in the warm cream mixture (careful, it may spit at you.)
4. Return to the heat and cook to 260°F.
5. Remove from the heat, lift out the thermometer and stir in the cubes of butter.
6. Pour over the cooled cookie crust and allow to come to room temperature.
7. When it is cooled, cut into 1″ x 1″ squares.

Chocolate Coating

6 oz Semi-sweet chocolate, chopped
2 oz Semi-sweet chocolate

1. In the top of a double boiler set over gently simmering water, bring chocolate up to 115°F. Stir constantly.
2. Drop in last two ounces of chocolate, remove from heat and bring down to 80°F. Stir frequently.
3. Bring chocolate back up to 91°F (do not go over 91°F), remove the leftovers from the two hunks of solid chocolate and start dipping the squares into it. Try to keep the chocolate around 88-91°F. Rewarm when necessary.
4. Lay chocolates on a wax paper sheet and allow to harden. May also be cooled in the refrigerator.  Store in an airtight container.
Similarly delicious recipes from other blogs:
Twix Tart on Dessert First
Twix Cheesecake Pie on Recipe Girl
Homemade Halloween Candy Bar on The Kitchn
Payday Candy Bars on Eating Out Loud
Homemade Almond Joy on Joy the Baker