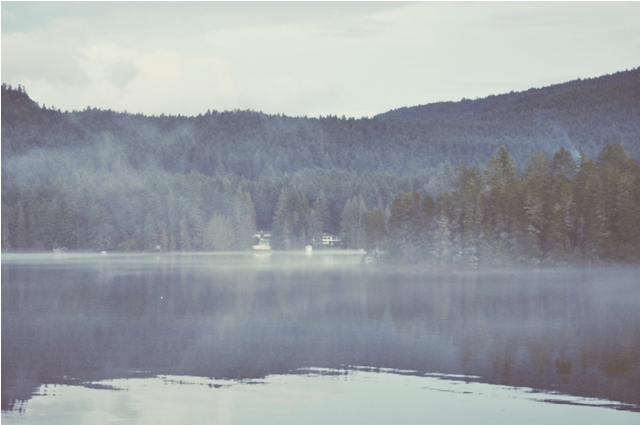 Although this isn't a traditional Culinary Fundamentals post, it does cover a basic cooking skill everyone should master. Baking your own bread falls under the category of essential kitchen know-how if only because it hearkens you back to a quieter time when everyone baked their own bread.
Sadly, I didn't grow up in a household filled with the scent of freshly baked bread, or that weirdly attractive smell of yeast proofing. Nope, never. Not even my Grandmother baked bread. I'm telling you, sometimes I wonder where all this foodie obsessiveness came from.
What I did have though, was an aunt who baked her own bread and her house always smelled wonderful. That fresh baked, soft on the inside, crusty on the outside bread slathered in butter and bursting with seedy goodness. What could be more belly warming, comforting or fulfilling?
I've made a lot of bread in my day, and let's just say they don't always turn out as the recipe plans. I'm not too sure what I do wrong. Is it the flour? The yeast? Not enough rising time? Too much kneading? Ugh. Bread can be a little, well, unforgiving.
I once tried my hand at making my own sourdough starter. I Measured and mixed, fed and dumped, stirred and allowed to rest. I covered and uncovered, I kept it on the counter or in the oven with just the oven light on for warmth. And that is where the demise began. Because our house is so cold in winter (we like to turn it down a lot, it's greener!), I kept it in the oven because that was the warmest place in the house (the top of the fridge is unfortunately, under a cabinet). Can you guess what may have happened?
Seasoned cook that I am, I always preheat my oven. Well, about four cracked glass jars and murdered starters later, I gave up (perhaps a reminder note taped to the oven temperature knob next time?). I managed to make a few recipes from the starter before I killed it, but then it was done. So much wasted flour and time and effort, and, well….you get the picture.
I'm now a big fan of just plain old yeast risen dough.
In my experience, it takes a few tries to get a recipe right, but I put this recipe together when I lived communal style with my two best friends in one of the slummiest apartments I've ever lived in. I ate it every day until it was gone, and I treasured every bite. Finally, a recipe that was fail-proof and complex (at least in the nutrient and taste departments).
To ensure fail-proof bread, here are some quick tips:
Make sure your yeast is not expired and use the correct version the recipe calls for. Yeasts are not generally interchangeable (without changing the recipe).
Make sure your flour is as fresh as you can get it. Hand grinding your own grain? Perfect. Store bought? Totally fine as long as it's less than a couple of months old.
When rising, move your dough to the warmest place you can find (maybe not in the oven though…..)
For the second rise, allow the dough to fully double. Don't rush it.
Don't be afraid to knead for as long as it takes to become smooth and elastic.
Use as much flour as it takes to keep the dough from sticking to the kneading surface.
One Year Ago: Crab and Shrimp Cakes with Lemon Aioli

Great Grains Bread

Yield: 2 loaves
Prep Time: 20 minutes active time plus 3 hours to proof
Cooking Time: 25-35 minutes

1/4 cup warm water
1 tsp brown sugar
2 pkgs (4 1/2 tsp) active dry yeast
1 cup milk, soy milk (flavoured or plain) or goat milk
3/4 cup warm water
1/8-1/4 cup honey
1/8-1/4 cup unsulphured molasses
1/4 cup melted butter or oil
1 egg
1 tbsp fresh lemon juice (approximately half a lemon)
1 cup grains (oats, bran, flax, sunflower seeds, etc.)
1/2 cup chopped nuts (pecans, walnuts, hazelnuts, etc.)
2 tsp salt
5 1/2 cups whole wheat flour

1. Proof Yeast: Mix sugar and yeast in a bowl, pour warm water over and allow to rest for 10 minutes.
2. In a large bowl, mix milk, water, honey, molasses, oil or butter, egg and lemon juice.
3. Add yeast mix to molasses mix and stir to combine. Add 2 1/2 cups of the flour, the grains and the nuts. Stir and rest for 20 minutes.

4. In a small bowl combine remaining flour and salt. Stir into dough. On a floured surface, knead 10-15 minutes or until smooth and elastic. You may need to add additional flour as you go to keep it from sticking.


5. Put dough into a greased bowl, cover with a damp cloth and let rise for one hour in a warm place.
6. Punch dough down and allow to stand 20 minutes.
7. Remove from bowl, cut into two, shape into loaves, place in greased loaf pans and cover with a damp cloth. Allow to rise until doubled (approximately 1 1/2 hours).
8. Bake at 375°F for 25-35 minutes.

Maybe try a little fresh Butter on your still warm from the oven bread?