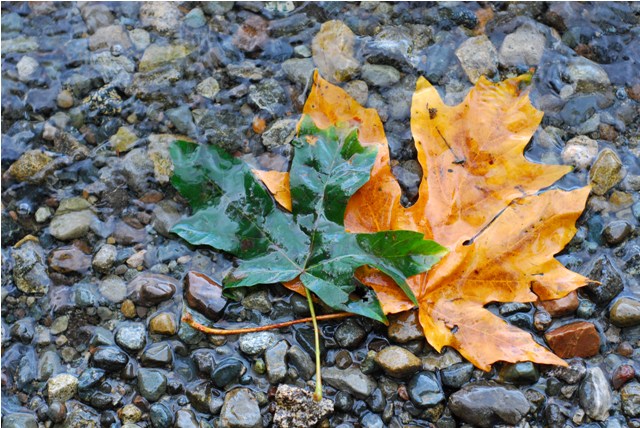 I'll be the first one to admit that I'm not a big fan of cold weather. Which is strange really. I'm one of those women who needs it to be cool to sleep (you know the ones. The husband wants it to be warm, but the wife doesn't. Someone always suffers. Well, it isn't me). I always have one foot splayed out of the side of the bed, lurking there in the dark depths of night, floating silently as my very own "thermometer."
I used to work in a wholesale lumber yard. I was in the office, yes, but we had single pane windows looking out into the warehouse and the door was always being held open by some dirty, sawdust covered cabinet maker. So I would crank the heat, which was conveniently located next to my desk (which I shared with another salesman). Whenever I'd go to the bathroom, my lovely coworker would secretly turn the heat off. He was always hot. I was always cold. It made for an interesting 4 years.
Now that we live in a big old house heated with a wood stove, I'm really looking forward to the warm glow of fire heating my bones. Is it weird that I love fall, but I hate being cold? I think I've mentioned my reasons being mostly aesthetic. I love scarves and boots, so sue me.
When it really starts to be miserable out, which is most of October through February around these parts, I turn to comforting food. The kind that sticks to your ribs, fills you up, but doesn't necessarily fill you out. I think I like that when I have the stove top and the oven both going at the same time, I will gladly stand in front of it stirring whatever it is I'm cooking up.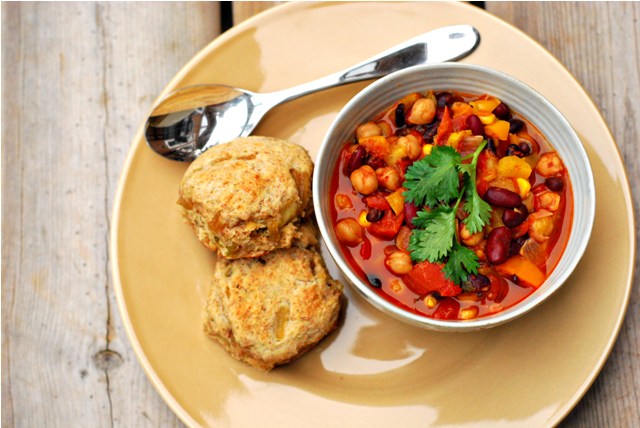 When I was a kid, my Dad used to make a few select dishes. One of his best, was his version of chili con carne. Meaty, full of tomatoes and beans, and accented by his secret ingredient (coffee!), it would cook away on the stove top all day long. This was pure comfort food at it's very best, and was always served with hot buttered toast and a sprinkle of Cheddar. As much as I love my Dad's version of meat heaven, when cooking for myself and my husband, I prefer to go vegetarian. Not only do we only eat meat once or twice a week for health reasons, it really helps our wallets remain nice and plump. If you prefer a meaty version, go ahead and brown a pound of beef (or chicken, pork or turkey even) along with the first ingredients.
The biscuits in this recipe, I must admit, were inspired by Ree Drummond's (The Pioneer Woman) Steak with onion-blue cheese sauce. I love the combination of flavours, and since I just happen to have a sourdough starter hanging around my fridge, I had to combine them. What? I haven't told you about my sourdough starter yet? Silly me, I will in an upcoming post for sure!
Vegetarian Chili

1 1/2 Tbsp. Canola oil
1 Large sweet onion, diced
4 Green onion stalks, minced
1 Large zucchini, diced
1 or 2 (depending on size) bell peppers (preferably red, yellow or orange), diced
1 large or 2 small clove(s) garlic, grated
1 1/2 cups corn niblets
2 chipotle peppers (in adobo sauce), minced
1 Tbsp adobo sauce
1 Tbsp Chili powder
1 tsp ground cumin
1 tsp. Worcestershire sauce
19oz can Garbanzo Beans (Chick Peas)
19oz can Black Beans
19oz can Red kidney beans
28oz can diced tomatoes
Salt and fresh ground black pepper
1/2 bunch cilantro, minced (about 1/2 cup) (optional)

1. In a large, deep saucepan, sauté onions (both kinds), peppers, garlic & zucchini on medium high heat. Liberally sprinkle with salt and pepper.
2. When most of the liquid has evaporated, add in the corn, chipotle peppers and adobo sauce. Sauté for 5 minutes.
3. Add in can of tomatoes and all beans. Bring temperature up to almost boiling.
4. Turn down to low and simmer lightly for 2 hours.
5. If using, stir in cilantro right before serving.
6. Serve with a dollop of sour cream, a sprinkle of grated cheddar and some caramelized onion and bleu cheese sourdough biscuits (recipe follows).

Caramelized Onion & Bleu Cheese Sourdough Biscuits

1/2 Sweet onion, sliced
2 Tbsp Brown sugar
1 1/2 cups sourdough starter
1 3/4 cups flour (I used whole wheat)
1 tsp salt
3 tsp baking powder
1 tsp baking soda
1/4 cup + 2 Tbsp melted salted butter, divided
2 tsp rosemary (use fresh if available, if dried pulverize in a mortar and pestle)
150g Bleu Cheese

1. In a saucepan on medium high heat, add onions and sugar.
2. Sauté until onions have browned and all sugar has disappeared, about 6 minutes. Set aside.
3. In large bowl pour sourdough starter and melted butter. Stir in onions and cheese.
4. Stir in all dry ingredients (including rosemary) until just incorporated.
5. Pour out onto a floured surface and knead for about 5 minutes. You may have to add additional flour to achieve a good consistency. You want the dough to still be slightly sticky.
6. Add the remaining melted butter into a 9x11x1 1/2 in. baking pan.
7. Pat the dough down to 1/2″ thick and cut or form into desired shapes.
8. Coat each biscuit on both sides and place, lightly touching each other, in baking pan.
9. Cover and allow to rise for 30 minutes. Bake at 425°F for 12-15 minutes.
10. Serve with some stick to your ribs chili.

I hope this recipe finds you well and allows you to cuddle up with a loved one while you wait out this cooler weather. Maybe don't cuddle too close though….or get some Beano at least.