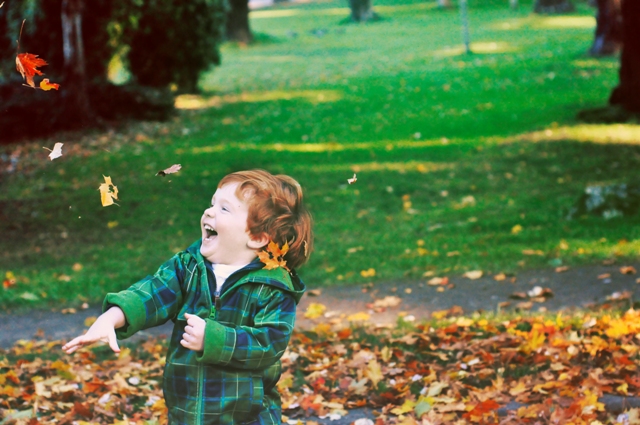 Fall. Autumn.
Time for leaves to be thrown, jumped in, raked and pressed between the pages of an overly heavy book.
Time to relax and let it all go. Accept that winter is on it's way and not spend too much time grumbling about the fact that it's dark at 2pm.
Okay, I'm exaggerating a little, but seriously…the end of daylight saving time is always a tough time of year. Especially for food bloggers. For those of us who take pictures of our main meals (dinner) in the evenings, this signifies the loss of all the glorious natural light. Time to break out every source of indoor light we can muster and pray that everything turns out okay.
What I do love about this time of year is the food. Filling, rich and belly warming, autumn brings out everything I love about the ritual of eating.
I recently purchased a Dutch oven. YAY! You may remember me saying that it is one of the culinary tools I did not yet own and something I really wanted to acquire. So when the holiday sales started, I just took the plunge and bought a good one. Something I've learned over the years is that kitchen tools are priced pretty fairly. You get what you pay for. You buy that cheap version of a cast iron pan with enamel coating and the first time you use it, the enamel bubbles and chips off. Shoot.
So this time, I just spent more than I would normally be comfortable spending, especially around this time of year. But I can proudly say that four days of Dutch oven ownership have brought me three days of Dutch oven usage. I love it that much. What a versatile tool. I think when I am asked now what kitchen tool I could not live without, this will be the answer.
As for the first meal I made in it, I made this glorious version of a Southern classic. Collard greens and black eyed peas are something that is traditionally eaten on New Year's Day in the Southern part of the United States. The Black eyed peas (or other legume) brings luck, while the greens (in this case, collard) bring the money. So why not eat it at other times of the year, I say? This is truly a classic dish, full of rich hearty flavours, but taking no more time to make than an easy soup or salad dish.
So whether you are making this for New Year's Day or at any other time during the fall/winter season, you won't be disappointed. Try it with a side of cornbread for a truly filling meal.
Slow Roasted Pork Belly with Black Eyed Peas and Collard Greens

For the Pork Belly:
1 1/2 lb. boneless pork belly (skin on)
1 tsp grapeseed oil
salt and pepper to taste

For Black Eyed Peas and Collard Greens:
2 tbsp butter
2 medium leeks, thinly sliced in half moons (white part only)
1 clove garlic, minced
1 cup pork or chicken stock
12 oz collard greens, stems removed
2 540 ml cans black eyed peas (rinsed and drained) (OR 4 cups precooked black eyed peas)
salt and pepper to taste
1 tsp hot sauce
1/2 tsp cumin

1. For the Pork Belly: Score skin in crosswise fashion (creating a cross hatched pattern).
2. Rub meat with oil (do not rub oil on skin side).
3. Season all sides with salt and pepper to taste.
4. Set skin side down in a cast iron or other heavy oven proof pan.
5. Roast at 295°F for four hours.
6. Remove from oven and let rest 5-10 minutes before slicing and serving.

7. For Black Eyed Peas and Collard Greens: In Dutch oven or other heavy bottomed pot, heat butter over medium heat. Add leeks and garlic and sauté until softened.
8. Add stock and bring to a simmer.
9. Rinse the collards very weel and then chop or tear them into large chunks (about three inches) and add to simmering liquid.
10. Add in beans and seasonings and continue to simmer for 30 minutes.
11. When done, sauce should be thickened and reduced.

To serve:
12. Mound beans and greens in bowls, top with sliced pork belly and serve.
Other similarly delicious recipes on other blogs:
Crackling Pork Belly Roast on Apple Pie, Patis and Paté
Braised Pork Belly on Wrightfood
Kimchi Pork Belly Pizza on No Recipes
Greek Black-Eyed Peas Salad on Simply Recipes
Black Eyed Pea Cakes on Fat Free Vegan Kitchen