I haven't talked much about our trip to the Okanagan, so I thought I would share a short recap of our adventures. Really I just want to saturate this post in glorious pictures of my family. So there.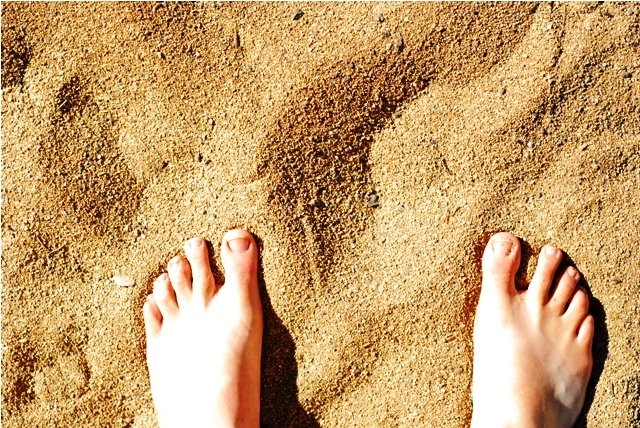 The trip started with a short ferry ride across the Straight of Georgia or if you like, the Salish Sea. After an eight hour trip. we were there. And what you see above is the first thing I did when we got there.
Although I do already live on a lake, the lakes in the Okanagan are 1) way warmer and 2) surrounded in sandy beaches instead of the rocky, tree and bush laden variety from which I hail from. To dig my feet into molten lava hot sand and watch as my son and husband frolicked in the water was a beautiful glimpse at what this short vacation would all be about.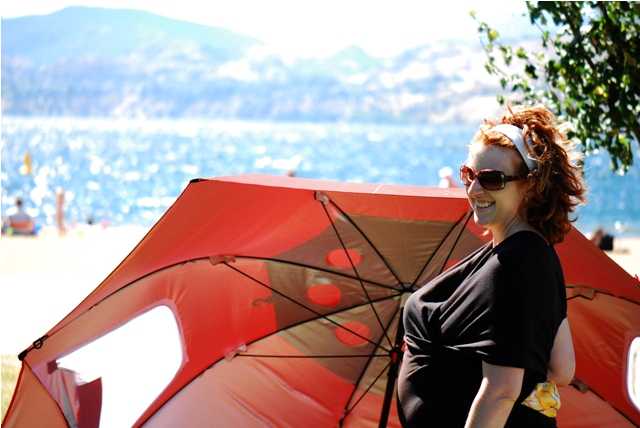 Me? I prefer to stay on shore thanks. I had business to attend to…that lump up there is actually my daughter. Snug as a bug in a rug. She slept beautifully the whole time, it was glorious.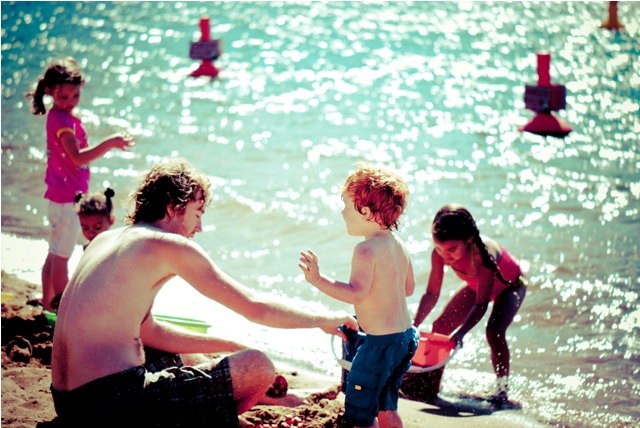 And I spent the whole time watching this…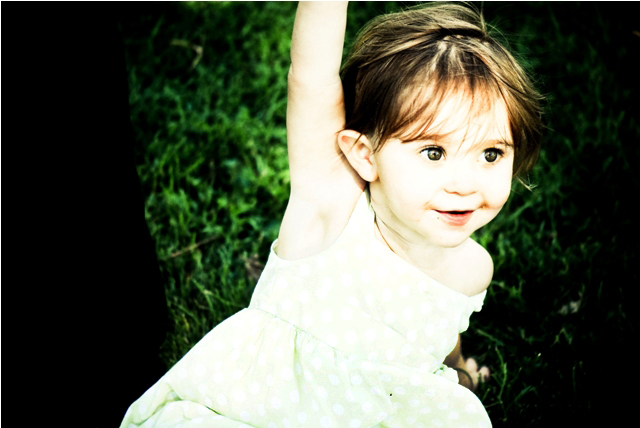 And this….She's my husband's cousin's daughter. Don't know what to call that…second cousin once removed? Twice? Whatever, she's adorable!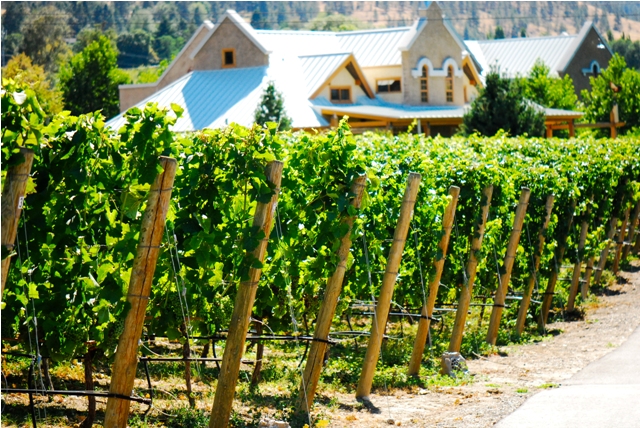 And then there's my favourite part of any trip to the Okanagan, and that's the wineries and the food. This is what greets you upon entering the driveway of Blasted Church Vineyard in OK Falls. They also feature this: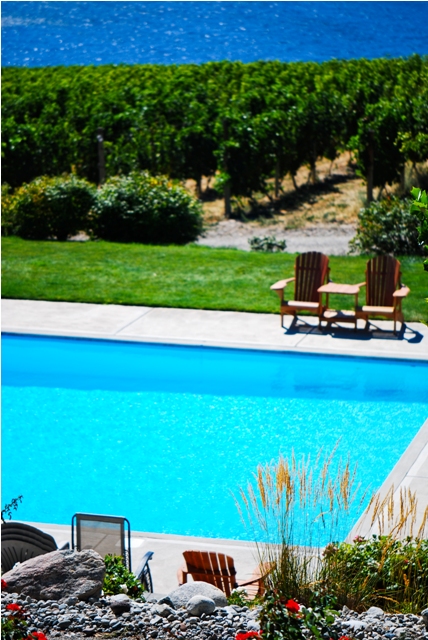 But I think it's private. Too bad. Beautiful spot, you can barely tell it's even Canada can you?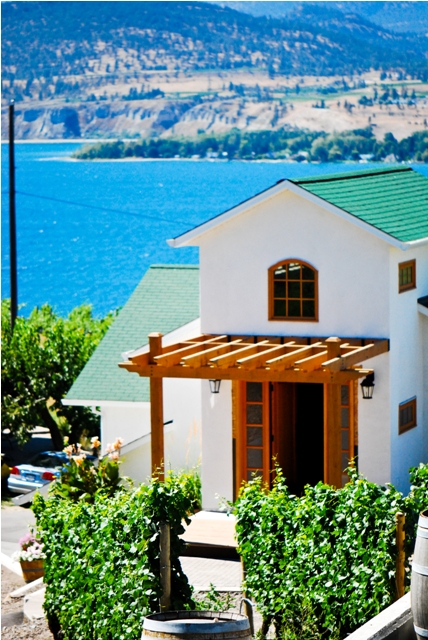 This one is of Lake Breeze Vineyards and Winery. It's our favourite spot for lunch.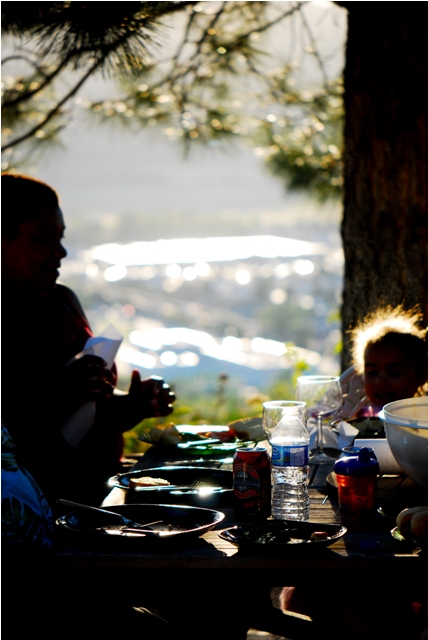 There was good food and awesome get togethers with family that we don't see to often.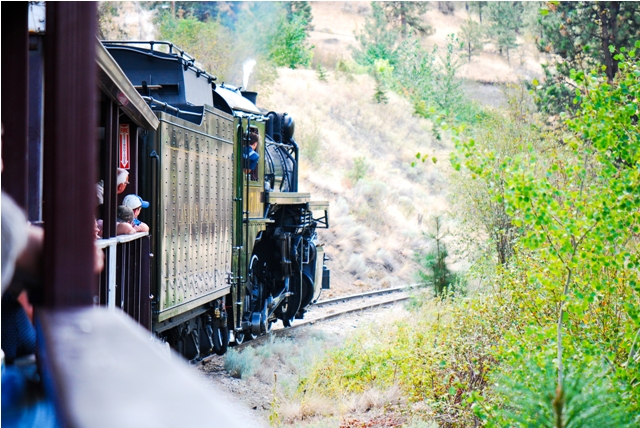 We even took a spin on a steam engine that runs through the country side.
But most importantly, there was this: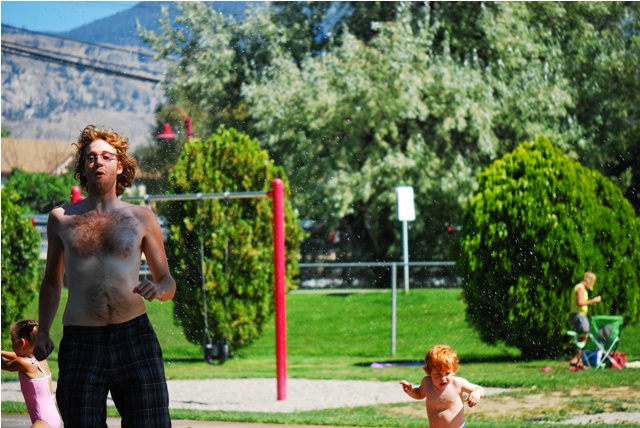 Fun.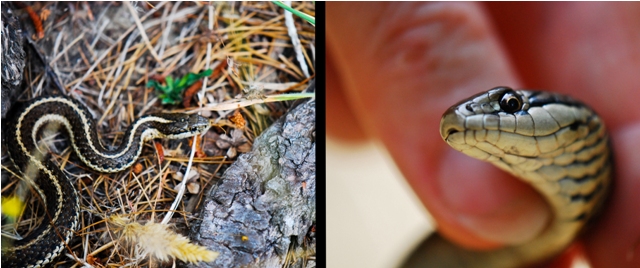 Did I mention that I caught a snake? It peed on me. The end.
Okay that's it. Slide show over. On to the food.
When we returned home, all I could think of making was easy food. We actually ate this salad by itself, and it was pretty filling, but it would also be perfect as a barbeque side dish to accompany beef or chicken. It's a great alternative to your average potato salad.
Cauliflower and Potato Salad

Yield: 6 servings
Prep Time: 20 minutes
Cooking Time: 15 minutes

1 small head cauliflower, cut into small florets
13 oz small potatoes (waxy variety such as Yukon Gold)
2 tbsp olive oil
2 large shallots, sliced into half moons
1 clove garlic, minced
2 tbsp white wine vinegar
3 tbsp olive oil
1 tbsp horseradish
sea or kosher salt to taste
fresh cracked pepper to taste
150g feta cheese
1 tsp Dijon mustard
1 Tbsp mayonnaise
2 tbsp plain yogurt

1. In a medium saucepan, boil potatoes until fork tender, around 25 minutes. Remove from heat and allow to cool slightly.
2. In a steamer, steam cauliflower until al dente, about 8 minutes.
3. In a sauté pan, heat 2 tbsp olive oil over medium high heat. Add garlic and shallots. Sauté until translucent, about four minutes. Set aside.
4. In a small bowl make dressing: Mix vinegar, olive oil, horseradish, salt and pepper, crumbled feta cheese, Dijon, mayo and yogurt. Stir until well combined. Stir in still warm shallots and garlic.
5. Quarter potatoes and add to a large bowl. Toss in cauliflower florets.
6. Toss potatoes and cauliflower with dressing, serve lukewarm or room temperature.
Similarly delicious recipes from other blogs:
Cauliflower Salad with Green Olives and Capers on Smitten Kitchen
Nancy's Cauliflower Salad on Cooking Adventures with Chex Paz
Roasted Cauliflower Salad with White Beans on Herbivoracious
Creamy Curried Cauliflower Salad on Cheeky Kitchen
Cauliflower and Kale Salad on Steamy Kitchen