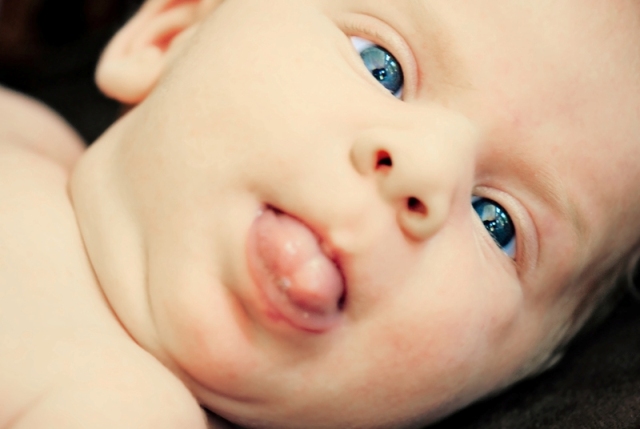 Well, it's Friday and that means a winner has been chosen. Are you excited yet? On the edge of your seat?? I AM! Who wouldn't want these books???!
** Side note: I am not affiliated with the authors or publishers of these books, nor am I associated with Amazon. All prizes are furnished by me personally.
Before I let the proverbial cat out of the bag, I just wanted to say that all your heartfelt messages really made my week. What a wonderful surprise every morning as I looked at new comments that told me how I was positively influencing peoples lives in their kitchens. I feel like I'm there with you, giving you that nudge to the next level and praising your every achievement. Thank you so much for the warm wishes as well, I love all my readers! You guys are great!
So here is how I chose the winner. I took all the comments I got and weeded out the least thoughtful ones (sorry, nothing personal). I then assigned a number based on the order the comment came in, then I plugged the numbers (1 through 57) into Random.org's Random Number Generator and came up with…….duh duh duh….Number 9!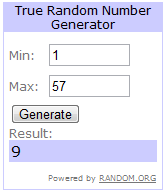 The winning comment was:
Why do I deserve to win?

Well lets see, I in my own right, am a good cook (at least in mine and my husbands eyes  ). However, I have this amazing sister who has exceeded all my expectations for her, and has become an amazing chef, mother and entrepreneur. She continues to inspire me to try new recipes and to experiment with my own flavours, and for this I will be eternally grateful. Winning these books would just help me continue what she started.

Thank you!
So there you have it Alena! I hope these books bring your family many nights of wonderful meals and brings your baking to that next level of sweetness! Congratulations! I will e-mail you all the details immediately.
On a completely different note, I've brought you a recipe today based on a trip my husband just came back from. He went to a conference in Philadelphia and I made sure he went out every night and searched near his hotel for amazing food. This sandwich (or at least something similar) was the first thing he ate when he got there. A wonderfully juicy pulled lamb sandwich, doused in flavourful chimichurri sauce and smothered in rich cheese.
And in the next few days you can look forward to my version of a Philadelphia Cheesesteak! Don't miss it!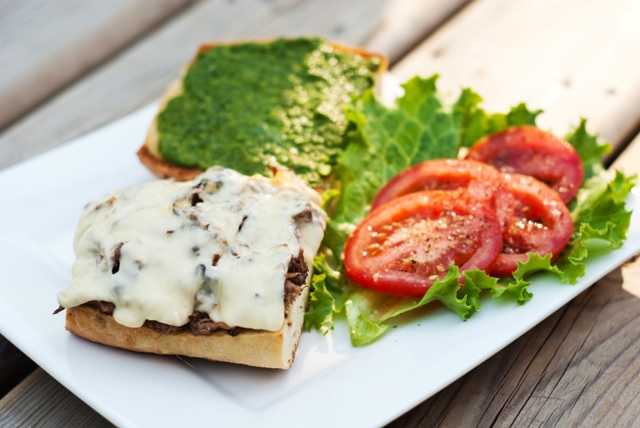 Pulled Lamb Sandwich with Chimichurri
Yield: Two large sandwiches
Prep Time: 15 minutes
Cooking Time: 8 hours
For the lamb:
1 lb Lamb shoulder chops (bone-in)
1/8 cup extra virgin olive oil
1 tsp red wine vinegar
1 tsp oregano
1 clove garlic, grated or minced
juice of half a lemon
1/8 cup water
salt to taste
fresh cracked pepper
1. Combine the oil, vinegar, oregano, garlic, lemon juice and salt and pepper in a small bowl. Add the chops and marinate for at least 2 hours, but overnight is fine as well.
2. Add everything (liquid and lamb) plus 1/8 of a cup of water to the bowl of a slow cooker and cook on low for 8 hours.
For assembling your sandwich:
Loaf style bread, such as ciabatta, French, etc.
cheese (provolone, swiss, gruyère, havarti, etc.)
lettuce
tomato
Chimichurri sauce ( recipe here)
1. Slice your bread horizontally down the middle, and toast open faced in a 400°F oven until golden and crispy on the top.
2. Brush bread with melted butter if desired.
3. Remove lamb from slow cooker and pull apart with two forks, flaking and pulling the meat into strands.
4. Layer the bottom side of the bread with the pulled lamb and top with cheese. Bake in your preheated oven for 5-10 minutes or until cheese is golden and bubbly.
5. Spread chimichurri on the top side of the loaf and serve with lettuce and tomatoes for topping.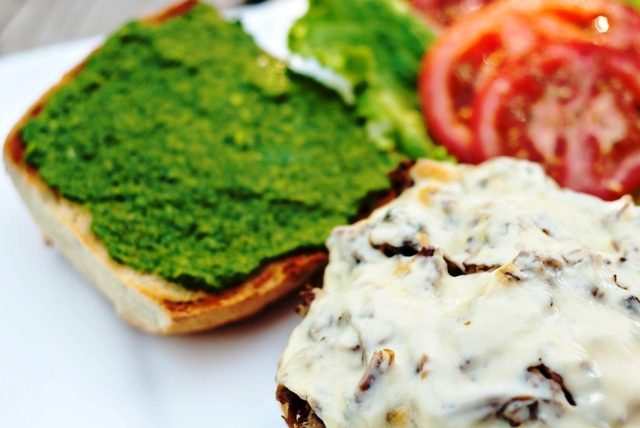 Links to similar recipes on other fabulous blogs:
Pulled Pork Sandwich on Simply Recipes
Gaucho Steak Sandwich with Chimichurri Sauce on Bell'alimento
Pulled Lamb with Garlicky Tzatziki and Naan on Dinner with Julie
Greek Style Pulled Lamb Fries on Closet Cooking
Pulled Beef Sandwiches on Furey and the Feast