Meat. It's not something I take lightly.
I've been a vegetarian and, although I don't see myself ever going back down that road, I do appreciate the time I spent there. We have at least two to three meals a week that do not involve the flesh of animals and I am proud of that. Not only can I say I am reducing my carbon footprint, but I am saving myself money in the process.
Have you seen Food, Inc. yet? Me neither, but I am reading the book and I have to say, although I am aware of most of the things they talk about, some of the information is appalling. Taking meat out of your meals for just one day a week can reduce your family's carbon emissions by a lot. According to the UN, over the course of a year you could save the planet from 52kg of excess carbon emissions.
Reducing meat in your daily diet is not as hard as some people think. It just takes a little forethought and planning. If you are used to basing each nightly meal around a major protein source, consider reducing the protein to a footnote of the recipe. Meat doesn't have to be the star. Here are some fabulous examples to start you out: Spring Asparagus and Pancetta Fettucine and Wor Wonton Soup. Once you have gotten used to reduced protein in your meal, you can make the move over to completely meatless meals, like these Vegetarian Meals.
So why am I talking about a big old hunk of meat for dinner then? Well, good question. If everyone just opened their eyes a bit and looked a little deeper into where their food is coming from, then a lot of what is discussed in movies like Food, Inc. wouldn't have so much bearing or relevance. Do you read the label when you buy your beef steaks, pork chops or chicken wings? If you don't, you should really think about learning a little more about it.
Also, buying your meat from a source close to home can make you feel just a little better about not contributing to overall carbon emissions. Not only will you reduce the emissions of long haul trucks transporting the goods, but you'll also be contributing income to local farmers. It's not hard to come by and you'll feel better knowing that you are contributing less of the bad things and more of the good things to the future of our planet.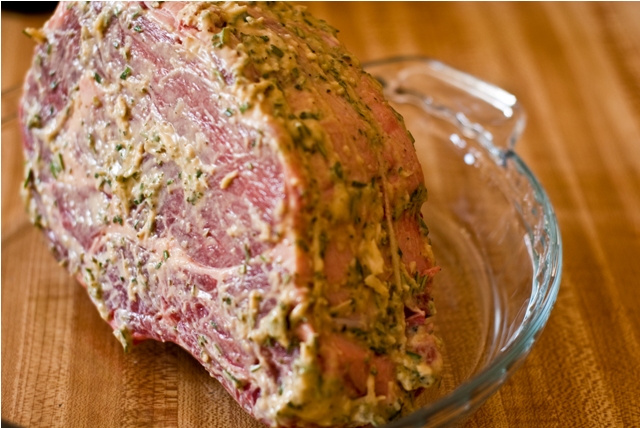 Prime Rib Roast with Fresh Horseradish
Servings: 3-4
Prep Time: 10 minutes
Cooking Time: varies
For the Rib Roast:
1 standing rib roast (3-4 ribs)
1 clove garlic, grated or crushed
2 Tbsp Dijon mustard
1 Tbsp fresh or prepared hot horseradish
2 Tbsp chopped fresh rosemary
2 Tbsp cooking oil
fresh ground kosher salt and pepper, to taste
1. Remove the rib roast from the refrigerator at least 2 hours before you are going to roast it. It must be at room temperature before beginning.
2. In a small bowl, mix together the remaining ingredients (except the roast). Let stand until needed (refrigeration is not required).
3. When the roast is at room temperature, preheat the oven to 500°F. Rub the rib all over with the prepared mixture and stand, rib side down in a large roasting pan.
4. Roast for 15 minutes in oven, turn temperature down to 325°F and continue to roast for 20 minutes per pound. Your roast is done when the internal temperature reaches 125°F (for medium rare).
5. Let stand for 15 minutes before carving.
6. Serve with fresh horseradish (recipe follows) and au jus (pan drippings).
For the Horseradish:
3/4 cup grated fresh horseradish root
2 Tbsp apple cider vinegar
1 Tbsp water
2/3 cup sour cream
salt (optional)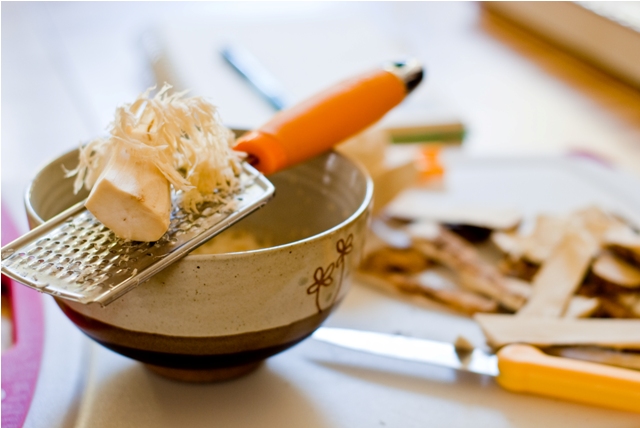 1. Peel the horseradish root and grate finely into a small bowl.
2. Mix in remaining ingredients and allow to sit for 30 minutes or more before serving (the longer it rests, the spicier it becomes).
3. Serve alongside prime rib.
Note: Your fresh horseradish will keep, covered in the refrigerator, for up to 1 week.