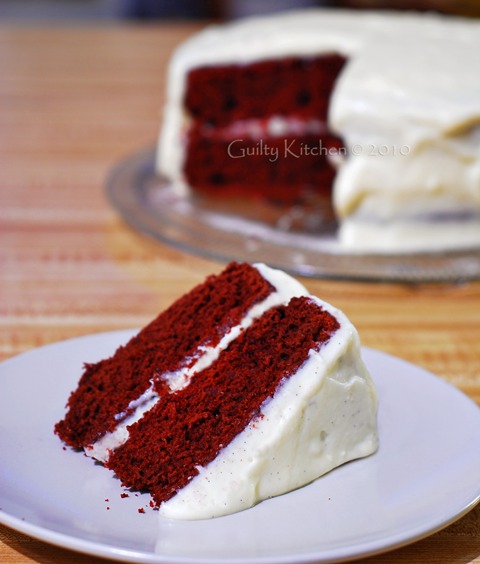 I'd like to tell you that I am planning in advance for the upcoming holiday of love, Valentine's Day. I'd like to tell you that I thought long and hard about what was a perfect Valentine dessert. I'd like to tell you I did not eat two pieces of this last night….but then I would be lying to you. In reality, I wanted cake, and so did the hubby. When hubby wants cake, and I can't see a reason why I shouldn't also have cake (besides a large uptick in the number on the scales beneath my toes), then cake must be baked!
I have been talking about making a red velvet cake for a long time, but had never tried. I originally wanted to make cupcakes, but they are harder to store in my tiny fridge. Cupcakes would be a nice way to say "I love you, but not so much that I want you to eat a whole cake with me", 'cause that is true love, just ask Mr. Guilty. But in case you do want to make a whole cake, say for a large family, or a pregnant women, I have left the default recipe as a cake. There are instructions at the bottom of the recipe regarding turning them into cupcakes.
I based this recipe on the mocha cake I made for Mr. Guilty's birthday last year, so it is not your traditional Red Velvet Cake. Most recipes for Red Velvet cake contain such a negligible amount of cocoa, that they might as well just be buttermilk cakes, but I like me some chocolate, so I went with my little heart's desire. The frosting is not your typical cream cheese frosting either. If you've ever made any of my cake recipes, you may have noticed that this family prefers a lighter taste. We don't appreciate overly sticky, thick frosting for our light as air cakes, we much prefer a lighter variation. The addition of whipped cream makes the frosting lighter, but it also makes the frosting a bit more runny. So if you plan on transporting this cake (or cupcakes) you may want to leave out the whipped cream and make the more traditional variation.
Feel free to add more red dye as you see fit, as this turned out a mildly red colour, but it could have been stronger (I ran out of colouring!).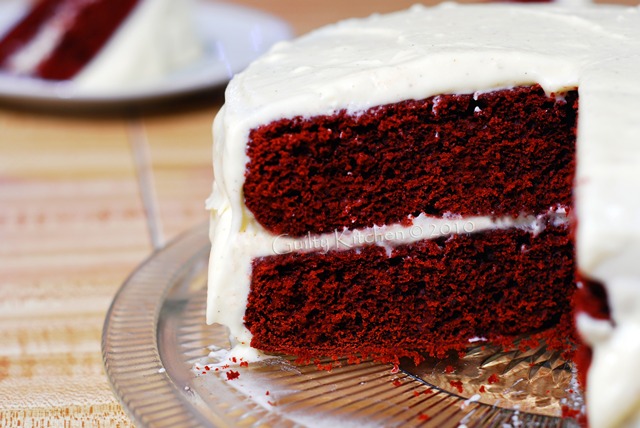 Red Velvet Cake
1 cup dark brown sugar, packed
1/2 cup white sugar
3/4 cup butter, softened
2 eggs
2 cups cake flour
1/2 cup + 2 tbsp cocoa
1 tsp baking soda
1 tsp baking powder
1 tsp salt
1 cup buttermilk
1 tbsp red food colouring
2 tsp vanilla extract
1 tsp white vinegar
1. Preheat oven to 350°F. Grease 2 9″ baking pans and line the bottoms with parchment paper. Set aside.
2. Beat butter until fluffy, add sugar and beat until incorporated.
3. Add eggs one at a time, scraping down sides of bowl until fully incorporated.
4. In large bowl, mix together flour, cocoa, baking soda, baking powder and salt. In separate bowl, mix together buttermilk, vinegar, vanilla and food colouring.
5. Add half of dry ingredients to butter/egg mix, then half of wet. Repeat process until all is mixed together.
6. Pour into lined baking sheets and bake for 22-25 minutes.
7. Remove from oven and allow to cool on baking rack in pans for 5-10 minutes. Remove from pans by inverting onto cooling rack and allow to cool completely before decorating.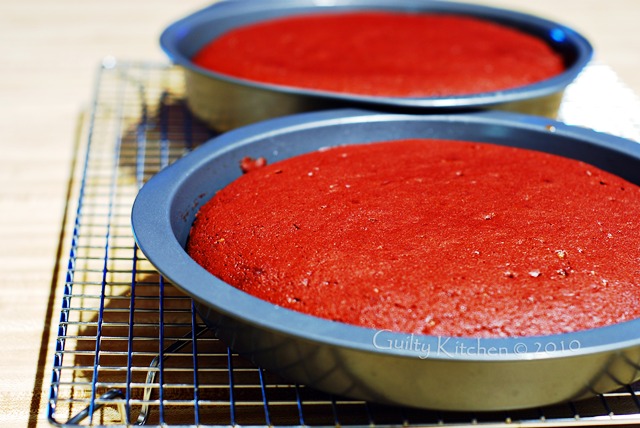 Fluffy Cream Cheese Frosting
1/2 cup butter, softened
8 oz cream cheese, softened
1 cup whipping cream
1-2 cups icing sugar
1 vanilla pod
1. In bowl of electric mixer, beat whipping cream until light and fluffy. Set aside.
2. Clean bowl and add butter and cream cheese. Beat until fluffy.
3. Slowly add in whipping cream until incorporated.
4. Add in vanilla pod and sugar to taste.
5. Decorate cake!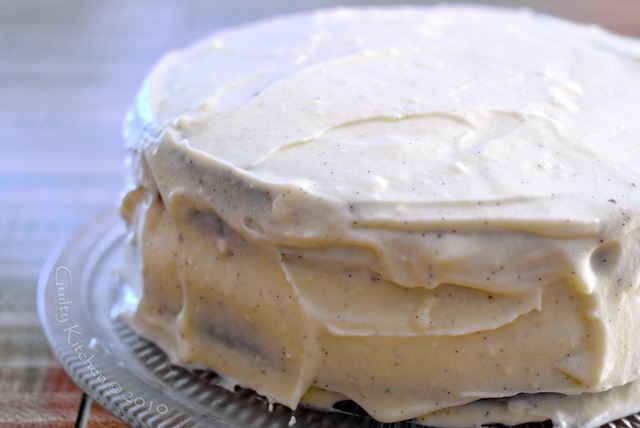 **Note: To make cupcakes line baking trays with liners and fill 1/2-3/4 of the way full. Bake for 15-18 minutes. Allow to cool for 5 minutes in pans before transferring to cooling rack. Decorate when completely cooled.