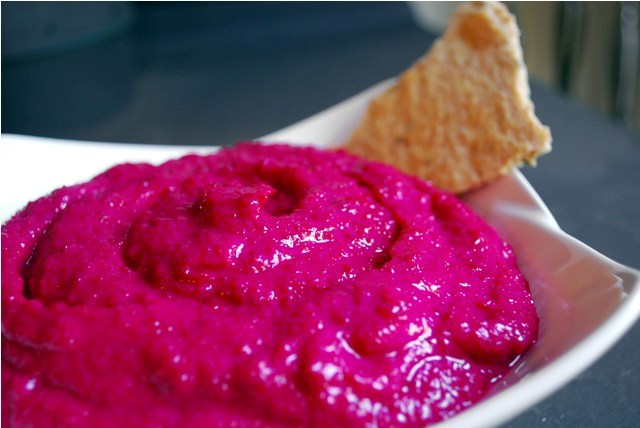 I love having company over. If there's something I love more, it's feeding them when they get here.
As we have just moved in and unpacked everything in record time, we felt the need to have people over every night last weekend. It was great fun! On one of those nights, we decided to have an all night eating fest. Gathered around our new kitchen island (oh how I love thee!), we scarfed dish after dish. Salsa, guacamole, fresh rosemary crackers, grilled sausages, hummus. Oh it was delicious! But the star (at least the visual start) of this night, was a very simple dip of beets and yogurt.
At our last house, we had planted a garden and not wanting to leave all our hard work behind, we uprooted all the beets and whatever else was ready at that time. We were a little sad to see it go, and we did have to leave a substantial number of tomato plants behind as well. The Pacific Northwest leads to a very looooong growing season for those guys, especially in nutrient deficient soil. Oh well, better luck next year!
This dip is a cinch to prepare and only takes a few steps to to get it ready in advance. Also, the colour and luscious texture are a star in and of themselves!
Roasted Beet & Yogurt Purée

1 lb. beets, tops removed (reserve those for another dish. Delicious sautéed in garlic and butter!)
1 Tbsp. Canola oil
2 cloves garlic, grated
1 cup plain, no fat yogurt
salt & pepper

1. Toss beets with oil and roast (skin on) in roasting pan at 400°F for 45-60 mins.
2. Remove from oven and allow to cool. When cool enough to handle, remove skins.
3. Add beets to bowl of food processor with garlic. Puree on high until a smooth consistency is reached.
4. Add in yogurt and salt and pepper.
5. Serve with crackers or pita.