As the cooler air greets me a little earlier each day and the sun takes that long journey over the horizon a  little later, I can't help but keep a tight grasp on the last remaining hints of summer. Here in the Pacific Northwest, summer comes late and leaves early, so we take what we can get.
My go to meals of summer usually involve layers of lettuce and other greens, fresh vegetables from the garden, sometimes a protein of some kind and a quick homemade dressing. Sometimes a like to spice it up a little bit and add something special. Grilled salmon, or a great cheese, sometimes I just throw on whatever is in the fridge.
With the advent of the late harvest now though, peaches are still in abundance and I couldn't pass up the opportunity to throw them on the grill. We haven't been using it much this year, what with our clear lack of love for all things meat. We just haven't been out there much.
So instead I set out to make a favourite of mine, grilled fruit. I have grilled peaches before for salsa and it turned out just fabulous, but this time I wanted the peaches themselves to be the star of the dish. Along side the fragrnt and spicy bite of fresh basil, these peaches just shine.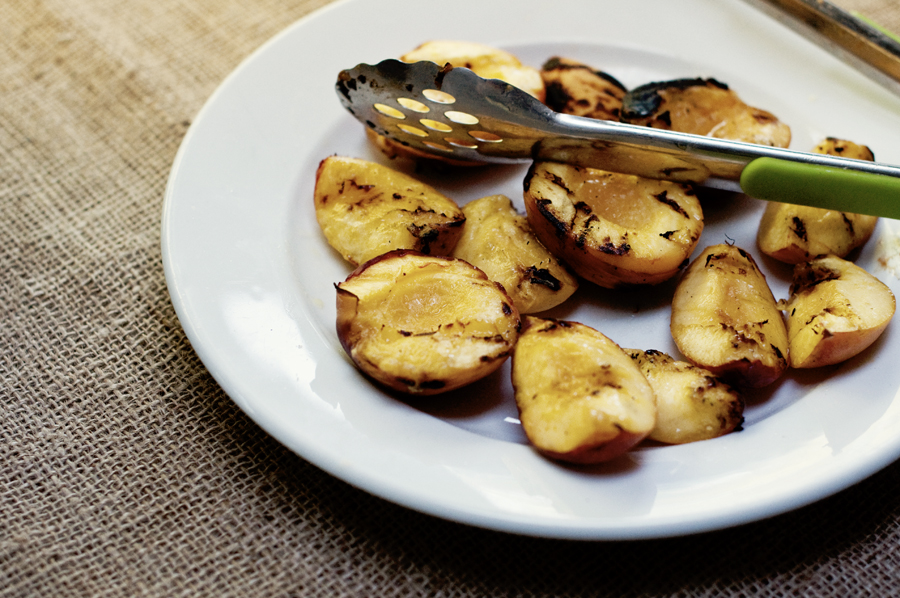 With a slight brush of oil and a tiny sprinkle of sugar, the sweetness and flavour come right out of the peaches. You don't want to cook them too much for fear of creating mushy little cups of bland flavour, but just a minute or two on a hot grill and you have a fabulous treat on your hands.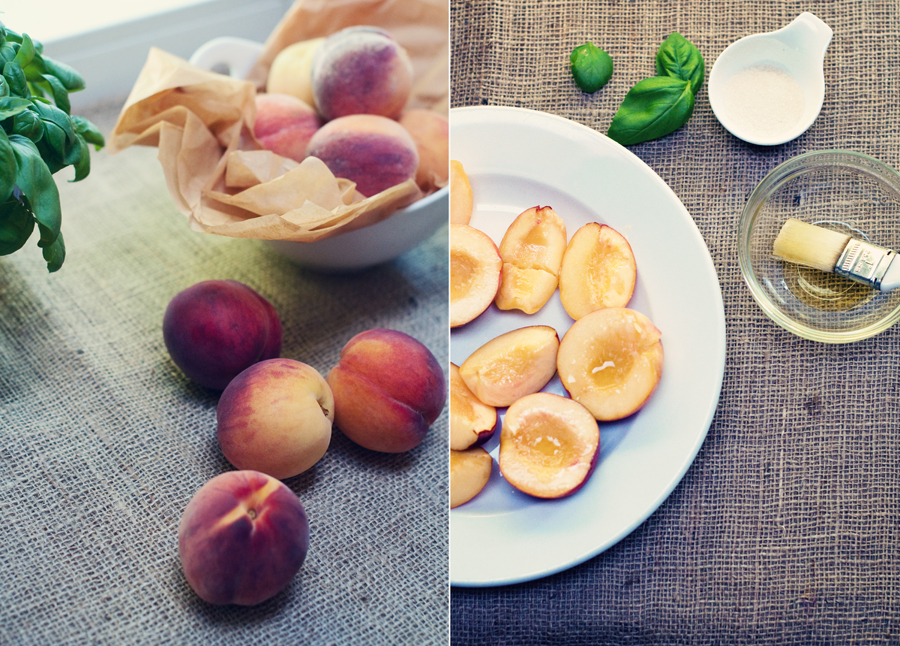 This recipe is also part of my Peachy Keen Summer Recipe Collection over on Tablespoon.com and there are still two more recipes to publish, so head on over to Tablespoon for a sneak preview if you just can't wait.
But for those of you who can and have peaches to spare, try this recipe tonight. It's a great weeknight meal, easy to prepare and very few dishes to clean up. Perfect for that first day at school when everyone has a lot of more important things on their mind.
One Year Ago: Portobello Mushroom Skewers

Two Years Ago: Roasted Beet and Yogurt Purée

Grilled Peach Salad

Yield:  Two Servings
Prep Time: 25 minutes
Cooking Time: 5 minutes

For the Salad:
4 whole peaches
1 tsp Grapeseed oil
1/2 tbsp sugar
1/2 whole avocado, diced
4 oz cherry tomatoes, halved
1/3 cup walnuts
75 grams blue cheese, crumbled
4 cups, loosely packed arugula or other bitter greens

For the Dressing:
1 tbsp honey
1/4 cup, loosely packed fresh basil, minced
1 tbsp crema di balsamico
2 tbsp olive oil
1 tsp Dijon mustard
1/2 lemon, juice of
1/3 cup buttermilk
1/4 tsp vanilla extract

1. Halve and pit peaches. Brush with oil and sprinkle with sugar. Grill on hot grill for 3-5 minutes, turning once. Remove peaches from grill and allow to come to room temperature. Slice into wedges.
2. To roast your walnuts, toss in heavy bottomed pan for 3-5 minutes at medium high. Don't burn them!
3. Assemble the dressing: Combine all ingredients in a small bowl and allow to sit for five to ten minutes.
4. Assemble the salad: Equally divide greens onto plate. Layer with avocado, tomatoes,  roasted walnuts and crumbled blue cheese. Top with the sliced roasted peaches.
5. Drizzle with dressing and serve.
Similarly delicious recipes from other fabulous food blogs:
Peach and Tomato Salsa from A Thought For Food
Homemade BBQ Baked Beans (with Peach BBQ Sauce) from Chez Us
Honey-Glazed Chicken, Peach, and Sweet Potato Skewers from Confections of a Foodie Bride
Nutella Waffles with Peaches and Cream on Cake Student
Summer Sangria with Basil, Peach and Raspberry on Cooking with Sugar