Sometimes, things don't always go as planned in my world, like that one time I caught the bus to work going in the wrong direction. I sat on that bus until there was no one left, completely embarrassed to the point of petrification. I didn't want to ask the driver where we were actually headed, so I just sat and waited. We ended up at a Navy base, very far from where I needed to be, and he just looked back at me, stopped the bus, got out and lit a cigarette. I had been shamed by the driver! I just got out and walked to the next nearest stop and caught another bus home. After a 2 hour round trip on what should have been a 20 minute trip, I learned my lesson. Always read the bus map, and if you don't understand, ask the driver. Well, in my city you can ask the driver. I don't know what goes on in New York or other super huge and busy Metropolitan areas.
What does that have to do with today's recipe? Only one very important thing.
After a day of disappointment and discouragement, one can find comfort in food that is not overly laden with fat and calories.
This hearty bowl of Minestrone is missing the pasta, a long time enemy of mine ever since trying out the Low carb craze of the early half of last decade. I now know that carbs are good, in certain forms, and some carbs are just plain old bad. Pasta has remained on my bad list for two reasons: most varieties come in only white flour (though I can get lasagna and macaroni in whole wheat and rotini in rice flour at my local store), and because it is a very small portion for the serving size. I don't know about most people, but I can shovel away a fair amount of pasta if I let myself, especially if served with seafood of any kind, or on a bad day, creamy sauce.
I left out the pasta in this Minestrone, because I find it has enough complex carbs going on without the addition of the ever evil pasta. There's beans and potatoes, and all those delicious healthy vegetables. Served alongside these wonderfully rich, golden corn muffins, you will be one satisfied diner.
This freezes exceptionally well because of the missing pasta, so feel free to dish it out into single servings, freeze it and take it out when needed for lunches!
Minestrone Soup
1 Tbsp canola or vegetable oil
2 carrots, peeled
1 leek
1 medium sized potato (I used Yukon Gold)
3 stalks celery
1 large sweet onion
1 clove garlic, minced
1 Tbsp fresh rosemary, minced
1 tsp each dried basil, oregano and marjoram
4 cups low sodium chicken broth
1-28oz can diced tomatoes
2 Tbsp tomato paste
2 cups torn or rough chopped baby spinach leaves
1 19oz can or jar of cannelini beans
1 Parmesan rind (optional)
1. Chop carrots, leeks (white part only), celery, onion and potato into equal sized chunks (about 1/2″ square).
2. In large soup pot, heat oil over medium heat, add garlic and diced vegetables. Sweat for 5-10 minutes, just until onions begin to turn translucent.
3. Add rosemary and dried herbs. Stir and sweat for another 5 minutes.
4. Add tomatoes, tomato paste and chicken stock. Bring to boil and lower to simmer for 1 1/2 – 2 hours.
5. In last 30 minutes, add in cannelini beans, spinach and Parmesan rind, continue to simmer until done to your likeness.
6. Serve with Rosemary cornbread (recipe follows).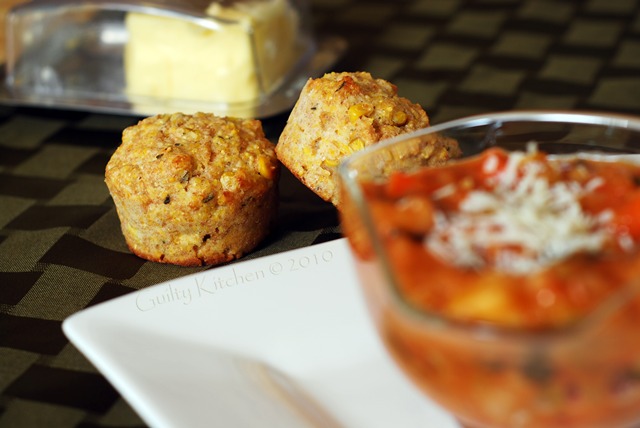 Rosemary Cornbread
1 cup whole grain cornmeal
1 cup whole wheat flour
1 tsp salt
1Tbsp fresh rosemary, minced
4 tsp baking powder
1 egg
1 cup buttermilk
1/4 cup butter, melted
1 cup frozen corn niblets, defrosted (or fresh corn cut from the cob if in season)
1. Preheat oven to 425°F. In bowl, mix dry ingredients (including rosemary).
2. Add wet to dry (including corn niblets). Mix together until just combined, but do not overmix.
3. Bake in a greased 8 x 8 pan or in greased muffin tins for 20-25 minutes (you may need more time if you use the 8×8 pan).