FIGS!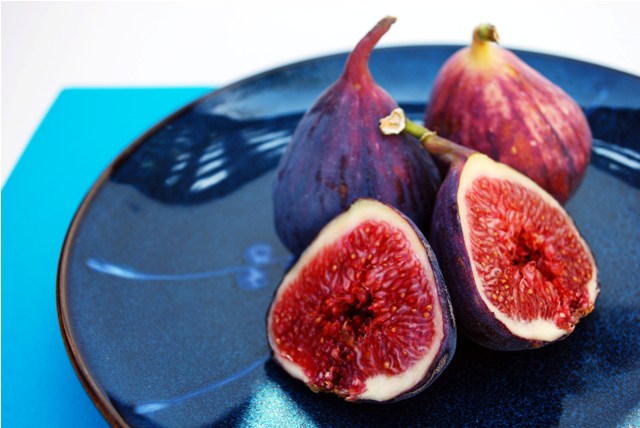 Kim, from Ordinary Recipes Made Gourmet e-mailed me to ask if I wanted to host this week's Blogger Secret Ingredient. Well, I couldn't say no…I have a bad habit of doing that. What was I thinking???? Not only am I moving this week, my cousin is getting married on Saturday as well! Oh the trouble I get myself into.
I picked delicious, dainty figs because, a) I love them and b) they are in season right now. There are endless possibilities when it comes to figs. You can use all different kinds, salty or sweet, hot or cold, dessert, main or appy, fresh or dried….you name it and you can do it with figs!
Here are some random facts (via Wikipedia) about cute, little figs:
The edible fig is one of the first plants that were cultivated by humans.
Figs are one of the highest plant sources of calcium and fiber.
Although commonly referred to as a fruit, the fig fruit is actually the flower of the tree.
So, if you want to participate using Figs as this week's secret ingredient, please submit your recipes. Be aware that I AM moving this weekend (Sunday through Monday), which means my computer will be disconnected for a time come then. I will do my best to make sure everything is done on time, but please keep in mind that things will most likely be a little on the late side.
You can either submit your recipe by commenting (below) and leaving a link to your blog post (your post should link back to this post, or to my blog) OR you can e-mail it to: elizabeth [at]guiltykitchen [dot] com
I'll reply back to your post once I receive it.
Deadline: Please submit recipes before 9:00 PM (Pacific Standard Time) on Sunday, August 30th. There will be a round-up of everyone's posts on Monday, September 1st (sometime later in the day). The winner will also be announced on Monday along with next week's host site.
Your time starts… NOW!
A RT on Twitter would be much appreciated so you can let others know about the challenge…
This is a list of other Challenge Hosts & Ingredients (this is week 45). Be sure to be a friendly food blogger and check out all of the other blogs!
Week 44: Ordinary Recipes Made Gourmet – Peanut Butter
Week 43: The Sophisticated Gourmet – Brown Sugar
Week 42: My Kitchen Addiction – Lime
Week 41: Nutmeg Nanny – Coffee
Week 40: Chaya's Comfy Cook – Broccoli
Week 39: Healthy Delicious – Plums
Week 38: Zoe – Feta
Week 37: ChezWhat– Potatoes
Week 36: Cinnamon, Spice & Everything Nice – Blueberries
Week 35: Girlichef -Greens
Week 34: The Ungourmet – Watermelon
Week 33: Bread + Butter – Bell Pepper
Week 32: Burp and Slurp -Corn
Week 31: Say Yes to Salad – Kabocha
Week 30: Thinspired – Bananas
Week 29: To Be The Whole Package – Almonds
Week 28: Kristas Kravings – Lemon
Week 27: From French Fries To Flax Seeds – Coconut
Week 26: Plentiful Plants – Avocado
Week 25: Training Fuel – Eggs
Week 24: Dinner at Christina's – Cabbage
Week 23: Hey What's for Dinner, Mom? – Strawberries
Week 22: One Bite at a Time – Basil
Week 21: Just Sweet Enough – Black Beans
Week 20: What I Ate Yesterday – Kale
Week 19: What's for Dinner – Orange
Week 18: BranAppetit! –Spinach
Week 17: Tales of Expansion Dates
Week 16: Biggest Diabetic Loser – Zucchini
Week 15: Sweet & Natural –Peppermint
Week 14: bella eats [and runs] – Ginger
Week 13: Coffee Talk – Walnuts
Week 12: For the Love of Oats – Pumpkin
Week 11: Trying to Heal – Sweet Potatoes
Week 10: The Inner Workings of a College Graduate – Eggplant
Week 9: Itzy's Kitchen – Pears
Week 8: The Fitnessista – Cranberries
Week 7: Tri to Cook – Lentils
Week 6: Rhodey Girl Tests – Polenta
Week 5: Eating Bender – Butternut Squash
Week 4: Care to Eat – Apples
Week 3: On a Lobster Placemat – Mushrooms
Week 2: Hangry Pants – Tomatoes
Week 1: sportsnutritionliving – Quinoa