There's nothing quite like having friends over for a BBQ. Because, stuff like this happens: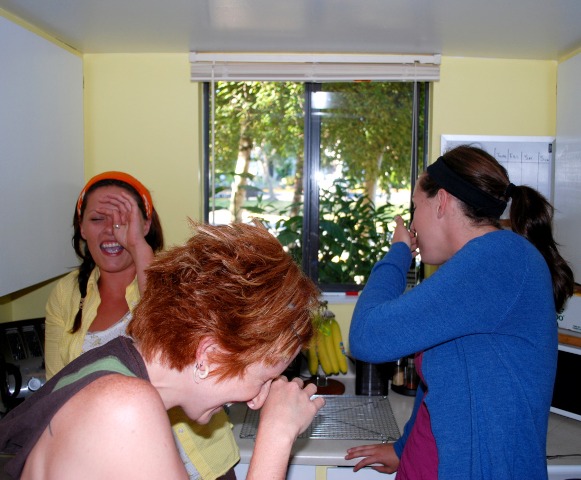 It's just plain, old fashioned good times. Girls really do just want to have fun. A little wine doesn't hurt either.
Well, last night was a great throwback to some Southern style BBQin'. We had a little meat, some Caesar salad, Cornbread muffins and Ree Drummond's (of The Pioneer Woman) delicious "Crash Hot Potatoes". I've just heard so much goodness about them, that I had to try them. Had to.
Now, since the Crash Hot Potatoes recipe can be found anywhere, go ahead and get that recipe from the link above. It's perfect the way it is.
Also, the recipe for the Cornbread muffins was taken from the package, with a little bit of peppers thrown in and milk changed to buttermilk. I used Bob's Red Mill Organic Whole Grain Cornmeal.
The other two recipes are original, so you should definitely try them out. They are delicious, believe me.
Mom's Creamy Caesar Salad Vinaigrette

Yield: Enough dressing to dress one whole head of Romaine, about 3/4 -1 cup

2 egg yolks, coddled
2 Tbsp. Grainy Dijon mustard
1 Tbsp. minced garlic (about 2 cloves)
1 Tbsp. Anchovy paste or finely minced anchovy fillets
1 tsp. Worcestershire sauce
6 Tbsp Extra virgin olive oil
3 Tbsp Red wine vinegar
juice of 1/2 a lemon
2 Tbsp. capers, crushed
3 Tbsp. grated Parmesan

1. To coddle your egg yolks, boil some water (enough to cover both eggs in a bowl).  Pour boiling water over eggs and let stand 1-2 minutes. This will thicken and warm the yolks. (note: You may want to warm the eggs first in a little warm water, or take them out of the fridge in advance to warm them up. You don't want them to crack when you add the boiling water.)
2. Whisk yolks in large bowl. Add Dijon, garlic, anchovy paste and Worcestershire sauce and whisk again.
3. Whisking as you go, slowly add oil to Dijon mix. You may not need to add the whole amount, but taste as you go. This dressing can be fairly strong, so it depends on how you like it.
4. Whisk in vinegar, lemon and capers. At this point, if dressing is not thick enough for you, keep whisking! Whisk like nobody's business!!
5. Add Parmesan and refrigerate until needed.

Croutons

3 slices bread ( I used multigrain bread, because it's what I had, but you can use anything really)
Extra virgin olive oil to drizzle
herbs of your choice (I used basil, oregano, rosemary and thyme)
Salt and pepper to taste

1. Cube bread and place in mixing bowl.
2. Drizzle with enough oil to wet a bit and add herbs and salt and pepper. Toss to coat.
3. Spread evenly over baking sheet and bake for 7 minutes at 350F.
4. Turn and bake another 3 or 4 minutes.
5. Remove and cool.

Now assemble your salad. Pour dressing, toss, add croutons and more Parmesan and toss again!

And now for the main attraction! Meat! I know, I know, didn't I just say yesterday that meat isn't big in our house? Well, I din't say we didn't eat it! My husband would wither away without meat once in a while. We cut out most meat for cost reasons and then we just stuck with it for the health benefits. But, when a friend brings three racks of baby back ribs over to my house, I ain't complainin'!

BBQ Baby Back Ribs with Dry Spice Rub

6 Tbsp. Smoked paprika
1 Tbsp. Chili powder
1 Tbsp. Seasoning salt
1 Tbsp. Poultry seasoning
1 Tbsp. Garlic Powder
1 Tbsp. Onion Powder
1 Tbsp. Dry Mustard
1 Tsp. White pepper, ground
1 tsp. cumin
1 tsp. Cayenne pepper

1. Blend all together in bowl. Set aside.
2. If using baby back ribs, remove silver skin from back before beginning.
3. Rub spice mix all over ribs.

4. Preheat BBQ on high. When hot enough, turn one side down to low and turn other side completely off. Cook on side that is off for 1 1/2 hours. Flipping every so often.

5. When done, let sit for 5 minutes or so to let the juices permeate your meat. When they're ready, serve 'em up to your starving guests who've been smelling divine things for the past 2 hours.