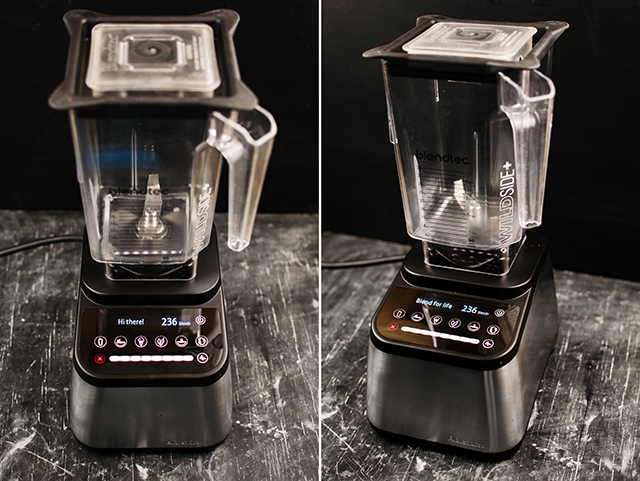 There's something I don't really talk much about around here that is somewhat of a contentious issue in the blogging world: freebies. When I first started this blog way back in 2009 it was purely out of boredom and wanting to have an outlet where I could display all my talents and hobbies, namely cooking, writing and photography. Fast forward five years and I've made a bit of a name for myself in the oversaturated world of food blogging (what some deem to be a dying trend).
In those five years, I've been approached by countless companies, brands, PR firms and individuals business owners to try out their product, test a recipe, give them free exposure on my site, talk to you about something, etc. I can honestly say that I turn down a good 50% of the offers I get, but some are just too lucrative to turn away and some I feel need the modest exposure I can offer.
So it was with an email I received a few months back asking me to test out a now smoothie recipe in my Blendtec. Funnily enough, at the time, I didn't own a Blendtec. Being the snarky chick that I am, I replied with just such a comment. To my surprise, I was offered a Blendtec right then and there. To say I was happy would be an understatement. I have pined after Blendtecs for years. The "will it blend?!" campaign had reeled me in like no other advertisement in the history of late night infomercials (except Ron Popeil…remember him?!).
So I obviously, excitedly, nervously, over ecstatically said yes! And so it was that this was how I acquired the unbelievably amazing Blendtec Designer 725 with Wildside jar and additional Twister Jar to boot. I have been using this thing for about four months now, maybe a bit longer. I use it daily and I freaking LOVE it. You couldn't pay me to say bad things about this blender, seriously.
Before we get to the pros (which are numerous), let's cover the cons (of which there are two): price and noise. Being that this a ridiculously powerful blender that can turn your iPhone into dust in seconds, it's not hard to believe that it wouldn't be cheap. Prices range from about $649 anywhere up to $1025 which is quite a commitment for your morning smoothie, but with an 8-year warranty, you'll probably never need to buy another one. That being said, it's loud. But again, not surprising considering the powerful motor and 100 speeds you can choose from. So on to the pros, by which I mean features:
1725 watt, 3.8 peak horsepower motor
Illuminated, capacitive touch interface
Preprogrammed cycles: Smoothie, Salsa, Ice Cream, Whole Juice, Hot Soup, Clean
100-speed capacitive touch slider
Illuminated display indicates remaining blend time

SmartBlend Technology

The Blendtec Designer 725 is truly the blender with a brain. Our exclusive SmartBlend technology senses and identifies potential problems that could interfere with the perfect blend-including loading errors, overheating, or air pockets – and then tells users how to fix them. (Note: This is So cool! The blender stops and tells you there's a problem, so you don't have to worry about overheating it or blending up some nut butter)

100-Speed Capacitive Touch Slider + Multi-Speed Pulse

Get seamless precision speed control for 100 speeds with the slide of a finger. It even tells you which speed to use for stirring, chopping, mixing, blending, or pureeing. Use Multi-Speed Pulse for an added burst of power at any speed.

Preprogrammed Cycle Suggestions

Six preprogrammed custom cycles enable one-touch blending perfection: Smoothie, Salsa, Ice Cream, Whole Juice, Hot Soup, and Clean. The Designer 725 even suggests additional uses for each cycle so you know how to get the most from your blender.

"Add 10" Feature

With a single touch, add 10-second blend intervals to completely customize your blends.

Blend Rewards

Get rewards for using your blender! The Designer 725 tracks your blends, then displays reward codes at certain milestones. Redeem the code online for recipe books, gift cards, kitchen utensils, jar discounts, and more. (Note: I just redeemed my first 5 rewards and they are pretty good. The more you get, the better the rewards…but I won't spoil the surprise).
So FitFluential decided to work with Blendtec on a campaign, and of course…I was ALL over that! I was asked to create two recipes utilizing the many possibilities this blender offers. I decided on one that would be tough in a regular old blender, cookie butter and an easier one, strawberry cream scones with brown butter glaze. See below for recipes!