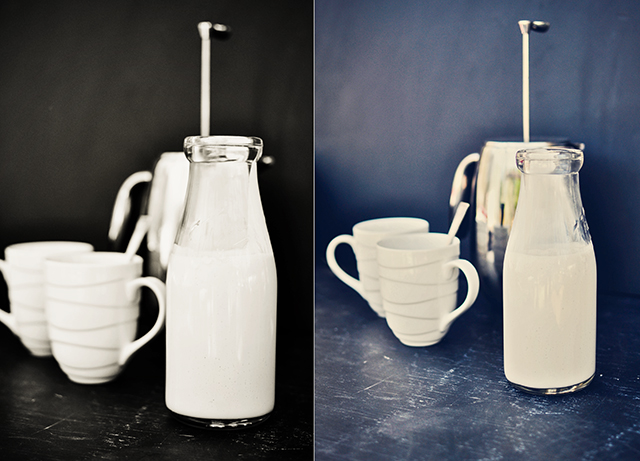 Here's a quicky for you guys, because it literally took me five minutes to make this and then I was swimming in luxuriously creamy heaven. I wanted to take the time to say thank you to everyone who reached out to me about my last few editorial posts (more of those coming your way), especially my article on eating disorders. If you think you or someone you know is suffering from an eating disorder, disordered eating, orthorexia or any other unhealthy relationships with food, please don't hesitate to reach out to me.
Today's recipe for Paleo Vanilla Coffee Creamer comes to me from a friend, Ryan Kingsbury, who shared his tips on making my own coffee creamer that was dairy free. Some of you might know that I don't handle dairy very well, cream in my coffee has never really been a problem, but I try to avoid it in most cases. I don't consume soy products and most creamers have terrible ingredients, so making my own was a pretty rad option.
If you don't have a high speed blender, try blending the first two ingredients for at least a couple of minutes. It should be smooth, frothy and creamy when the last ingredient is added. After I made this, I actually thought it looked like a really good base for ice cream…so stay tuned for my experiments in ice cream making as I attempt to please all my Facebook fans (who I asked for suggestions on their all time favourite flavours).
If you have a favourite ice cream flavour to add to the discussion, feel free to leave it in the comments below or in the link above!
Next on the agenda?
See below…
Notice anything new?
Some of you may notice that I post previous years recipes that have been published on or near the same date as the current recipe. But you'll notice there are now five lines instead of four. That's right…on July 18th, this blog turns a whopping
five years old!
Who knew I could keep myself entertained for so long, or that I could turn my musings and ramblings into a career?
Seeing as I rarely do anything special for my blogiversaries, I thought this year would be a little different. So starting next week, I am going to do a week of giveaways! I have a bunch of goodies lined up for you already, you are not going to want to miss this!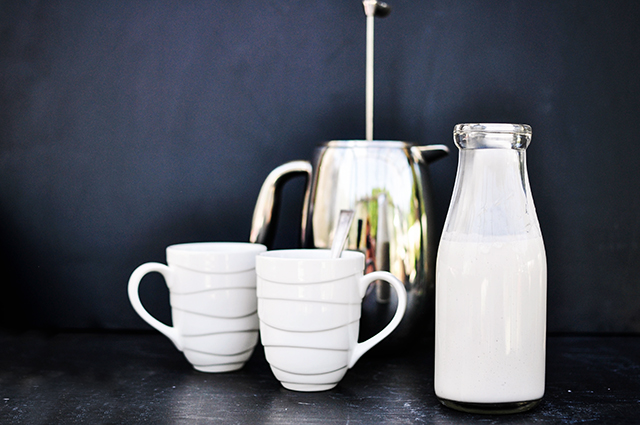 One year ago: Chocolate Chip Plantain Cookies
Two years ago: Chocolate Coconut Protein Cookie Balls
Three years ago: Szechuan Noodle Salad
Four years ago: Fresh Dolmades
Five years ago: Summer Pea Soup with Miso Marinated Tofu
Paleo Vanilla Coffee Creamer
Ingredients
1 cup raw cashews
1 cup water
1 tbsp vanilla extract (or the seeds from one vanilla bean if you want to get decadent)
pinch of sea salt
2 tbsp melted coconut oil
Instructions
Place the cashews, water, vanilla and sea salt in a high speed blender and blend on high speed for 30 seconds.
Add the melted coconut oil and blend again for another 30 seconds.
Pour into container and store in refrigerator for up to 7 days.
Notes
Complete nutritional Information for 2 tbsp:
Calories: 70
Fat: 6g Carbs: 3g Protein: 1.8g
All Rights Reserved. Copyright Guilty Kitchen 2014