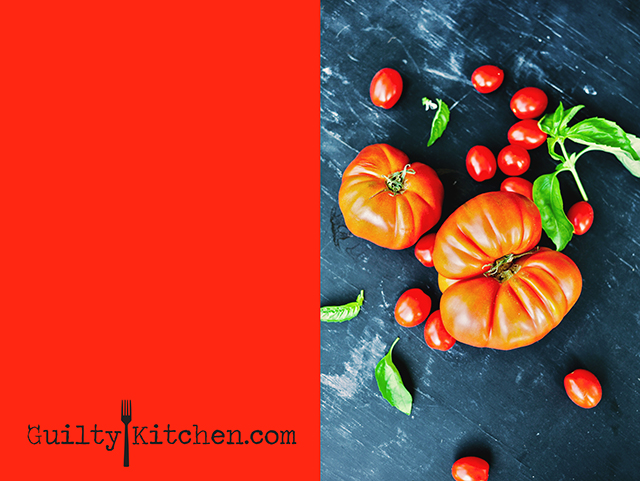 As part of my continued participation in the Lavazza Passionista Blogger Network, I got the opportunity recently to review and cook from the new cookbook: "Extra Virgin" by Gabriele Corcos and Debi Mazar of the Cooking Channel program of the same name. This book is beautifully written by a couple who are obviously in love, features classic Italian dishes such as Pasta Alla Gricia, Spaghetti Alle Vongole, White Pizza and Tirsmisu and has beautiful photography to accompany many of the pages. When I first opened it, I thought there wouldn't be much in here I could eat. Although you may have seen me talking about doughnuts and not eating 100% paleo all the time, I still try to stay away from a few things: bread, pasta, grains, legumes and sugar. The recipes in this book have a lot of those things…as well as a couple I haven't really talked about avoiding, but have been doing so nonetheless: garlic, onions and certain other FODMAPs. So this book but very tough for me to utilize!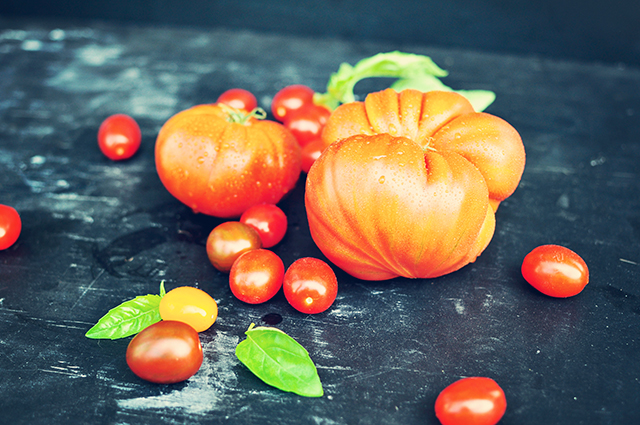 That being said, I have not shied away from Italian food and pasta (especially fresh) in the past. So I looked through this entire book and was battling between the coffee granita or the Burrata Caprese salad. I was pretty sure I had heard of people in Victoria using Burrata, so I was confident one  of the MANY import or specialty cheese shops would have it. I visited three of them in person (which took a whole afternoon) and contacted the rest via email, but alas, no one in this fair "foodie" city had it in stock. Yes, I realize it is a fresh cheese, but so are curds and those are everywhere. I was pretty deflated when I couldn't find it, as I knew the salad would not be the same with Mozzarella. Luckily, I did know where to find some real, honest to goodness Mozzarella di Bufala (water buffalo Mozzarella), so I settled. I knew this Heirloom Tomato and Burrata Caprese would still be amazing!
The main point of using the cookbook was to channel my inner Italian. I think I did a fairly good job of that. I rushed around town finding the best heirloom tomatoes I could find, the freshest basil and the choicest olive oil. This salad was amazing and simple and lovely and even the kids ate some of it (mostly the cheese). Although I have made it before, I hope that by the time I make it again, I'll be able to find some fresh Burrata!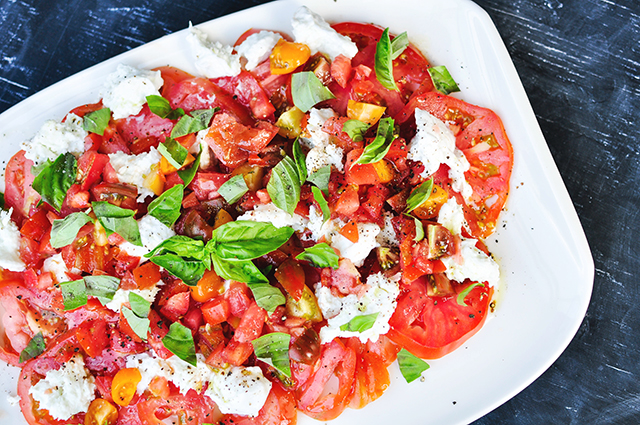 One year ago: Dark Chocolate Bark with Candied Maple Bacon and Sea Salt
Two years ago: Spinach and Edamame Dip
Three years ago: Fresh Fava Beans
Four years ago: A Better Carrot Cake
Heirloom Tomato and Burrata Caprese
This recipe comes courtesy of Gabriele Corcos and Debi Mazar of Cooking Channel's Extra Virgin and is reprinted here with permission.
Ingredients
2 heirloom tomatoes
1 pound burrata (or fresh Mozzarella di Bufala)
extra virgin olive oil, for serving
kosher salt and freshly ground black pepper
8 fresh basil leaves, torn into pieces
Instructions
Cut the tomatoes into 1/4-inch-thick slices (I found slightly thinner worked best), then dice 4 slices and set those aside for garnish (I used the grape tomatoes pictured for this step).
On a large plate, arrange the tomato slices, slightly overlapping, to cover the entire surface.
Place your thumbs on top of the burrata and open it gently. Place the burrata in the center of the plate, on top of the tomatoes. If you are using the mozzarella, just tear it into pieces, as in the photos, and spread evenly over the tomatoes.
Pour the diced tomato on top, and dress with olive oil. Season to taste with salt and pepper, then sprinkle the basil leaves over the top.
All Rights Reserved. Copyright Guilty Kitchen 2014