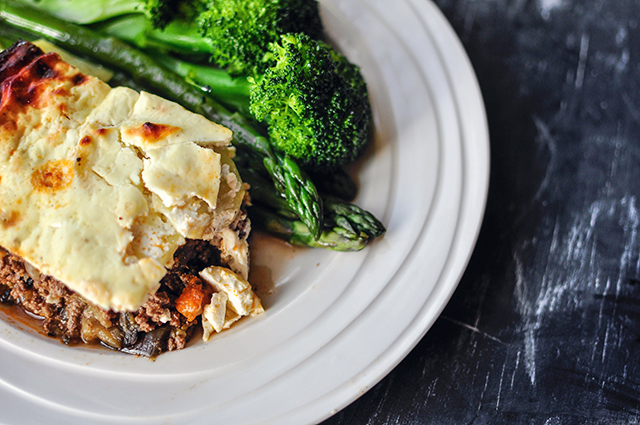 Hey guys!
Before we dig into this Moussaka, can we take a moment and make sure you've all entered to win the $300 Amazon gift card? Perfect.
I wanted to thank Kim Adamec (a fabulous Facebook Fan), who suggested Moussaka when I asked what I could make with my ground beef. Although I like to buy the ground beef, 'cause it's cheap…and I'm cheap (perfect match!), I don't always want to make burgers, meatballs or chili (which I made approximately 873 times this winter, just ask Adrian). Sometimes you need to feel uncomfortable in the kitchen to make amazing stuff. Believe me, I am the queen of uncomfortable in the kitchen.
When I was asked by Countryman Press to write a second book about .03 seconds after handing in Cooking with Coconut Oil, I was thrilled. When they pitched the idea of it being about avocados, I was even more thrilled. I love those fatty little green bombs of deliciousness! Then I started creating recipes. And you know, 75 recipes that feature avocado in a better than "guest appearance" kind of way is pretty tough. After the first few months, I was ready to throw in the towel, but I kept going, kept my spirit up and told myself "Just fucking get uncomfortable already!"
So in about two months (August), my second cookbook, "Cooking with Avocados: Healthy Recipes for Good Living" will hit bookstores and it is filled to the brim with unique, simple and delicious recipes! But you can preorder now through Amazon and make me feel good about myself. Go ahead, I'll wait right here.
And then you can make this stellar Moussaka! I was inspired to make it a Serbian/Greek hybrid because I wanted tomatoes in it, but I also wanted a lower fat creamy topping, which is where the egg whites and fat free Greek yogurt come in. All in all, a pretty fab dish I would serve again and again.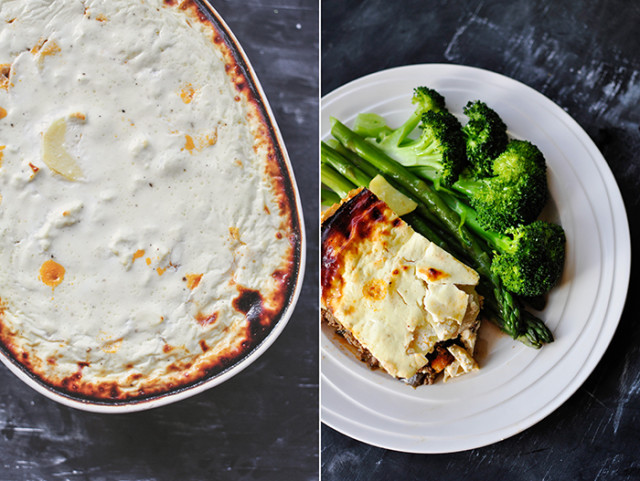 One year ago: Chocolate Avocado Mousse
Two years ago: Super High Protein Ice Cream
Three years ago: Spot Prawns and Polenta (Shrimp and Grits)
Four years ago:  Steak and Pineapple Skewers
Primally focused Moussaka inspired by the Greek and Serbian versions. Gluten free!
Ingredients
2 small eggplant (about 1lb), sliced to 1/2" thick
2 tsp coconut oil
sea salt to taste
8 white mushrooms, chopped
1 small onion, diced
2 lbs extra lean ground beef, grass fed/finished
300g chopped tomatoes
3 tbsp tomato paste
2 tsp chopped fresh or dried oregano
1 tsp ground cinnamon
1/4 tsp ground nutmeg
1/2 tsp sea salt
1lb Yukon gold potatoes, peeled and sliced very thin (no thicker than 1/8")
1 1/2 cups plain 0% Greek yogurt
3 eggs (or 1 egg plus 1/2 cup whites)
sea salt and fresh ground pepper to taste
85g sheep or goat's milk feta cheese, crumbled
Instructions
Preheat oven to 375°F. Salt the eggplant slices on both sides.
Heat 1 tsp of the coconut oil in a heavy pan over medium heat and sear the eggplant until golden brown. Remove to plate.
Lightly oil a 2.5qt casserole dish with coconut oil and lay the eggplant in an overlapping pattern. (See pictures for visual help).
Heat remaining coconut oil in pan over medium heat and sauté the mushrooms and onions until cooked through (about 10 minutes), stirring often. Add the beef and cook for another 10 minutes, breaking up the meat as it cooks.
Stir in the tomatoes, tomato paste and herbs and cook another 2-3 minutes. Drain the meat mixture and season with salt and pepper, if desired.
Pour over eggplant layer and distribute evenly across. Top with overlapping layer of thinly sliced potatoes.
In a small bowl, mix together the yogurt, eggs (and egg whites, if using), salt and pepper and feta cheese. Pour over the potato layer and bake for 45-60 minutes (place on baking tray if your casserole dish is very full). Let stand 15-20 minutes before slicing.
All Rights Reserved. Copyright Guilty Kitchen 2014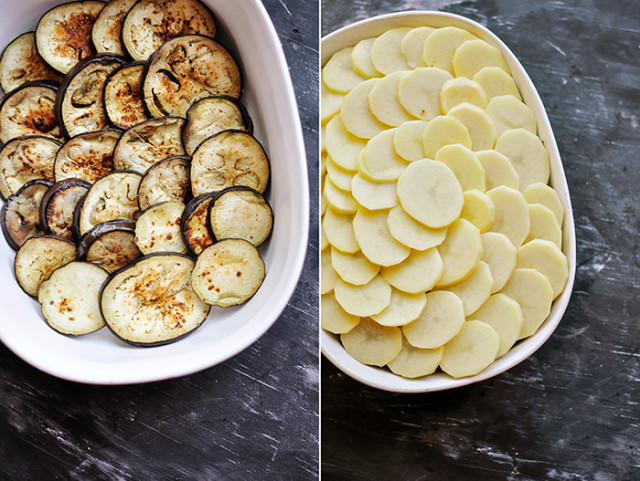 This is what your layers should look like. 
Serve it up with some steamed seasonal veg and you are golden!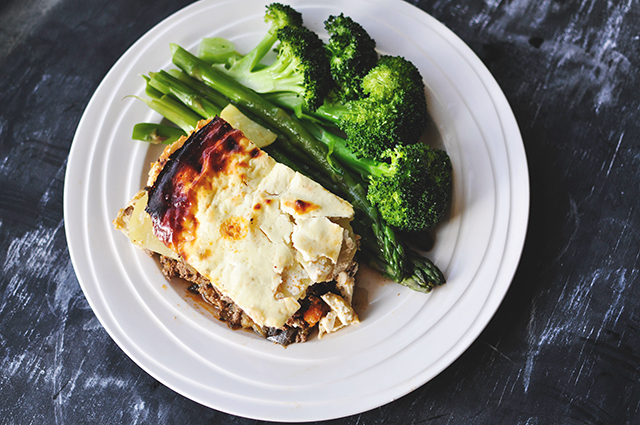 Other paleo ground beef deliciousness from other amazing food blogs:
Salisbury Steak from The Domestic Man
Paleo Cajun Burgers with Caramelized Onions from Plaid and Paleo
Creamy Plantain and Squash Ground Beef Mash from The Healthy Foodie
Cavegirl Meatloaf from Cavegirl Cuisine